Cars
Formula 1 McLaren – Seidl: Norris has world champion potential
Mr. Seidl, there are still five races left this season: can you already draw a conclusion about the McLaren season?
Andreas Seidl (45): We have taken another step with the car compared to 2020 and have grown even closer as a team. First of all, that is more important than the pure results. Because these steps are the prerequisite for our future goals: We want to come back to the very front. But I'm also satisfied with the results. We scored more points than in 2020 – but we still have an extreme fight with Ferrari for third place in the constructors' championship. But there is a reason for this: Ferrari has taken a big step. They have found their way back to form after a difficult last season. To be honest: They belong there too, if you consider their tradition and the great resources they have. But one thing is certain: fighting with Ferrari is another special incentive.
There is a difference of several million euros in prize money between third and fourth place in the team classification: So how important is it to defend third place?
The sporting success counts even more. We get up every day to win, to keep getting better. This is how we enter the race weekend. That is the incentive. After the entry of investors last year, we are financially well positioned. We have a clear business plan for the next few years. Regardless of the placement.
To come back to the battle with Ferrari: where do you see advantages at McLaren and where at Ferrari?
That depends on the route. Courses with longer straights like Imola, Austria, Monza and Sotschi play into our cards. Tracks with long curves like Zandvoort or Turkey speak more in favor of Ferrari. We still have shortcomings there. We were even able to challenge Mercedes and Red Bull on our courses. But we are not yet constant enough. That is exactly the next step that we have to take. Our focus in future vehicle development is therefore on having a car that is fast in all conditions on every track. That means: To be able to fight for pole positions and victories everywhere.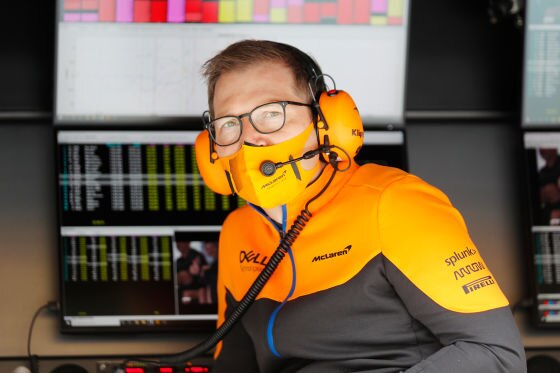 The highlight of this year was certainly Daniel Ricciardo's victory in Monza: How important was this success for you personally and for the team?
It was very important, it was terrific because the win was the reward for the hard work everyone on the team put into it. It was the first victory in a long time. For me, there is nothing better than seeing people laugh and celebrate at the racetrack or at home in the factory after such a triumph. That is exactly the energy we need to go the extra mile every day.
How important was the win for Ricciardo? Until Monza he had a hard time …
…very important. He was able to prove – especially to himself – that he can still do it. Although we never doubted it. But he found it a little difficult – in contrast to Lando Norris – to always squeeze everything out of the car one hundred percent in qualifying. The summer break helped him. Since then he has been on a very good path. It is still not at its maximum, but it will be next year at the latest.
Seidl: McLaren driver Norris has everything to become world champion
There are experts, including McLaren CEO Zak Brown, who claim that Norris is already racing at Verstappen and Hamilton levels. Would you agree with that?
I am not a fan of cross-comparisons. All I know is that Lando is only racing in Formula 1 in his third year and has developed further every year. But so far he has not had a car with which he can constantly drive for victories and thus for titles. What is clear, however, is that a driver cannot be perfect in his third season. But it is also clear that he has everything it takes to become world champion. Also when it comes to working with the team. In any case, we plan with him for a long time.
In Sochi he looked like the sure winner for a long time. Then the rain came and the wrong tire choice: How did he deal with this disappointment?
It wasn't an issue for long. It's part of the sport. It is important that you go into the analysis after the first emotions and work through the errors. Lando didn't do anything wrong. He had sent the same information as, for example, Lewis Hamilton. We should have brought Lando in to change tires. But we didn't do it. We have analyzed that. The topic is ticked off.
In a poll, McLaren was voted the most popular team in Formula 1: ahead of Mercedes, ahead of Red Bull and even ahead of Ferrari. How important is this confirmation from F1 fans to you?
Very important. It's a great recognition for our work, also in terms of the closeness to the fans. And that we succeeded in combining sporting performance and fun. Our two drivers naturally played a huge role in this.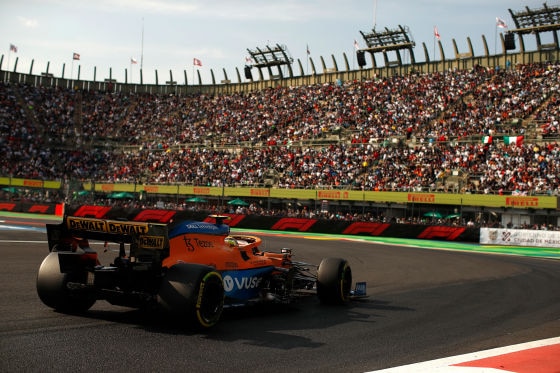 How far are you with the development for the car next year, when there are completely different technical regulations?
We switched the wind tunnel to next year's car a long time ago, and parts are already being produced. We are well on schedule. But it is difficult to estimate how well we will be doing. Because the regulations are so new. And that's why we don't have any references. We won't get the answer until the first qualifying in Bahrain.
How much influence do your drivers Lando Norris and Daniel Ricciardo have on the new car?
They are integrated in the simulator and give regular feedback on driving behavior. But you have to know: The cars in 2022 will have less downforce. As I said: we don't have any reference points. But we are still in the middle of development and there is still a lot to come. It is fundamentally important to involve the drivers. But at the same time we also have to make sure that we get the car into the right window purely from the point of view of the data.
Do you already have data and therefore a comparison of how much slower the 2022 cars will be due to the lower downforce?
Yes we have. But Formula 1 is a tough competition, so I won't give any figures that could provide important information for the competition. You have to understand that.
Formula 1 cars in 2022 will still differ
Do the cars look completely different? Like the model that the F1 marketer showed in a study?
We cannot expect anything completely different. But we will definitely see different creative solutions. The individual cars will still be very different and that is good for Formula 1.
You will be brought into contact with Audi as a partner if Volkswagen enters Formula 1. Can you say something about that?
This is pure speculation. I don't want to comment on that. We are very satisfied with our motor partner Mercedes. The partnership is set to last for several years. That's where our focus is.

Formula 1 on TV
Formula 1 will run at Sky in 2021. The station is setting up its own TV station for the new era: Sky Formula 1. Here there is motorsport 24 hours a day. All training sessions, all qualifying sessions, all races always live and without commercial breaks. Sky also broadcasts the Formula 2, Formula 3 and Porsche Supercup races. The program also includes historical races and special programs. You can find more information here