Cars
Formula 1 – McLaren team boss: "Could have outvoted Lando"
–
McLaren team boss: "Could have outvoted Lando"
Lando Norris and his McLaren team checkmate in the rain. All backgrounds and voices
S.
o It can go quickly in Formula 1: On Saturday they were still the shining winners, on Sunday Lando Norris (21) and McLaren gambled away with the tire selection in the rain of Russia!
The young Briton had confidently led the race until shortly before the end. Then the weather god spun the roulette wheel. When it began to trickle, Norris decided, unlike his rival Lewis Hamilton, not to switch to intermediates. A wrong decision that ended in drama. Norris slid across the track, even spinning out of bounds once and came much too late for the necessary switch to rain soles. Instead of taking his first win, he ended up only seventh.
Experience Formula 1 with the SKY Supersport Ticket
Norris was inconsolable, did not take off his helmet on the way to the hospitality, was only able to collect himself in his driver's compartment. Then he dutifully presented himself to the TV companies. "I made the decision to stay on the slick tire with the information I had. That was the correct decision. Whatever the reason, we didn't see more rain coming. With the opponent right behind you, you cannot afford such a mistake. "
But who was really to blame for the wrong decision?
Team boss Andreas Seidl protects his driver: "In the end we gambled away with Lando. We win together and lose together. "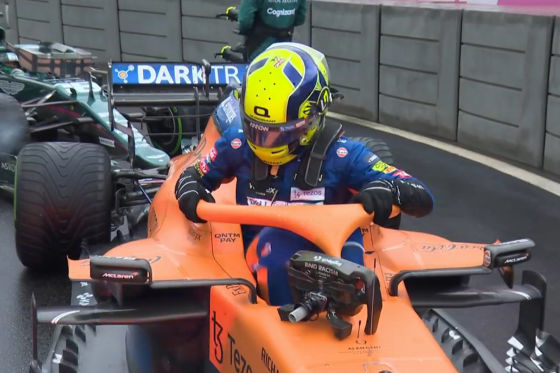 Lando Norris could not be comforted after the race.
© F1 TV
Red Bull's Max Verstappen also has to consider: "In a situation like this, communication between the command post and the driver is extremely important." And that was not ideal at McLaren. The radio communication reveals: Four laps to go, Norris hissed his race engineer "Shut up!" When asked again about intermediates, the young Brit shouted: "No!" Even when Lewis Hamilton came into the pits, Norris insisted: "We have to stand by our decision. "
But Seidl sticks: It always takes two to win and lose. "Communication between the driver and the command post is always based on the driver's feedback and the information we have," he says. "And they said the rain won't get that much stronger."
Alone: ​​Looking back, you might have listened too much to Norris, the Bavarian admits. "Lando felt good and wanted to stay out on slicks. We didn't overrule him as a team. We have to analyze that. In retrospect, of course, that was the wrong decision. But Lando did a sensational job until shortly before the end. He just didn't get the result he deserved. "
Seidl makes it clear that the final decision rests with McLaren: "We always have the option to overrule the driver, we know that he doesn't have all the information. We were in constant contact with Lando. If we tell him: Come in, then he'll come in. "
Formula 1 at a glance at SKY Q
However, the situation at the command post wasn't clear either. "If it had been crystal clear that the rain was increasing, we would have stopped. Therefore we now have to analyze whether we would have had this information available. "
In any case, Norris will recover from the defeat, Seidl believes. "It will make him and the team stronger. It is in such moments that you learn the most. We and Lando have all been in the sport long enough to know that things like this can happen. "
After all: Norris got verbal strokes from the winner. "Lewis told me that I would get my chance soon," reveals the Briton and turns away. "I'm just going to sleep now."
Formula 1 on TV
Formula 1 will run at Sky in 2021. The station is setting up its own TV station for the new era: Sky Formula 1. Here there is motorsport 24 hours a day. All training sessions, all qualifying sessions, all races always live and without commercial breaks. Sky also broadcasts the Formula 2, Formula 3 and Porsche Supercup races. The program also includes historical races and special programs. You can find more information here