Cars
Formula 1: McLaren: Team boss Seidl explains strong form in Monza
McLaren's German team boss Andreas Seidl was very happy after the sprint in Monza. With third and fourth places for Daniel Ricciardo and Lando Norris, the traditional British team is celebrating its best qualifying result since the 2012 Brazilian GP.
"We are of course very happy. It's a great reward for all the hard work," says Seidl with a smile. Both McLaren even land in front of world champion Lewis Hamilton on Saturday. Seidl is not surprised that his team can keep up with the top in the tempo temple in Monza: "We already knew that our car was basically good on this track and it likes it when things go more straightforward and there are hard braking phases – in contrast to Zandvoort, where we had a difficult weekend recently, "said the Bavarian.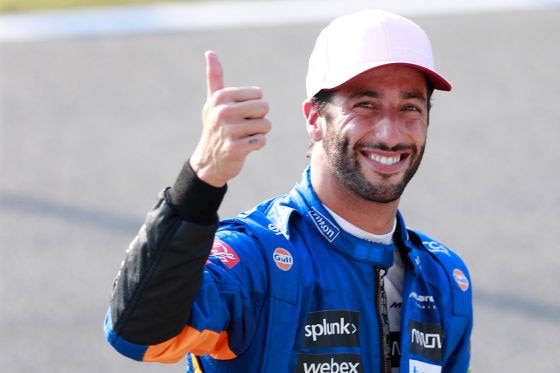 McLaren's risk-taking tire strategy also worked perfectly on Saturday: Unlike the other drivers in the leading group, both Daniel Ricciardo and Lando Norris rely on the fast, but not so durable, soft tires. The early safety car also plays into McLaren's cards. "It always causes a little nervousness when you're the only one standing in front with the soft tires," Seidl admits. "But I have great confidence in the team, they are doing a great job there. We were confident that it would be possible with all the data we had collected and it paid off."
Despite the strong Saturday, Seidl warns of premature euphoria: "We haven't scored any big points yet. That is why it is important to stay calm and prepare properly for tomorrow, then we have the chance of a top result have a good car, we've seen now. "
The order of Seidl's protégés on Saturday is surprising. Ricciardo, who is clearly in the shadow of Norris for the whole season, prevails with a rocket start in the internal duel and then brings third place to the finish.
"It's been a while since I was so far ahead," says Ricciardo with a smile. Now the Australian wants to beat his current team-mate as well as his former team-mate and warns Pole man Max Verstappen: "Due to Valtteri's penalty (Bottas has to go back after changing the engine; the editor) I'll be in row one tomorrow. Then I'll go full again Attack. That worked out well on the inside today and gave me the chance to push past. " Verstappen against Ricciardo – that didn't go well …
Formula 1 on TV
Formula 1 will run at Sky in 2021. The station is setting up its own TV station for the new era: Sky Formula 1. Here there is motorsport 24 hours a day. All training sessions, all qualifying sessions, all races always live and without commercial breaks. Sky also broadcasts the Formula 2, Formula 3 and Porsche Supercup races. The program also includes historical races and special programs. You can find more information here