Cars
Formula 1: Mercedes star Hamilton ennobles "best teammate"
For Lewis Hamilton there are anxious seconds on Saturday: The Mercedes star is already in Parc Fermé with his car and eagerly listens to the time announcements of his race engineer, while World Championship rival Max Verstappen slams two sector best times on the track. But then Verstappen crashes in the target curve and Hamilton receives the redeeming radio message: pole position. "Phew, you worried me for a moment!" He takes a deep breath.
For Mercedes Motorsport Director Toto Wolff, the next dramatic turn in the title fight is "just crazy". "Formula 1 is always full of surprises. We had problems and pole was a long way off, Max almost half a second ahead. Now we are first and second," said the Austrian, summarizing the spectacular final seconds of qualifying.
However, Wolff has no illusions: "With Max's crash on the last lap, we are in a happy position. But that only counts for today. Tomorrow's race will be a completely different game again." Mercedes' pace in qualifying worries Wolff: "We were clearly not fast enough, we would normally only be second and third. We have to analyze that because we didn't expect it here. We thought we would be stronger."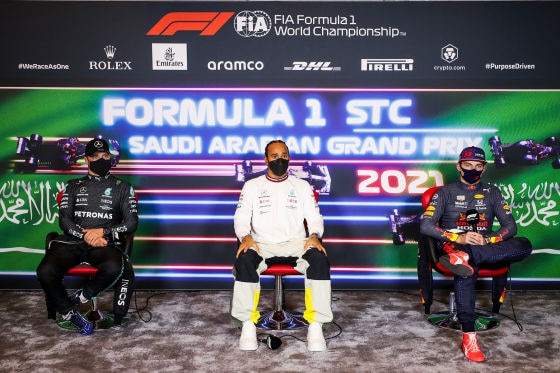 In the run-up to the race, Mercedes was a big favorite in Saudi Arabia, mainly because of its engine power. "We're pretty much on par on the straights, but we're losing in the high-speed corners and in qualifying now also in some slow sections. The drivers are not that happy with the car, everything is there from understeer to breaking out," said Wolff Mercedes' difficulties.

Valtteri Bottas could be decisive in the race on Sunday, who came in second among the world championship rivals. "Max will try everything. But if he is only third after the first corner, we have a big advantage. Then he has to pass Valtteri and Lewis," said Wolff.
Hamilton even sprinkled roses on his outgoing team-mate after qualifying: "Working with Valtteri is just epic. I'm proud of him. He's definitely the best team-mate we've ever seen in the sport. We worked on the setup together to getting the car to where it needs to be, "praises the Briton.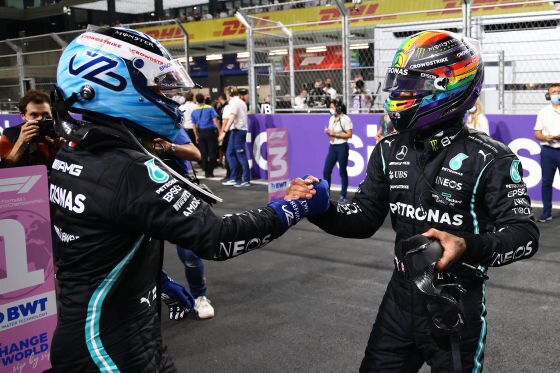 Hamilton still dares to doubt whether it will be enough in the race against Verstappen's fast Red Bull: "It's a great result, but we still lacked the pace in qualifying. And this (Red; d. Red.) Bull is just a bit complete here different! They obviously found something with the setup because they were damn fast today. "
Another disadvantage for Hamilton: title competitor Verstappen starts on four laps younger tires, Hamilton's mediums for the start already have eight laps on it. "There was a debate about that, but we got the feeling that the tire was never in the window, so we never really used it because the temperature was never really in. Now we hope we didn't massacre it too much and it's still good enough for tomorrow, "explains team boss Wolff.

Formula 1 on TV
Formula 1 will run at Sky in 2021. The station is setting up its own TV station for the new era: Sky Formula 1. Here there is motorsport 24 hours a day. All training sessions, all qualifying sessions, all races always live and without commercial breaks. Sky also broadcasts the Formula 2, Formula 3 and Porsche Supercup races. The program also includes historical races and special programs. You can find more information here