Cars
Formula 1: Mercedes team boss in Red Bull outfit
There is little that Dr. Helmut Marko (78) can confuse you. The Red Bull Motorsport chief advisor is a seasoned man, tempered by countless racing battles in the cockpit and outside. But when F1-Insider.com sent the former Formula 1 driver and Le Mans winner a photo with his favorite archenemy, Mercedes team boss Toto Wolff, in Red Bull overalls, he didn't know whether to laugh or not should be foaming with rage.
"I hope it's not a recent photo," joked the doctor of law. "But seriously: I have no idea how it came about. In any case, I have nothing to do with it. "
In any case, to the best of his knowledge, Wolff was not a secret agent in the service of his Salzburg Majesty Dietrich Mateschitz. Marko: "Mr. Wolff can also wear the overall at the weekend in Istanbul."
Background: The Turkish Grand Prix will take place there on Sunday. In other words: there is the next tough duel between world champion Lewis Hamilton in a Mercedes and Red Bull challenger Max Verstappen. Increased likelihood of a crash is guaranteed.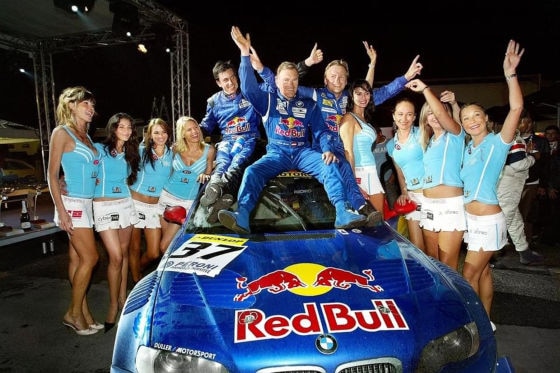 The words will fly again. Neither Wolff nor Red Bull team boss Christian Horner and his boss Helmut Marko missed an opportunity lately to verbally pull the fur over the ears of the other.
One thing is certain: everyone makes mistakes in life. And sometimes the sins of the past catch up with you. In this case, this applies to both parties who are no longer green today.
The photo of the proudly smiling young bull Wolff was taken at the beginning of the millennium. At that time, Wolff still felt called to be a racing driver. Among other things, he took part – sponsored by Red Bull – in a number of long-distance races, including with his compatriots, Karl Wendlinger, Philipp Peter and touring car legend Dieter Quester.
In 2006, Toto Wolff even won the Dubai 24 Hours as a Red Bull driver. Afterwards he also drove rallies with Raimund Baumschlager's team (BRR / Mitsubishi) and even became Austrian runner-up once.
Nevertheless, the Viennese decided to give up the steering wheel and seek success in a career as a manager.
It is not yet clear whether Red Bull will print the spicy photos as posters and place them around the circuit in Istanbul …

Formula 1 on TV
Formula 1 will run at Sky in 2021. The station is setting up its own TV station for the new era: Sky Formula 1. Here there is motorsport 24 hours a day. All training sessions, all qualifying sessions, all races always live and without commercial breaks. Sky also broadcasts the Formula 2, Formula 3 and Porsche Supercup races. The program also includes historical races and special programs. You can find more information here