Cars
Formula 1: Mercedes team boss with a message to Verstappen
He's only been the new Formula 1 world champion for two days – and Max Verstappen (24) is back in the racing car! In the Pirelli tests after the end of the season, the Dutch driver is driving his winning Red Bull again. "Yesterday evening I wasn't quite fit, but driving makes me fresh again," says Verstappen after the wild night of partying on Sunday evening.
In the meantime, videos of the celebration at the Yas Hotel have also appeared. Verstappen and his mechanics repeatedly sing the Queen hit "We are the Champions."
And Mercedes team boss Toto Wolff has also contacted the successor to his Mercedes star Lewis Hamilton. Verstappen at Sky: "He wrote me a text, congratulated me on the season and said that I deserved the title. That was nice of him. "The Dutchman even justifies the behavior of the Mercedes team boss right after the race, when the Viennese refused to congratulate him. "It is clear to me that after a final like this, the emotions are great in both directions," admits the Red Bull star.
Max Verstappen doesn't want to do the Rosberg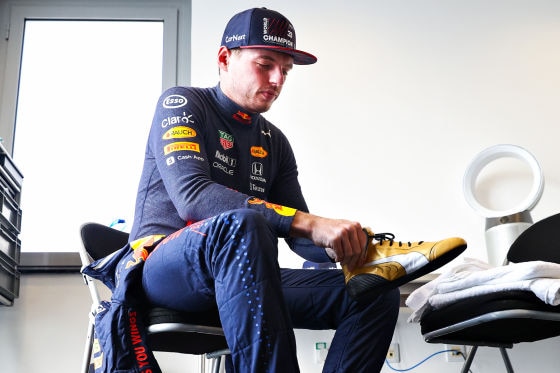 After Sebastian Vettel and Fernando Alonso, Verstappen is now the third youngest world champion of all time. But stopping with the title in his luggage – like Nico Rosberg in 2016 – is not an option for him. "I'm enjoying the moment and I'm super happy to be world champion," he says. "Lewis and I pushed our teams, our cars and ourselves to the limit this year. I hope that we can continue our duel for the next few years. Everything that comes now is a bonus for me. "
Conciliatory words also in the direction of Lewis Hamilton, with whom he had a duel at the limit in 2021. "I've never driven so intensely against Lewis in the years before," explains Verstappen. "This year it was different. I had to give everything in every race and couldn't allow myself to be weak. Sure, the defeat was disappointing for him, but he was always professional with me. He already has seven world titles. For me it was the first. I think he will take the defeat. "
At the same time, Verstappen thanks his family: "This title is a family affair for me. My parents both sacrificed so much for me, my sport, and my success. Probably even a marriage was lost in the process. Knowing now that it wasn't all for free and that I can give something back is something special for me. I'm actually not that emotional, but that's why I cried under my helmet. "