Cars
Formula 1 – Mercedes with mistakes: penalty missed
–
Mercedes with mistakes: penalty missed
Formula 1: Lewis Hamilton and Mercedes messed up in qualifying for the Russian GP in Sochi, but are showing too much pressure on themselves
D.
hat Lewis Hamilton (36) and Mercedes imagined differently. The world championship team actually wanted to make maximum use of Max Verstappen (23) when he was relocated to the end of the grid. But in the end, in qualifying for the Russian Grand Prix in Sochi, only a fourth place for Hamilton and a seventh for Valtteri Bottas jumped out. In other words: You could not use the penalty kick.
Reason: While McLaren, Ferrari and Williams switched to slicks early when the track dried out, Mercedes later pitted its two drivers to change tires. "It was too much risk for us – and then we were missing a lap to get the tires up to temperature," admits Mercedes team principal Toto Wolff.
Experience Formula 1 with the SKY Supersport Ticket
Alone: ​​It was not the hesitant decision in favor of dry tires that was the focus of the discussions after qualifying, but two missteps by Lewis Hamilton. The Briton slid into the gang only in the pit lane entrance and had to have his front wing changed – then he turned backwards into the tire wall at turn 17 and hit it lightly.
Is he under too much pressure in the tough World Cup fight against Max Verstappen?
"It has nothing to do with pressure," said Hamilton in his video call with the press. "Mistakes happen. I knew I didn't have a lot of time so I attacked. I was a little faster than normal and slipped into the wall. That is embarrassing. But shit happens! We all make mistakes, even if you don't expect that from a world champion. "
One thing is certain: the Brit seemed tidy about two hours after his mishap and – as always – gets support from his team boss.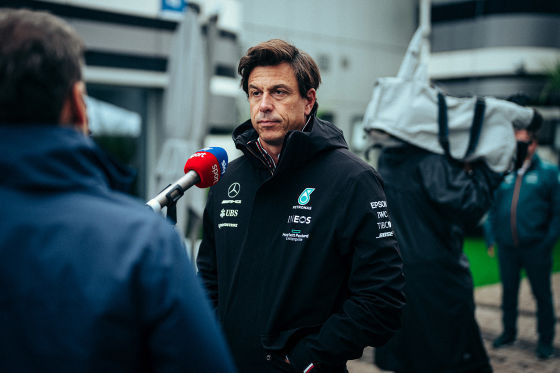 Toto Wolff explains: "Without the crash, Lewis would not have been any better. He would only have crossed the finish line earlier, he would not have made a second lap. "The Viennese also don't believe in too much pressure on the seven-time world champion.
"That wasn't the pressure today, because it was clear that Max was starting from behind," said Wolff. "I have no idea why that happened. But it sucks. Monza and Sochi are the races where we knew: we are strong. Even so, we haven't been able to maximize the points so far. But the pendulum swings in both directions. Red Bull already had bad luck this year. "
In any case, the Mercedes star does not believe that a higher power wants to keep Hamilton away from his 100th Grand Prix victory. "I am not superstitious. It comes when it comes. The 100 is a cool number that is worth waiting for. "
In order to make the most of the missed opportunity, Mercedes is now thinking about swapping the engine at both Hamilton and Bottas and starting from the very back like Verstappen.
Formula 1 at a glance at SKY Q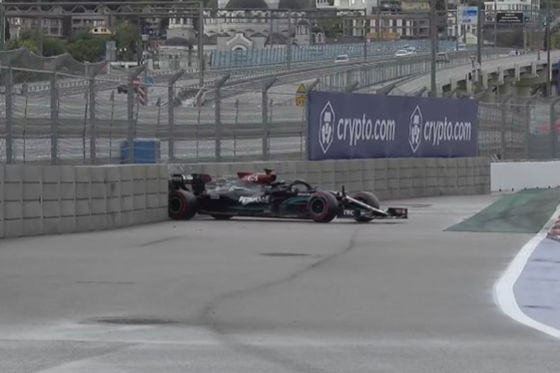 Lewis Hamilton spun on the final lap of qualifying.
© F1 TV
To be on the safe side, Hamilton does not drive either way – not even when he storms into the first corner in the slipstream of the youngsters Lando Norris (McLaren), Carlos Sainz (Ferrari) and George Russell (McLaren). The world champion: "The fact that I'm racing for the World Cup doesn't mean that I'm not racing hard. In the past I was very good at being able to weigh up the risks well. "
Closing words Wolff: "I have a lot more confidence in us for tomorrow. We have to try not to make any mistakes, then the points will come by themselves. Fourth place is not the worst starting position for Lewis, it gives him good opportunities. "
Formula 1 on TV
Formula 1 will run at Sky in 2021. The station is setting up its own TV station for the new era: Sky Formula 1. Here there is motorsport 24 hours a day. All training sessions, all qualifying sessions, all races always live and without commercial breaks. Sky also broadcasts the Formula 2, Formula 3 and Porsche Supercup races. The program also includes historical races and special programs. You can find more information here