Cars
Formula 1: Miami – How To Cars
Red Bull driver Sergio Perez secured the best time in final practice at the Grand Prix in Miami. The Mexican relegated world championship leader Charles Leclerc to second place in the Ferrari on Saturday in the final laps before qualifying. Third was World Champion Max Verstappen in the second Red Bull.
The German duo presented themselves strongly. Sebastian Vettel took fifth place in the Aston Martin, Haas driver Mick Schumacher was just behind him in sixth place and was therefore faster than his teammate Kevin Magnussen in eighth place.
The new track around the Hard Rock Stadium clearly makes it difficult for the racers. After an accident by Esteban Ocon, training was interrupted for several minutes. The Frenchman crashed sideways into the gang with his Alpine. World champion Verstappen was also able to brake just in time after a driving error and avoid a crash shortly before the end. Qualifying begins at 10 p.m. German time – without jewelry, watches and with fireproof underwear.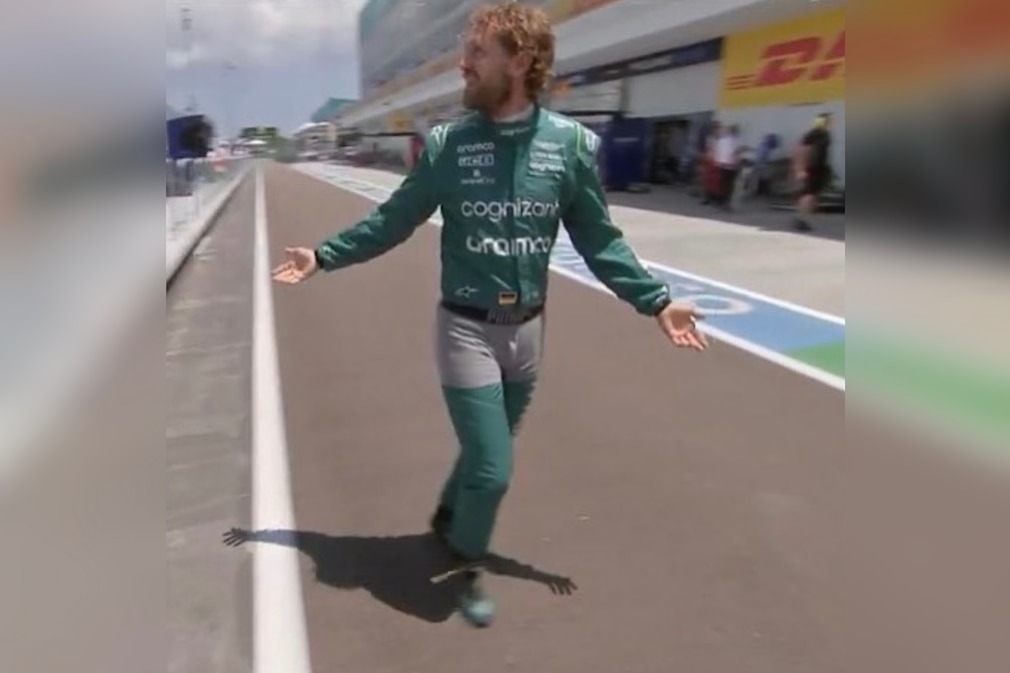 Background: Despite fierce resistance, especially from Lewis Hamilton and Sebastian Vettel, race director Niels Wittich remains firm. From now on, jewelry and private underwear have no place in the cockpit. Pilots have a transition period of two races to remove stapled piercings. Lewis Hamilton also discarded all other gems before the third free practice session.
Previously, he had vigorously opposed the tightened requirements and described them as "very, very stupid". Wittich, on the other hand, had announced spot checks before the start and penalties. The jewelry ban has been part of the rules for a long time, but is only now being strictly followed. For safety reasons, as the race director emphasizes.
Sebastian Vettel, meanwhile, had sided with the angry Hamilton. "We are old enough to make our own decisions – in and out of the car," emphasized the 34-year-old. As a sign of protest, the Hessian walked through the pit lane on Friday in gray boxer shorts, which he had pulled over his green racing overalls. Aston Martin outfitter Alpine Stars may not have been particularly enthusiastic about the free Puma underwear promotion. Vettel dismisses it: "It was more of a gag. The whole discussion is so stupid."
TV expert Ralf Schumacher disagrees: "It's a bit silly and it reminds me of kindergarten." Schumi II refers to the role model function of world champions like Vettel and Hamilton. It's a shame "that experienced people who have seen so many accidents make fun of it in this way. Sebastian and Lewis are going to cut their teeth because they are just wrong."
In any case, the fines are not without: The first offense is to be punished with a fine of 50,000 euros, the second with 125,000 euros. The third time it costs 250,000 euros and several championship points.
Formula 1 Miami Grand Prix
3. Free practice
1. Sergio Perez (Mexico) – Red Bull 1:30.304
2. Charles Leclerc (Monaco) – Ferrari +0.194s
3. Max Verstappen (Netherlands) – Red Bull +0.345
4. Fernando Alonso (Spain) – Alpine +0.732
5. Sebastian Vettel (Heppenheim) – Aston Martin +0.745
6. Mick Schumacher (Gland/Switzerland) – Haas +0.746
7. Carlos Sainz Jr (Spain) – Ferrari +0.868
8. Kevin Magnussen (Denmark) – Haas +0.923
9. Alexander Albon (Thailand) – Williams +1.197
10. Lando Norris (Great Britain) – McLaren +1.290
11. Yuki Tsunoda (Japan) – Alpha Tauri +1.355
12. Lance Stroll (Canada) – Aston Martin +1.361
13. Daniel Ricciardo (Australia) – McLaren +1.424
14. Valtteri Bottas (Finland) – Alfa Romeo +1.581
15. Lewis Hamilton (Great Britain) – Mercedes +1.586
16. Pierre Gasly (France) – Alpha Tauri +1.597
17. George Russell (Great Britain) – Mercedes +1,620
18. Zhou Guanyu (China) – Alfa Romeo +1.747
19. Nicholas Latifi (Canada) – Williams +2.072
20. Esteban Ocon (France) – Alpine – (4th lap)
Formula 1 on TV
In 2022, Formula 1 will run on Sky. Last year, the broadcaster introduced a new TV channel especially for the premier class: Sky Formula 1. Here there is motorsport 24 hours a day. All practice sessions, all qualifying sessions, all races are always live and without commercial breaks. In addition, Sky also broadcasts the support races Formula 2, Formula 3 and the Porsche Supercup. Historical races and special programs are also on the programme.