Cars
Formula 1: Mick Schumacher beeps himself off on the radio
–
Schumacher beeps himself off on the radio
Mick Schumacher takes 17th place in the wet qualifying for the Russian Grand Prix in Sochi – but is not entirely satisfied
E.
Mick Schumacher (22) could actually be satisfied with himself and his Haas world in Sochi during qualifying for the Russian Grand Prix: 17th place, four seconds ahead of team-mate Nikita Mazepin, more than a second ahead of Antonio Giovinazzi's and Alfa Romeo only narrowly failed to ex-world champion Kimi Räikkönen (Alfa Romeo). And yet the German "beeped" himself on the radio.
His reaction on the pit radio: "Beep, beep, beep, beep, beep!" Afterwards, the son of record world champion Michael Schumacher explains: "I censored myself." Reason: "In Friday training I used the F-word and was therefore not entirely satisfied with me. "
Experience Formula 1 with the SKY Supersport Ticket
He was satisfied with his performance on Saturday, but not with the result. Mick, who, like his famous father once did, loves a wet track: "I like these types of conditions. Rain gives me the opportunity to get more out of the car than the others. I'm happy with my performance, but I was hoping for Q2. "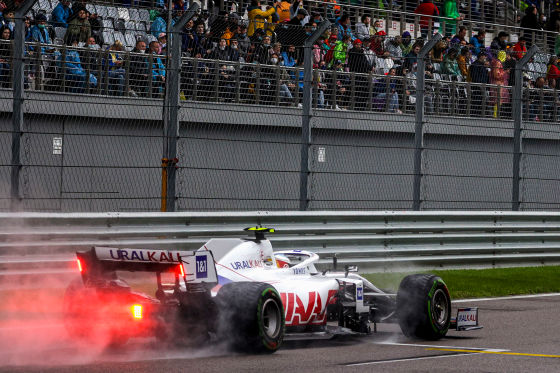 Mick Schumacher
© LAT / Haas
Remarkable: Team-mate Nikita Mazepin had no obvious mistake on his lap, but he was four seconds slower. "I didn't get the tires up to temperature," explains the Russian. "I would have needed more laps."
Ironically, at Mazepin's home game, Schumacher junior now increases to 13: 2 in the team-internal duel.
Team boss Günther Steiner is also satisfied, especially with the German, of course. "The result shows that the boys are learning. Today Mick was close to Kimi, that's encouraging and a little satisfaction. We get better every race. The goal is to regularly fight for points next year. "
Mick Schumacher also says: "In the dry we are still behind. But I hope we can fight. We then want to drive into Q2 on a regular basis in 2022. "
On Sunday in Sochi, he is first of all chasing his first Formula 1 point. "That is my goal, I would be happy with that."
Formula 1 at a glance at SKY Q
Formula 1 on TV
Formula 1 will run at Sky in 2021. The station is setting up its own TV station for the new era: Sky Formula 1. Here there is motorsport 24 hours a day. All training sessions, all qualifying sessions, all races always live and without commercial breaks. Sky also broadcasts the Formula 2, Formula 3 and Porsche Supercup races. The program also includes historical races and special programs. You can find more information here