Cars
Formula 1 Mick Schumacher: "I'm vaccinated, that speaks for itself"
From Mexico, Formula 1 driver Mick Schumacher (22) went straight to Brazil. From a culinary point of view, this means: after the tacos, off to the Churrascaria! "I was there with the team last night," reveals the Haas pilot about a visit to one of the famous Brazilian meat restaurants.
After his premature retirement in Mexico, Michael Schumacher's son is looking forward to two races on the circuit in Sao Paulo's Interlagos district. Reason: In addition to the classic GP on Sunday, there is also the Saturday sprint again this weekend. "It's a track with a lot of history and I'm looking forward to starting my own story," he says. "The route is very fun and special."
And it is known for dramas: in 2006 his father Michael completed his last race there for Ferrari, in 2012 for Mercedes. In 2012 Sebastian Vettel became world champion for the second time after a race to catch up. In 2008 Felipe Masse was champion for 30 seconds before Lewis Hamilton overtook Timo Glock and won his first world title. And: Mick Schumacher's mother Corinna once took a street dog home from Brazil in a private jet. Mick laughs: "That was Flo. Unfortunately, they no longer exist. But she turned 16 years old. "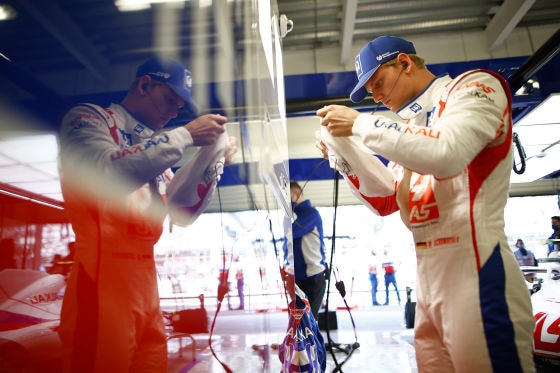 In general, animals are a big anchor point in Mick Schumacher's life. "Dogs and animals are important to me," he says. "Unfortunately, I can't take my dog ​​Angie (an Australian Shepard; d. Ed.) With me everywhere when I fly by plane." In an interview with the DPA, he recently added: "You always have to find a balance. Being in nature with a dog fits in perfectly. It is also exciting because you deal with a living being while in Formula 1 you are busy with machines and technology. "
Just like this weekend in Sao Paulo. In preparation, Mick "drove 100 to 150 laps in the simulator. That can help me to know where to go. But in reality you have to have your own experiences. That is important on a weekend with only one free practice session before qualifying. "That takes place on Friday evening.
As always, Schumacher's goal is the second round of qualifying – and the black and white checkered flag in the race. "Sochi was the first and so far only race with a technical failure," he recapitulates. "That's a number."
His team boss Günther Steiner also praised: "To get 16 out of 18 races to the finish is a strong performance in the first season. He did a good job. "

And yet, after his Formula 2 title last year in 2021, the young Schumacher has to earn his spurs at the bottom of the field and make room when lapping. But that does not mean that he is no longer passionate about success. "I don't have the feeling that I have forgotten how to (fighting for top positions; d. Ed.) And still feel the hunger to fight and to drive for victories again at some point."
Because Schumacher sounded coldly in his press round ("The result of too much air conditioning in Mexico."), He was also asked about the corona pandemic, which is still rampant. Short and precise answer from the German: "I have been vaccinated myself, that speaks for itself."

Formula 1 on TV
Formula 1 will run at Sky in 2021. The station is setting up its own TV station for the new era: Sky Formula 1. Here there is motorsport 24 hours a day. All training sessions, all qualifying sessions, all races always live and without commercial breaks. Sky also broadcasts the Formula 2, Formula 3 and Porsche Supercup races. The program also includes historical races and special programs. You can find more information here