Cars
Formula 1 Monza: Mercedes puts exclamation mark in the tempo temple
Lewis Hamilton made an exclamation mark in the first free practice session for the Italian Grand Prix in Monza. The Mercedes driver secured the fastest time in the only practice session before qualifying (6 p.m. today on Sky) – and the whole 0.452 seconds ahead of Max Verstappen (Red Bull)!
Even more worrying for Verstappen fans: The Dutchman drove his fastest lap on soft tires, while the Mercedes star was on medium rubbers. This is accompanied by complaints from Verstappen via the pit radio: "When I accelerate at turn two, I simply don't have any grip at the rear."
The fear of the Red Bull camp could therefore come true: The high-speed circuit in Monza is Mercedes terrain due to its many long straights. Valtteri Bottas was third behind Verstappen. Because there will be another sprint race in Monza on Saturday, the drivers only have an hour to find the best set-up and to focus on the track.
Strong performance also from the two Aston Martin, who are out and about in Monza with a visual greeting to James Bond. Lance Stroll was fourth (+0.750 seconds), Sebastian Vettel was sixth, 0.9 seconds behind. That also speaks for a lot of Mercedes power in the tempo temple in Italy.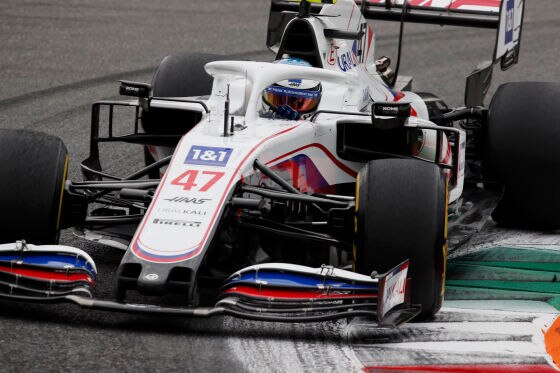 For Ferrari fans, on the other hand, there is still nothing to celebrate. The best Ferrari was Carlos Sainz in seventh place, Charles Leclerc only made it into eleventh place.
Ferrari junior Mick Schumacher cannot be satisfied with his training either. He was last, 2.6 seconds back. His team mate Nikita Mazepin had a lead of almost a tenth of a second in 19th place. In qualifying it gets exciting again between the two fighting cocks: Mazepin already called in Mick Schumacher's slipstream for qualifying. Apparently it is Schumacher's turn to be the first to hit the slopes. In Monza this is a clear disadvantage.
Formula 1 Italian Grand Prix
1. Free practice
1. Lewis Hamilton (Great Britain) – Mercedes 1: 20.926 min.
2. Max Verstappen (Netherlands) – Red Bull +0.452 sec.
3. Valtteri Bottas (Finland) – Mercedes +0.525
4. Lance Stroll (Canada) – Aston Martin +0.750
5. Pierre Gasly (France) – Alpha Tauri +0.793
6. Sebastian Vettel (Heppenheim) – Aston Martin +0.898;
7. Carlos Sainz Jr. (Spain) – Ferrari +0.988;
8. Fernando Alonso (Spain) – Alpine +1,000;
9. Daniel Ricciardo (Australia) – McLaren +1.077
10. Sergio Perez (Mexico) – Red Bull +1.113
11. Charles Leclerc (Monaco) – Ferrari +1,176
12. Lando Norris (UK) – McLaren +1,177
13. Antonio Giovinazzi (Italy) – Alfa Romeo +1.344
14. Yuki Tsunoda (Japan) – Alpha Tauri +1.604
15. Esteban Ocon (France) – Alpine +1.608
16. Robert Kubica (Poland) – Alfa Romeo +2,083
17. George Russell (Great Britain) – Williams +2,166
18. Nicholas Latifi (Canada) – Williams +2,516
19. Nikita Masepin (Russia) – Haas +2,519
20. Mick Schumacher (Gland / Switzerland) – Haas +2,625

Formula 1 on TV
Formula 1 will run at Sky in 2021. The station is setting up its own TV station for the new era: Sky Formula 1. Here there is motorsport 24 hours a day. All training sessions, all qualifying sessions, all races always live and without commercial breaks. Sky also broadcasts the Formula 2, Formula 3 and Porsche Supercup races. The program also includes historical races and special programs. You can find more information here