Cars
Formula 1: Monza training – Ferrari with the best time, Schumacher defective
Charles Leclerc has not had such a great chance of a home win for Ferrari in Monza since his much-celebrated triumph in front of the Tifosi in 2019.
On the one hand, Scuderia 2022 finally has a fast car capable of winning again, which obviously also works on the high-speed track in the north of Milan: Leclerc and team-mate Carlos Sainz prove this with their respective best times in practice on Friday.
But more importantly, Leclerc is the only top team driver alongside Mercedes' George Russell to start Sunday's Italian GP without a penalty! As in the penultimate race in Spa, there was a veritable flood of penalties in Monza. Affected are: Lewis Hamilton, Carlos Sainz, Sergio Perez, Valtteri Bottas, Yuki Tsunoda, in all probability also the Haas drivers Kevin Magnussen and Mick Schumacher, as well as world championship leader Max Verstappen.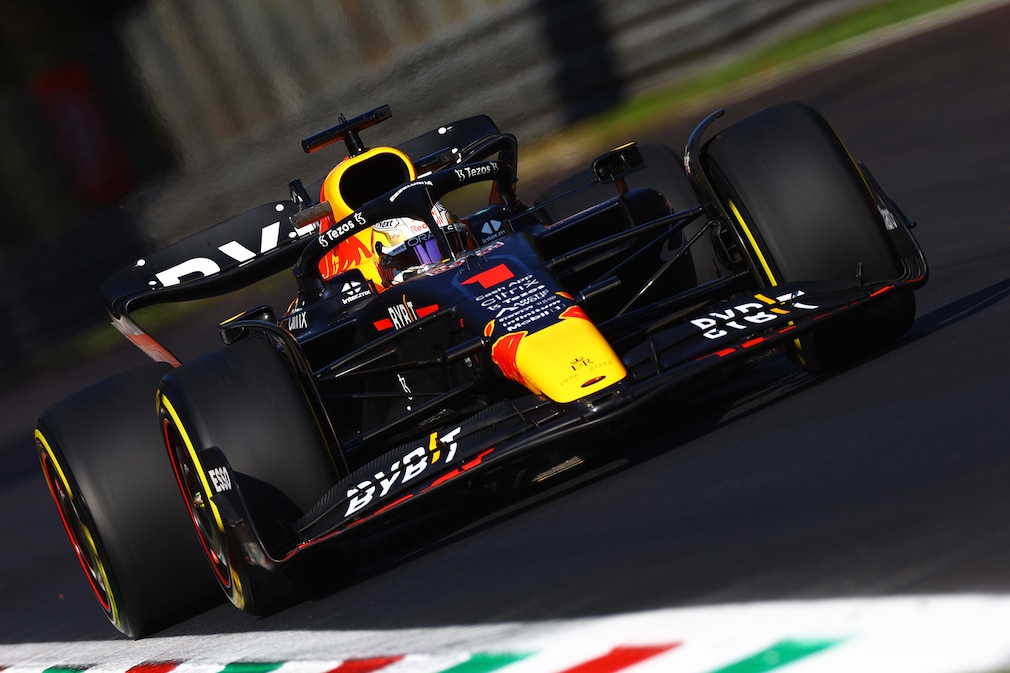 However, the Dutchman only has to drop five places to change his combustion engine, while most of the other penalties are moved to the end of the field. "On the advice of our engine partner (Honda; ed.), we decided to make the change here. Five places on this track isn't that bad, considering that we then have another engine in the pool for the last seven races." , explains Red Bull team boss Christian Horner.
If the in-form Verstappen takes pole on Saturday, he will start the Italian GP from sixth at best. Such a march through as in his last race to catch up in Spa, where Verstappen raced from 14th place through the field and to victory at lightning speed, is more difficult in Monza: Overtaking in the 'Temple of Speed' is not a sure-fire success despite the long straights.
The top speed measurement from Friday shows that Red Bull is preparing for it as best as possible: At 347 km/h, Verstappen, who ended the day in second place 0.143 seconds behind Sainz, is ahead in this ranking. "It was a reasonable day, we tested the different tire compounds and downforce levels and Max is relatively happy with his car," reveals team boss Horner. Red Bull's motorsport consultant Helmut Marko is also optimistic: "Our long run was very convincing, both on soft and medium. We are satisfied."
Double short use: defect at Schumacher

While the Mercedes of George Russell and Lewis Hamilton, which are running with a rear wing for extremely low downforce, are already missing more than seven tenths in fifth and seventh place in the late afternoon, Lando Norris surprised in fourth place: McLaren had twelve months ago in Monza celebrated a sensational double victory, back then with Daniel Ricciardo in front of Norris. The Australian finishes Friday in 11th place.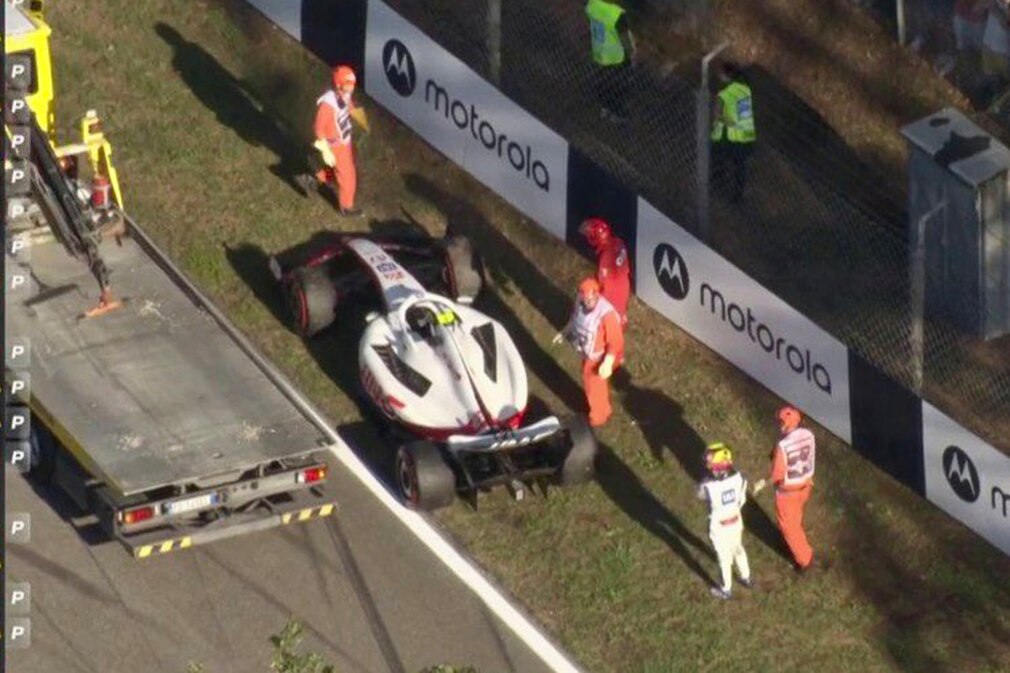 The two Germans experience a short working day at the start in Monza, especially Mick Schumacher: The Haas driver has to sit out the first practice session for local hero Antonio Giovinazzi. In the second training session, Schumacher didn't even get far for half an hour before his Haas suddenly lost power and rolled out in front of the first Lesmo curve. While the session is briefly interrupted with the red flag, Schumi Jr. has finished work early.
A little later, the team announced the reason for the defect: a problem with the engine electronics control unit. "Of course not great, but these things happen. Now we have a bit more work tomorrow," says Schumacher and adds: "I drove three fast laps, which of course is not much. But at least I know the track well." The weekend of the 23-year-old will not be any easier, because Haas had already announced a gearbox change on Thursday, which would bring Schumacher a step back – but the exchange has not yet been officially confirmed.
Sebastian Vettel is also doomed to watch in Monza: while Mercedes Junior and Formula E World Champion Nyck de Vries takes over his Aston Martin in the first practice session, the German observes what is happening together with his engineers in the pits. In the evening session, Vettel is back in the game and finishes 17th ahead of teammate Lance Stroll.
Formula 1 Italian Grand Prix
2nd free practice, result:
1. Carlos Sainz Jr. (Spain) – Ferrari 1:21.664 min.
2. Max Verstappen (Netherlands) – Red Bull +0.143s
3. Charles Leclerc (Monaco) – Ferrari +0.193
4. Lando Norris (Great Britain) – McLaren +0.674
5. George Russell (Great Britain) – Mercedes +0.722
6. Sergio Perez (Mexico) – Red Bull +0.730
7. Lewis Hamilton (Great Britain) – Mercedes +0.839
8. Esteban Ocon (France) – Alpine +1,064
9. Fernando Alonso (Spain) – Alpine +1.088
10.Alexander Albon (Thailand)-Williams +1.171
11. Daniel Ricciardo (Australia) – McLaren +1.247
12. Zhou Guanyu (China) – Alfa Romeo +1.274
13. Valtteri Bottas (Finland) – Alfa Romeo +1.329
14. Pierre Gasly (France) – Alpha Tauri +1.471
15. Yuki Tsunoda (Japan) – Alpha Tauri +1.553
16. Kevin Magnussen (Denmark) – Haas +1.893
17. Sebastian Vettel (Heppenheim) – Aston Martin +2.067
18. Lance Stroll (Canada) – Aston Martin +2.121
19. Nicholas Latifi (Canada) – Williams +2.318
20. Mick Schumacher (Gland/Switzerland) – Haas +2.922
Formula 1 Italian Grand Prix
1st free practice, result:
1. Charles Leclerc (Monaco) – Ferrari 1:22.410 min.
2. Carlos Sainz Jr. (Spain) – Ferrari +0.077s
3. George Russell (Great Britain) – Mercedes +0.279
4. Lewis Hamilton (Great Britain) – Mercedes +0.421
5. Max Verstappen (Netherlands) – Red Bull +0.430
6. Esteban Ocon (France) – Alpine +0.665
7. Fernando Alonso (Spain) – Alpine +0.689
8. Yuki Tsunoda (Japan) – Alpha Tauri +0.850
9. Valtteri Bottas (Finland) – Alfa Romeo +0.984
10. Daniel Ricciardo (Australia) – McLaren +1.101
11.Alexander Albon (Thailand)-Williams +1,119
12. Zhou Guanyu (China) – Alfa Romeo +1.160
13. Pierre Gasly (France) – Alpha Tauri +1,230
14. Sergio Perez (Mexico) – Red Bull +1.251
15. Lance Stroll (Canada) – Aston Martin +1.278
16. Lando Norris (Great Britain) – McLaren +1.446
17. Kevin Magnussen (Denmark) – Haas +1.596
18. Antonio Giovinazzi (Italy) – Haas +1.907
19. Nyck de Vries (Netherlands) – Aston Martin +2.321
20. Nicholas Latifi (Canada) – Williams +2,531