Cars
Formula 1: New cars fuel mega duel Verstappen vs. Leclerc
The new generation of Formula 1 cars also delivers high tension and racing in a class in the second race of the season: Like a week ago in Bahrain, Charles Leclerc and Max Verstappen fight for the lead with the knife between their teeth – this time with the better end for the Red Bull Star.
Although in the end inferior, World Championship leader Leclerc can't help but grin after the mega duel: "That's how every race should be, really cool! It was tough but fair. I really enjoyed it, this back and forth," says the Monegasque.
In the final phase, there is a direct duel for victory between him and Verstappen. As at the start of the season, the lead changes several times, but this time it's even more tactical because the opponents are trying to outsmart each other in order to have the DRS advantage on the long start-finish straight.
Leclerc gives insight into his strategy: "I knew that top speed is Red Bull's strength this weekend. So it was clear that Max would easily overtake me from start to finish if he had DRS. On the first lap (of the duel; d. Red.) I therefore braked very early, got the DRS myself and overtook him before turn one."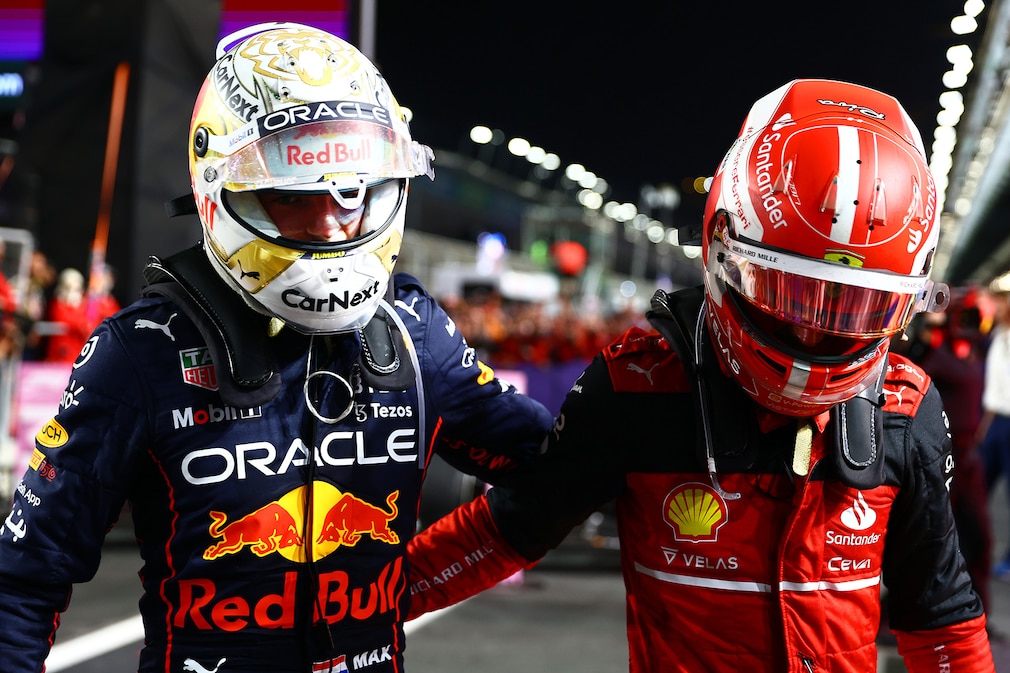 Verstappen acknowledges: "Charles used smart tricks. When I was finally in front of him, I couldn't shake him like that." The track layout in Jeddah promotes this behavior with the DRS measuring point just before the finish hairpin: "Last year we saw that between Max and Lewis (Hamilton; ed.) Here too. At that time it ended with Lewis driving into him is," remembers Sky expert Anthony Davidson.
If ex-F1 driver Paul di Resta has his way, the first collision between Verstappen and Leclerc shouldn't be long in coming. "If they keep going this close I'm sure they will crash at some point," believes the Scot.
At least on Sunday, the duel of the new generation is clean, but no less exciting: "The second time, of course, Max knew that I was doing it, so we both braked very early, but I was able to stay ahead," says Leclerc about the chess game beyond 300 km/h.
World champion Verstappen does not lose track of things. Ex-champion Jenson Button praises how the Dutchman still puts his opponents together after the attacks were initially fended off: "Max learned quickly. That was a great move," says the Brit about the decisive maneuver four laps before the end.
Leclerc also admits: "The third time it wasn't enough for me. Max did a good job there." Verstappen gets extra praise from Red Bull Motorsport Director Helmut Marko. "Thanks to the higher top speed, we were able to overtake Ferrari, but it was an unbelievable maneuver by Max. So it's worth the money," says the man from Graz. Background: Red Bull recently gave its world champion a new contract until 2028, with significantly improved salaries.
Angered by the technical debacle at the start, the defending champion hits back in Saudi Arabia, reducing the gap to Leclerc in the World Cup to 20 points. Verstappen is happy about the successful Ravanche: "Of course, every fight is different, but today was clever and good racing. It wasn't easy, but it was a lot of fun."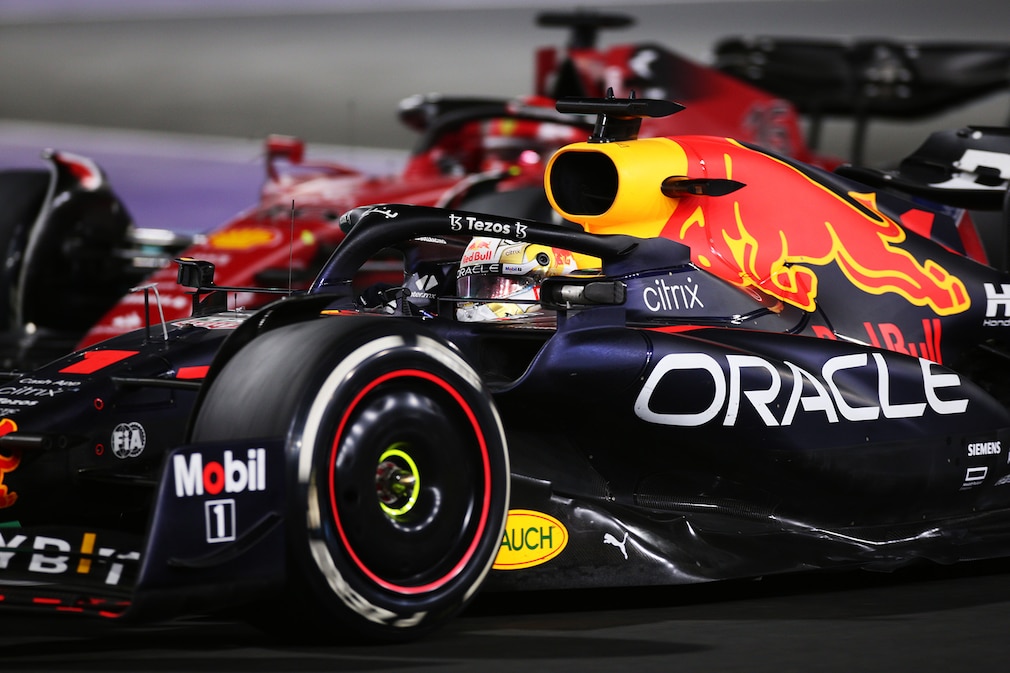 "It was a great spectacle, how hard the two guys fought with each other," says Ferrari team boss Mattia Binotto and Red Bull counterpart Helmut Marko is happy: "Such an exciting race, unbelievable! We didn't have it after last year believed there could still be an improvement, but now it looks like it."
One thing is certain: Formula 1 is experiencing a new mega duel that should shape the next few years. With Leclerc and Verstappen, two drivers of the same generation are now fighting for the title again. New ground effect cars make it possible. With them, the hunter can follow the man in front much better. "Those responsible have achieved what they wanted," says Mercedes team boss Toto Wolff. "Spectacular racing, great overtaking maneuvers and lots of entertainment. One can only applaud the hype that creates around F1."
The problem for the Viennese: Mercedes and his superstar Lewis Hamilton were pushed into the role of observer – at least for the time being. "The duel of the year will be called Leclerc-Verstappen," predicts Red Bull adviser Marko. "I don't think Mercedes can go that pace over a race distance."

Formula 1 on TV
In 2022, Formula 1 will run on Sky. Last year, the broadcaster introduced a new TV channel especially for the premier class: Sky Formula 1. Here there is motorsport 24 hours a day. All practice sessions, all qualifying sessions, all races are always live and without commercial breaks. In addition, Sky also broadcasts the support races Formula 2, Formula 3 and the Porsche Supercup. Historical races and special programs are also on the programme.