Cars
Formula 1: Norris pole in Sochi confirms McLaren's soaring
–
Norris-Pole confirms McLaren soaring
McLaren is the team of the hour in Formula 1: After Ricciardo's sensational victory in Monza, team-mate Norris is racing for pole in Sochi.
McLaren can't get out of partying! As soon as the champagne from the one-two win in Monza has dried, Lando Norris burns pole position into the asphalt in the rainy Sochi qualifying, his first in Formula 1 and the first of the team since the 2012 Brazilian GP. "It's really amazing, me don't even know what to say, "said Norris himself after qualifying a little bit surprised that this time it was really enough for the front.
Formula 1 at a glance at SKY Q
The 21-year-old was already on pole course in the rain qualifying at Spa, but then crashed heavily in Eau Rouge. Most recently in Monza, Norris was overshadowed by team-mate Daniel Ricciardo. He praised the youngster on Saturday: "You only get the first pole once, so it's a great day for Lando and, especially in these conditions, really impressive. He has shown all year what he can do and how he grows with the car and team. "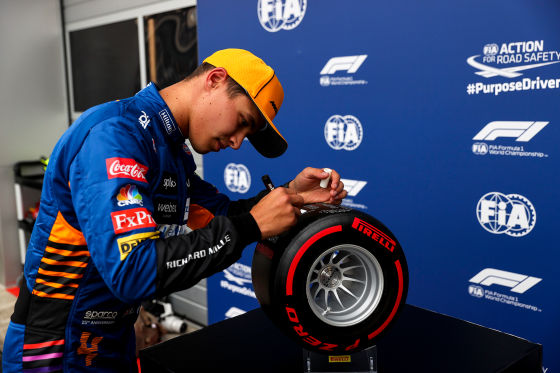 First pole in Formula 1 for Lando Norris
© McLaren
Alone: ​​With a view of the race, Norris is still cautious. "Mercedes is still damn fast and this is traditionally one of their best tracks. We have a chance and I'll do my best, but it'll be a challenge, "says the Briton, who wants to take Ricciardo as an example for Sunday:" Dan said confidently last time: 'I'll win this thing!' And then did it. Maybe I should learn something from there. Usually I'm always a little more reserved. "
Also because the wet Saturday in Sochi washed out the realistic picture at the top: "We did everything right today, so it wasn't luck, it was a deserved result. But in the dry, Mercedes would have been a long way ahead of us, "says Norris, who has not forgotten:" In Zandvoort (in the penultimate race; the editor) we were lapped. "
Experience Formula 1 with the SKY Supersport Ticket
McLaren's German team boss Andreas Seidl is therefore also slowing down expectations despite the soaring of his troops: "Under normal conditions, Mercedes is in a league of its own here, as you showed yesterday. Above all, it will be very difficult to keep Lewis (Hamilton, fourth on the grid; d. Red.) Behind us. On the other hand, you last saw what you can achieve when you start from the beginning. We have a strong team in terms of execution, strategy, pit stops and two very strong drivers. So I'm not worried, "says Seidl.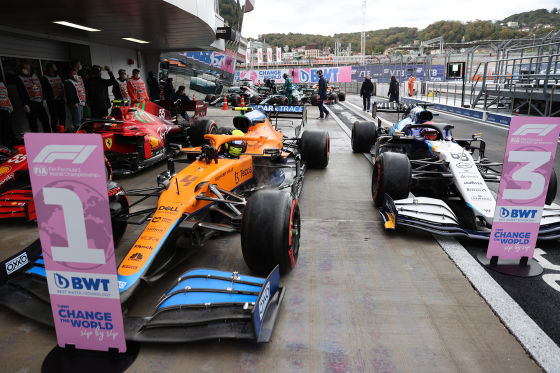 Team boss Seidl continues to see McLaren as an underdog
© McLaren
From the fact that McLaren can keep up with the two greats in Formula 1 in the long term, he sees his team still a bit away. "We have to look at the facts: When it comes to lap times compared to Mercedes and Red Bull, a lot is still missing. The good thing, however, is that we have almost halved our deficit compared to the previous year, "sums up the Bavarian. "It shows that the team is doing a great job. And the Pole shows that we are already in a position to capitalize on it if the opportunity arises. It was the same in Monza. "
McLaren's main opponent at the moment is another one: "We should be in a strong position for tomorrow to fight for the podium and for good points, also compared to Ferrari," says Seidl. Scuderia star Carlos Sainz is at the start right next to Norris in row one – only 13.5 points separate the two teams currently in the constructors' championship in the battle for third place. Seidl: "Every result really counts in order to stay ahead of you in the end."
Formula 1 on TV
Formula 1 will run at Sky in 2021. The station is setting up its own TV station for the new era: Sky Formula 1. Here there is motorsport 24 hours a day. All training sessions, all qualifying sessions, all races always live and without commercial breaks. Sky also broadcasts the Formula 2, Formula 3 and Porsche Supercup races. The program also includes historical races and special programs. You can find more information here