Cars
Formula 1: Psycho and tire poker between Red Bull and Mercedes
Red Bull and Max Verstappen won the first exchange of blows at the Formula 1 final in Abu Dhabi. The Dutchman surprised his British opponent Lewis Hamilton with a magic round. After the training sessions, the reigning champion in the Mercedes was actually the favorite. But pole number ten in 2021 was an exclamation point for his young challenger.
"We are really satisfied," says Red Bull Motorsport Director Helmut Marko with a smile. "We told Max to put in a qualifying performance like in Jeddah. He did that. Compliments also to Perez for the help. "
The Mexican Verstappen team-mate supported Red Bull's number one with a slipstream on the longest straight on the course on Yas Island. But even without the perfect teamwork, Verstappen would have taken first place on the grid.
The experts overturn. "Max gets more out of the package, makes the difference," says Sky man Ralf Schumacher. "Simply phenomenal", praises Nico Rosberg. And Mercedes sports director Toto Wolff also admits: "Now it is clearly 1-0 for Red Bull. It would have been good to start at the front, then you can control the race."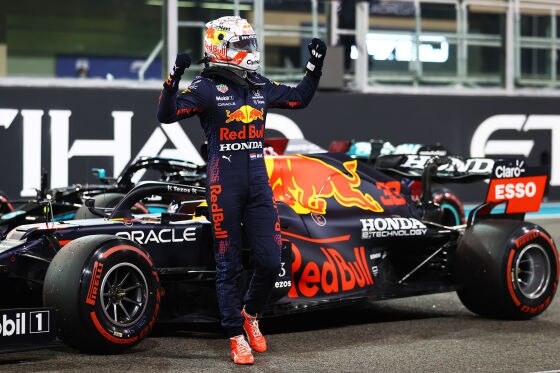 But the Austrian also sees a glimmer of hope. Because while his star driver Lewis Hamilton drives off with the medium-hard, yellow Pirelli tires, Verstappen starts just like Perez with the red tires. One reason: the Dutchman destroyed his last set of medium rubbers when he was braking. All he has left is a soft and a hard sentence.
Wolff: "In terms of strategy, Red Bull is under the best of conditions, after seven to eight laps the tire will collapse, unless Max manages it perfectly. But then we could also go for an aggressive undercut. We're going to run through all sorts of programs and algorithms overnight to see what comes out of them. But I'm also a little worried because their long runs were much better on Friday. "
At Red Bull you feel relaxed despite the tension. "Our tire choice narrows the possibilities of the strategy", admits Marko and confirms: "Thank God our long run on Friday was good. We would also have liked to have had a free choice. But the yellow tire is too damaged. "
The man from Graz relies on the power of psychology. "We hope the pinprick against Mercedes is massive. It's easier when you can set the pace up front than when you have to hunt. "The Grazer reveals: Before and on the weekend, Verstappen was wrapped in cotton wool in the desert. "He actually wanted to go back to Europe. But we then organized a relaxation program for him in Dubai and flown his girlfriend in. "
At Mercedes, people tend to rely on motivation rather than isolation. Hamilton can push Michael Schumacher from the pedestal of eternity with his eighth world title. Wolff: "You don't have to tell Lewis anything. He's going to be pissed off and that's good. Because that's how he is motivated to hunt Max tomorrow. We are ever
Mega offer from Sky for the Formula 1 final!
In line with the grand Formula 1 finale, Sky has a mega offer in its luggage. The pay TV broadcaster will broadcast the entire season and the finish in 2021 live on German television. The promotion for AUTO BILD readers: 50 percent discount on the Sky Supersport ticket. That means: 14.99 EUR instead of 29.99 EUR in the first month. Book online easily and cancel at any time.
GO TO THE SKY OFFER HERE