Cars
Formula 1: Qualifying for the USA GP: Verstappen pole ahead of Hamilton
Austin is actually clearly known as Lewis Hamilton country, but for the first time in the turbo era since 2014, there is no Mercedes on pole on the Texas circuit: Max Verstappen strikes in the last second in qualifying for the USA GP, and title rival Hamilton grabs first place on the grid path. The Dutchman grunted the Briton for 0.209 seconds. Sergio Perez in the second Red Bull, who was still in the lead before the last run in Q3, has to be content with third place.
"In the end it even started to drizzle slightly in the last sector," says Verstappen with a grin after his ninth pole position of the season. "But I made the rounds and it was enough. We felt good today with the harder tire, it's a nice comeback after yesterday. Also, that Checo (Perez; d. Ed.) Is up there with me. Now we need a good start and then we have to work together against Lewis for the best possible result. "

Title rival Hamilton explains: "I gave everything and fought my way through qualifying, but Red Bull was incredibly fast today. I was happy with my last lap, but it wasn't enough. "This doesn't change anything about Hamilton's target:" Second on the grid is a good position for the race. I want to win and give the guys (from Red Bull; d. Red.) A tough fight. "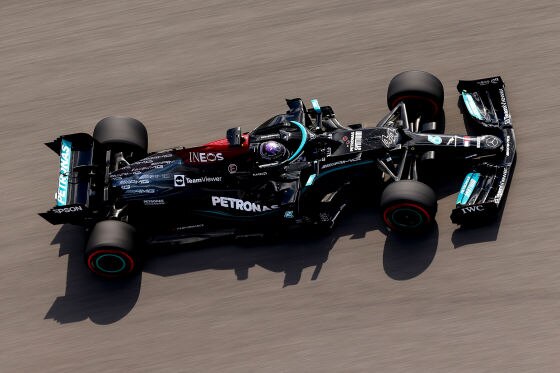 Behind the top 3, Valtteri Bottas qualified in fourth in the second Mercedes, but the Finn has to move back five places to ninth place on the grid to change his combustion engine. Behind them are the Ferrari drivers Charles Leclerc and Carlos Sainz, the McLaren duo Daniel Ricciardo and Lando Norris and Alpha Tauris Pierre Gasly. His teammate Yuki Tsunoda rounds off the top 10.
Aston Martin star Sebastian Vettel qualified in twelfth place, but had to go to the end of the field due to the replacement of various engine components. As a result, he starts 18th behind Mick Schumacher, who left his Haas team-mate Nikita Mazepin behind in qualifying and moved up to 16th place due to the penalties against Vettel, as well as George Russell (Williams) and Fernando Alonso (Alpine).
Formula 1 Grand Prix of the USA
Qualifying:
1. Max Verstappen (Netherlands) – Red Bull 1: 32.910 min.
2. Lewis Hamilton (Great Britain) – Mercedes +0.209 sec.
3. Sergio Perez (Mexico) – Red Bull +0.224
4. Valtteri Bottas (Finland) – Mercedes +0.565
5. Charles Leclerc (Monaco) – Ferrari +0.696
6. Carlos Sainz Jr. (Spain) – Ferrari +0.882
7. Daniel Ricciardo (Australia) – McLaren +0.898
8. Lando Norris (Great Britain) – McLaren +0.977
9. Pierre Gasly (France) – Alpha Tauri +1.208
10. Yuki Tsunoda (Japan) – Alpha Tauri +2.008
11. Esteban Ocon (France) – Alpine 1: 35.377 min.
12. Sebastian Vettel (Heppenheim) – Aston Martin 1: 35,500
13. Antonio Giovinazzi (Italy) – Alfa Romeo 1: 35.794
14. Fernando Alonso (Spain) – Alpine 1: 44.549
15. George Russell (Great Britain) – Williams – no time in Q2
16. Lance Stroll (Canada) – Aston Martin 1: 35.983
17. Nicholas Latifi (Canada) – Williams 1: 35,995
18. Kimi Raikkonen (Finland) – Alfa Romeo 1: 36.311
19. Mick Schumacher (Gland / Switzerland) – Haas 1: 36.499
20. Nikita Masepin (Russia) – Haas 1: 36.796
Formula 1 on TV
Formula 1 will run at Sky in 2021. The station is setting up its own TV station for the new era: Sky Formula 1. Here there is motorsport 24 hours a day. All training sessions, all qualifying sessions, all races always live and without commercial breaks. Sky also broadcasts the Formula 2, Formula 3 and Porsche Supercup races. The program also includes historical races and special programs. You can find more information here