Cars
Formula 1 qualifying: Norris surprises, Hamilton collides
–
Norris surprised, Hamilton collided
McLaren takes pole in qualifying for the Russian Grand Prix. Mercedes and Lewis Hamilton fail.
G
Big surprise in qualifying for the Russian Grand Prix in Sochi: After Daniel Ricciardo's McLaren victory in Monza, another McLaren starts from pole position. This time it is Lando Norris who turns the fastest lap on a drying track with slicks and takes his first pole position.
"It was a crazy session, I did everything well and I'm extremely happy," said Norris. "With weather conditions like this, you have to seize the opportunity."
The Englishman relegates Carlos Sainz (Ferrari) and George Russell (Williams) to the places. "There was only one line that was dry," says Russell. "Two centimeters off and it could have gone wrong. We're aiming for the podium and have nothing to lose." Strong: The future Mercedes driver is the first to switch to slicks. That gives him the decisive advantage to finish in the top three in the Williams.
Experience Formula 1 with the SKY Supersport Ticket
This means that both young Britons are faster than their idol. Lewis Hamilton came in fourth after a curious incident. Because the wet track dries up, the world champion comes back into the pits to switch to slicks, but bumps into the gang as he enters the pit lane. His Mercedes needs a new nose. But that's not all: On his fast lap, Hamilton slips out again in the last corner and slides backwards against the tire wall.
Mercedes team boss Toto Wolff: "He lost a little time when he hit the wall. But we were basically too late. The slick needs two laps to get up to temperature. We didn't have that. Nothing is yet lost, Lewis can also win from fourth place. In terms of pure pace, we shouldn't have an opponent, the question is whether we can get past. "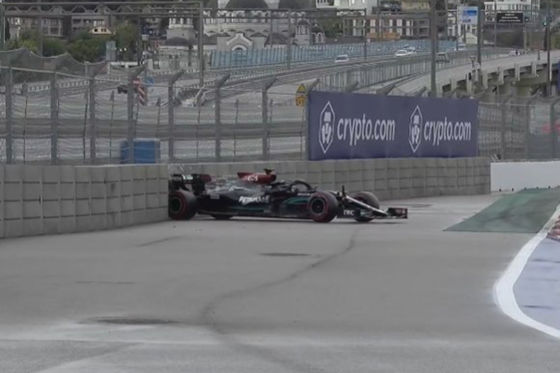 Lewis Hamilton experienced a qualification to be forgotten.
© F1 TV
Daniel Ricciardo is fifth ahead of Fernando Alonso (Alpine). Mercedes driver Valtteri Bottas does not live up to his favorite role in seventh place. Sebastian Vettel's team-mate Lance Stroll is eighth. Red Bull driver Sergio Perez starts from ninth place.
Sebastian Vettel retires in the second qualifying segment. The German puts his Aston Martin in eleventh place and is promoted from the top ten in the last second by George Russell (Williams). Behind him: the two Alpha Tauri from Pierre Gasly and Yuki Tsunoda as well as Nicholas Latifi in the Williams.
Vettel is annoyed: "That doesn't exist! Shit! Tsunoda blocked me."
Strong performance also from Mick Schumacher on the wet track. The Haas driver lands in 17th place, one place behind Kimi Raikkonen, but 1.2 seconds BEFORE his Alfa Romeo team-mate Antonio Giovinazzi and his own co-driver Nikita Mazepin. The Russian's deficit on the German is remarkable: almost four seconds! Schumi junior does not want to let any joy arise on the pit radio: he beeps himself away.
Schumacher explains: "It bothered me a bit that we didn't make it into Q2. That annoyed me, but I didn't want to use swear words on the pit radio because it will be expensive. The car felt good. We have one good performance put on the track. " The Haas driver will start from 15th place in the Russian GP after the penalty transfers of Leclerc (change of drive) and Latifi.
Formula 1 at a glance at SKY Q
And what about World Cup leader Max Verstappen? After changing the engine, the Red Bull star has to start from the very back anyway. That's why he briefly held his nose on the wet track and then got out again without time. Red Bull motorsport advisor Helmut Marko had already said before qualifying: "Thanks to the regulations, we already have our fixed starting position. We won't risk anything. "
Formula 1 on TV
Formula 1 will run at Sky in 2021. The station is setting up its own TV station for the new era: Sky Formula 1. Here there is motorsport 24 hours a day. All training sessions, all qualifying sessions, all races always live and without commercial breaks. Sky also broadcasts the Formula 2, Formula 3 and Porsche Supercup races. The program also includes historical races and special programs. You can find more information here