Cars
Formula 1: Red Bull shoots poison arrows in the direction of Mercedes
Seven races left in the 2021 Formula 1 season and the championship battle is gaining momentum. Only two points separate championship leader Lewis Hamilton (Mercedes) and challenger Max Verstappen (Red Bull). In other words: For the first time since 2013, Mercedes threatens to lose the World Cup duel. On the other hand, Red Bull has the first real World Cup chance since Sebastian Vettel's last title in the Formula 1 season in which the V8 engines made their final screams.
Who is under the most pressure? At Red Bull, despite two races without a win, they remain confident. Team principal Christian Horner: "We still have seven races and we need a lot of points from both drivers to be able to catch up. Max has the ability to deal with the pressure, we saw that in Zandvoort. "
Although the Dutchman is competing for a title for the first time, Horner sees no disadvantage in this: "Max is not distracted by anything, psychological games leave him cold."
But the Briton himself never tires of sending small poison arrows in the direction of Mercedes – especially in the direction of his team boss counterpart Toto Wolff. Horner on English TV: "For the first time, Toto and Mercedes are in a situation where they are challenged. When he joined the team, the driver contracts had already been made and the engine was in the final stages of development. He did a great job keeping the team on top. But there was no competition either. It's different now. "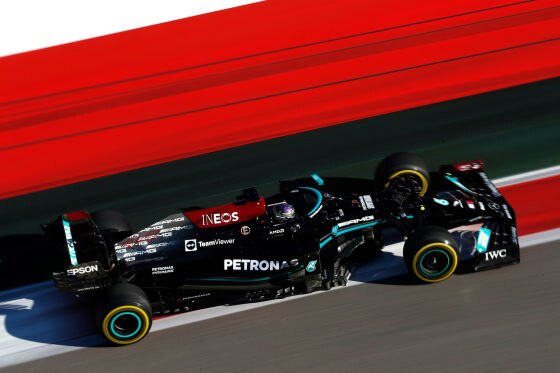 As a race director, Horner has a different way of working than the Austrian. "I'm sitting in the front line at the command post next to the engineers, Toto is sitting in the garage next to a press man," the Englishman teased. "So we have different roles. The competition between us is fierce, and the more pools there are, the funnier it gets. "
Alone: ​​Not only Horner sees more pressure at Mercedes. "Fighting hard within the team is different from fighting hard against others," says Wolff's predecessor Ross Brawn.
The Briton was Mercedes team principal until the end of 2013 and prepared the field. Now he's head of Formula 1 sports. "If you fight hard internally, what can happen in the worst case? If one driver doesn't win, the other would, "said Brawn. "There were years when it was either Nico or Lewis because there was no one to pick up the broken pieces if they didn't deliver. Mercedes had this pad when they screwed it up. "
It's different now. The former Ferrari mastermind: "Now there is no more upholstery. Max fights massively for the championship. He was fantastic on Sunday and delivered masterclass in terms of damage control. "
But Mercedes also drove at world championship level. When it came down to it, even without Toto Wolff, they stayed calm at the command post and directed Hamilton into the pits to switch to intermediates. Horner knows that too: "The next twelve weeks will decide whether we will become world champions. Mercedes can be beaten, but only if we deliver our best performance. "
Insiders like ex-Formula 1 star Gerhard Berger would bet their cards on Verstappen. Today's DTM boss to ABMS: "I think Max will do it. He's finally got a car on par with the Red Bull, he's doing a fantastic job. His second place finish in Sochi was more than damage control, assuming he had to start from the back. You could say: Mercedes had a penalty, but Max saved it. "
What also speaks for him: his psyche. Berger: "With all his determination and concentration, Max seems completely tidy in the head. He knows exactly what to do. "An example: Before the race, Verstappen talked to Hamilton's team-mate Valtteri Bottas, who also had to start from behind. Presumed tenor: He should stay out of the title fight.
The "brainwashing" worked. The Finn barely resisted when Verstappen overtook him. Berger: "Champions do that too. Before every race, Senna would go to the drivers on the grid and tell them his plans. That always worked. "
Formula 1 on TV
Formula 1 will run at Sky in 2021. The station is setting up its own TV station for the new era: Sky Formula 1. Here there is motorsport 24 hours a day. All training sessions, all qualifying sessions, all races always live and without commercial breaks. Sky also broadcasts the Formula 2, Formula 3 and Porsche Supercup races. The program also includes historical races and special programs. You can find more information here