Cars
Formula 1 – Red Bull vs. Mercedes: Zoff over the underbody rule
On the track, Mercedes Red Bull can't hold a candle at the moment. Behind the scenes in the paddock, the two teams are fighting each other just as doggedly as in the epic World Championship duel in 2021. The hot topic: the dispute over the flexible underbody in Formula 1.
According to Mercedes, Red Bull, like Ferrari, should currently clearly exceed the permitted flexibility of two millimeters on the underbody. At the latest with the first race after the summer break in Spa, Belgium, this will probably be over: Then a new technical directive (number 39) will come into force, which regulates more strongly how much a car can jump up and down.
For 2023, completely new rules are supposed to apply, officially for safety reasons because of the so-called porpoising, the hopping of the new ground-effect cars. In any case, Mercedes team boss Toto Wolff is confident at Sky: "The FIA ​​​​will do something, maybe a compromise will come out of it," says the Viennese.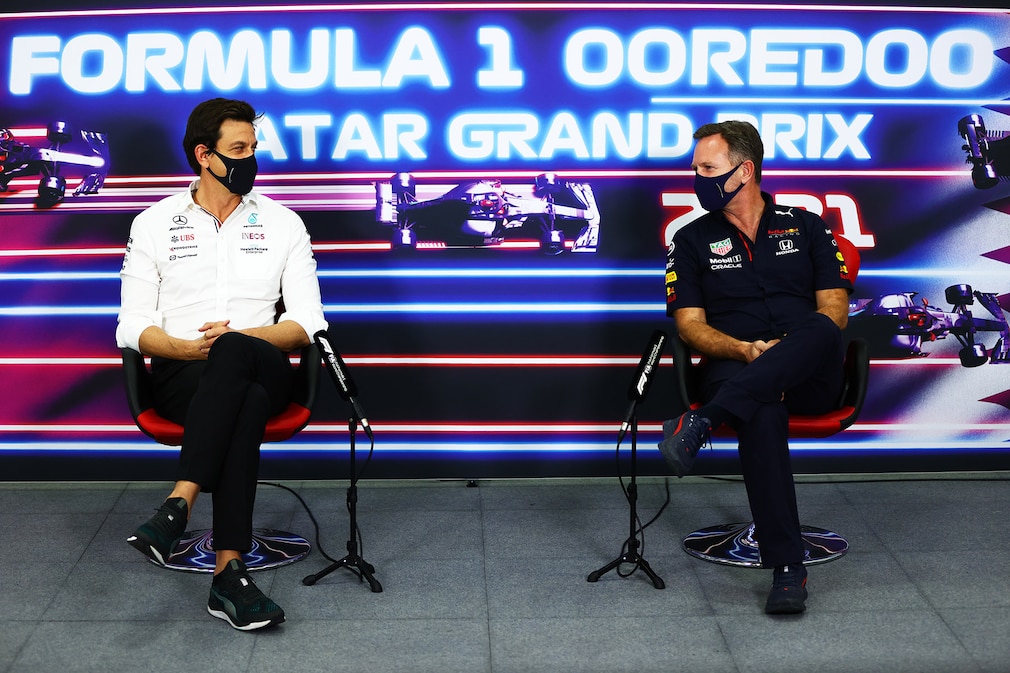 However, it is precisely such sentences that cause trouble at Red Bull. The Verstappen team assumes that Mercedes' push for changes is politically motivated. "I think there is a lot of lobbying to change the rules significantly for next year so that a certain team can drive their car lower and benefit from this concept," rumbles Red Bull team boss Christian Horner in relation to the competitor.
Red Bull's Marko: "No Lex Mercedes"

Red Bull's motorsport consultant Helmut Marko becomes even clearer on the sidelines of qualifying for the French GP in Le Castellet: "There will certainly not be a Lex Mercedes. The whole thing is not an issue at all, only one team plays it so high," says the Austrian and advises Mercedes in the same breath: "You should concentrate on making the car competitive instead of digging around in the regulations and shooting poisonous arrows."
Curious: Like Wolff, Horner fully trusts the FIA ​​in this matter. "I think the President is doing the right thing. He's collecting all the information and hopefully a reasonable solution can then be found. Because it's already too late in the year for such a fundamental change in the regulations," says Horner, like some others The tight budget cap also worries team bosses in relation to large-scale plan changes.
At least six teams are said to have positioned themselves clearly against the new rules with FIA President Mohammed Ben Sulayem – but Mercedes and its customer teams are for it. But the silver arrows reject the buck: "We at Mercedes don't even know whether the rule changes would even accommodate us," counters chief engineer Andrew Shovlin the allegations.
A good week before the summer break, one thing is clear: this dispute will keep the premier class busy for a long time.