Cars
Formula 1 Red Bull: will Verstappen get a new engine?
The battle of the giants is entering the decisive phase. With two races to go, Max Verstappen (24 / Red Bull) still has eight points ahead of Lewis Hamilton (36 / Mercedes), who caught up in the last few races with seven mile boots and a super powerful Mercedes.
And now, of all things, there is an extremely high-speed route! The next race in Saudi Arabia will go through the city and past walls, but the 6.174 kilometer track in Jeddah Corniche Circuit is also one of the fastest tracks on the Formula 1 calendar. The remarkable proportion of full throttle: 79 percent.
A clear advantage for Hamilton, who will start again on the high-speed street circuit with his rocket engine from Brazil. Mercedes team boss Toto Wolff warns the competition: "If you consider where we were at the beginning of summer, that's a privilege and proof of our resilience. The car is probably better than it has ever been this season. The drivers have the confidence to go to the limit with it. We are on the hunt and more motivated than ever. "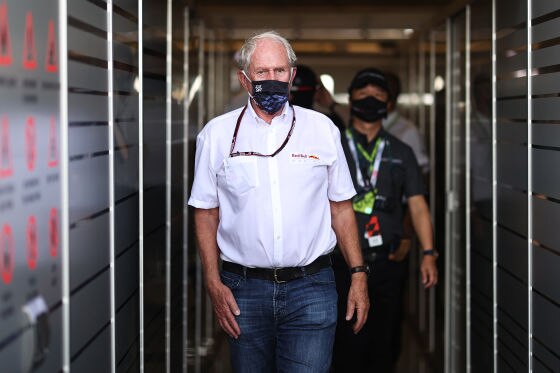 The pressure on Red Bull is increasing as well as on engine manufacturer Honda, because the final in Abu Dhabi also has various long straights in store. Italian media are therefore reporting that Red Bull has asked the Japanese to get everything out of the aggregate in the final sprint. In return, the Japanese recommended swapping Verstappen's drive unit again before the final GP. One reason: the engine is almost 2000 kilometers under its belt.
Does the Dutchman threaten a starting place penalty in Jeddah of all places, where the full throttle percentage is high but the opportunities for overtaking are low after the recommended engine change?
Red Bull motorsport advisor Helmut Marko (still) says no. "An engine change is not planned in Saudi Arabia at the moment," the Austrian tells ABMS, "if it does, it will come to Abu Dhabi."
Verstappen is, however, cool as always. "I feel calm, I know that I'll always try to do my best and we'll see where we end up. Nothing has been decided yet and we are all ready for the challenge. "
At least mathematically, the Red Bull star has an advantage in Jeddah: If he scores eight points more than Hamilton, he is world champion. The Briton, on the other hand, cannot become world champion this coming weekend.
Alone: ​​Helmut Marko doesn't want to know anything about arithmetic games. "Stay away from me, otherwise I'll calculate that Max has already lost more than 50 points through no fault of his own." The man from Graz means the accidents with Hamilton and his winger Valtteri Bottas in Silverstone and Hungary.
One thing is certain: the crucial phase has begun – on and off the track.

Formula 1 on TV
Formula 1 will run at Sky in 2021. The station is setting up its own TV station for the new era: Sky Formula 1. Here there is motorsport 24 hours a day. All training sessions, all qualifying sessions, all races always live and without commercial breaks. Sky also broadcasts the Formula 2, Formula 3 and Porsche Supercup races. The program also includes historical races and special programs. You can find more information here