Cars
Formula 1: Russell Pole, Hamilton defect: "Bittersweet" for Mercedes
Nobody expected that, least of all George Russell himself: The Briton races sensationally to pole position in qualifying for the Hungarian GP, ​​making himself the 105th driver in the history of Formula 1 to achieve a pole position – and he can do it afterwards hard to believe:
"Yesterday was probably our hardest Friday of the whole season. We were all here until 11 a.m., scratching our heads and the mood was pretty low. We felt lost," reveals Russell and beams in the same breath: " To be on pole less than 24 hours later and hitting back like that is an incredible feeling when you know what we went through last night."
But while the pole sitter and his team are celebrating, there is one man at Mercedes who shouldn't feel like celebrating: Lewis Hamilton. The record world champion of Formula 1 only finished seventh in Hungary qualifying because a defect in his silver arrow slowed him down: "My DRS didn't open. That's very unfortunate, but things like that happen," he reports.
Hamilton has no doubt that he too would have had the pace for pole. "I felt great, so the front row would definitely have been possible," says the Brit. For his young team-mate there is still the obligatory congratulations: "Congratulations to George, he did a great job. It's an excellent result for the team after everything we've been through. I'm very happy for them, really great."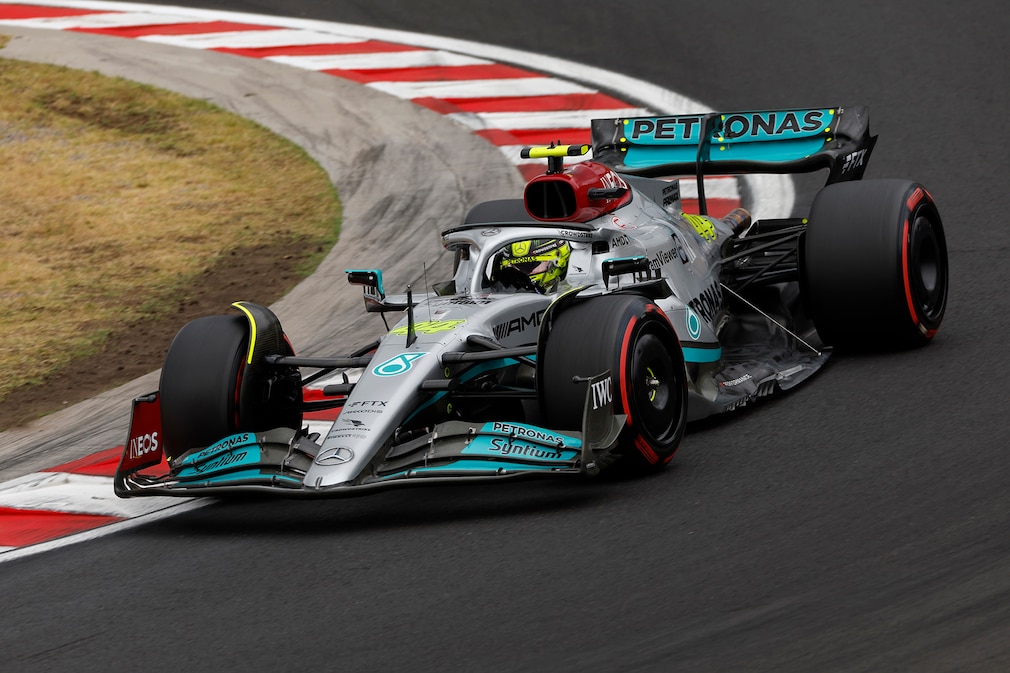 But anyone who knows Hamilton knows how much things must be simmering in the seven-time champion: the Brit leaves no stone unturned behind the scenes to use his enormous wealth of experience to bring Mercedes back onto the winning path it has been accustomed to for a long time. The Silver Arrows are slowly getting back on the road to success, but now it's Russell who is reaping the laurels.
Team boss Toto Wolff knows how explosive the qualifying result is internally and will therefore never tire of emphasizing on Saturday: "In moments like this you actually want to cry with joy (because of pole; ed.), but also because the car is good enough so Lewis could have been there too. It's really bittersweet. If he doesn't get the DRS, he'll be in the top three too."
With a view to the Mercedes surprise in qualifying, Wolff jokes: "We just said: We have to write down everything we did this morning – including the food and drinks we had in order to be able to replicate it."
Because Wolff can't really explain the Russell lap either: "But we could see from the beginning of qualifying that our tires are in the right window. The car was in the right balance and somehow everything came together." This is also shown by the curious fact that Russell did not set a best time in any of the three sectors, but in the end put in the fastest lap overall.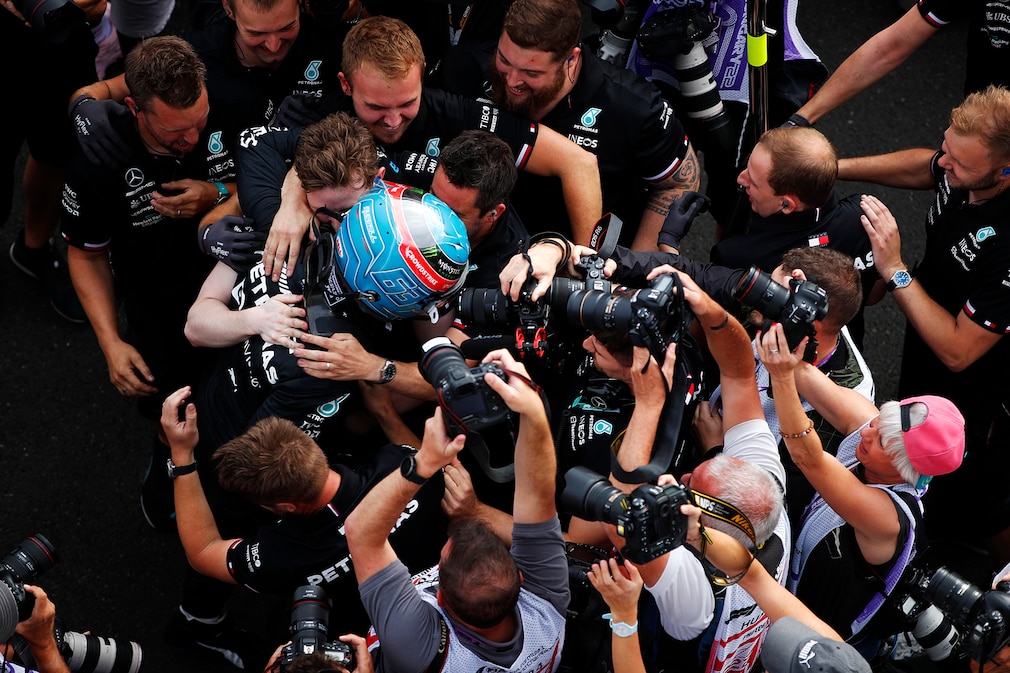 The Briton describes from the cockpit perspective: "I arrived at turn one: mega, one and a half tenths ahead. Turn two: the same, three tenths ahead. That's how it went on and on. If you get into the rhythm like that, the lap time just keeps coming more towards you. When I crossed the finish line I saw that it was P1. That was an incredible feeling. That's what racing is about, that's what you get up for every day as a racer."
But despite all the joy, Russell is also aware: "There are still no points for qualifying. Tomorrow will be a complete trip into the unknown, because we turned the car inside out after yesterday. The conditions will also be different because it will be colder tomorrow ", says the Mercedes star. In addition: "With a lot of fuel on board, the pace yesterday was worse than ever and Ferrari looks pretty strong here. But I'll give everything, we obviously want to win now."
Team boss Wolff is also optimistic, albeit a bit more cautious: "Of course, one swallow doesn't make a summer. We've got pole now, but we have to see what pace we have in the race," says the Viennese and explains: "If we If we can keep ourselves up front at the start, get the lead off the first lap and have a solid race and solid stops…then we can win that."
However, Wolff dares to doubt whether this will open the door again for Mercedes in the World Championship fight: "It is difficult to say. Max (Verstappen; ed.) is far behind here, which of course is not bad. But the points gap to him, like everyone else, is very large. Nevertheless, we never give up, because today you can see how fast things can go," said Wolff. "That's the exciting thing about this sport: we always oscillate between jubilation and depression." In other words, between Russell and Hamilton.