Cars
Formula 1 Russia: Red Bull with luck in motor poker
–
Red Bull with luck in motor poker
Max Verstappen starts from the very back in the GP Russia in Sochi. Because Hamilton made a mistake, Red Bull's motor poker could open up
Red Bull has opened the game of poker and must now hope that the face down cards are two aces … As reported in advance, the team installed a fourth drive unit in Max Verstappen (23) 's car at the Russian Grand Prix and thus the first move in the Made motor poker against Mercedes. So Verstappen started the race in Sochi from last place on the grid and didn't even set a fast lap in qualifying.
"We already had our starting position fixed," explains Red Bull motorsport advisor Helmut Marko. "We didn't want to risk anything." Ferrari star Charles Leclerc drives off alongside Verstappen, who also accepts a fine for a brand new hybrid unit.
Background: Only three so-called power units are actually allowed per season. The rule is intended to underline the efficiency of hybrid engines and reduce costs. But most of the time the math doesn't work out. Especially not if an engine breaks down in a crash. This is what happened in Verstappen's high-speed crash with Hamilton at Silverstone.
Experience Formula 1 with the SKY Supersport Ticket
The problem: The engine exchange has to be "paid for" with starting places. A new engine block costs ten ranks, each additional drive element (e.g. turbocharger, electric motors, etc.) costs another five positions on the grid. Because Verstappen got three starting positions after the crash with Hamilton in Monza anyway, a completely new drive unit offered itself in Sochi – not just a new internal combustion engine that was cracked at Silverstone.
Marko explains to ABMS: "Mercedes is incredibly strong here. The calculation looked like this: We will be third at most in qualifying, for that we have to drop three places, then we are in sixth place. If we had only taken a different V6 engine, it would go back to 16th place, but there is no longer a big difference between 16 and 20, so we decided to swap the entire package. Then we can attack in the coming races until the end of the season. "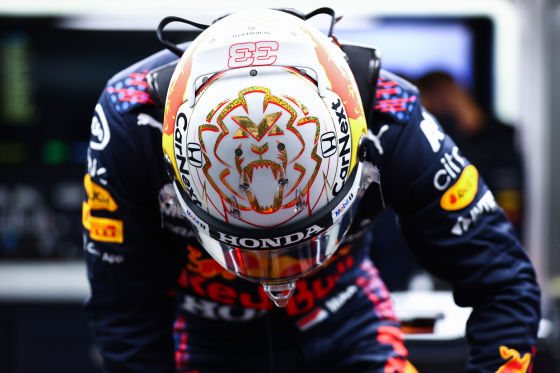 Max Verstappen
© Red Bull Content Pool
Verstappen remains in attack mode: "We had to take the penalty with us at some point anyway. If not here, then somewhere else. Now we just have to try to limit the damage as much as possible. "
After all: Mercedes is helping Red Bull with it. Instead of taking full advantage of the supposed advantage, Lewis Hamilton first puts his Mercedes against the bar in the pit lane in qualifying and then turns in the last corner. Result: fourth place for the Briton, seventh place on the grid for his wingman Valtteri Bottas.
"It's a disaster for Lewis," says former world champion Damon Hill on Sky. "Exactly on the day when he has to benefit from Verstappen's punishment, he ends up behind the whole pack of young guns. It's dangerous for him at the start. "Mercedes team boss Toto Wolff doesn't want to see it so badly yet:" Lewis can also win from fourth place. In terms of pure pace, we shouldn't have an opponent, the question is whether you can get past. "
Red Bull is also asking itself the same question. "Of course, we now primarily looked at our race set-up," reveals Verstappen. The top speed during Verstappen's installation lap (!) In qualifying is an indication of the targeted catch-up with flat wings and little downforce. The Dutchman was the fastest of the entire timed practice at 305 km / h.
However, Red Bull has one fear: that, contrary to the predictions, it will start to rain again. Marko also admits: "When it's wet, it's difficult from the end of the field with all the spray."
It remains to be seen whether and when Mercedes will also sit down at the poker table. "We have guesses and hope that they too will have to change their engine soon," reveals Marko at Sky. The reason: "You saw at Bottas (change in Monza; d. Ed.) That they too have problems. And when you have a fresh engine and can push, there is more self-confidence. "
Formula 1 at a glance at SKY Q
When asked, Wolff does not yet allow himself to be looked at, but smiles: "Well, if the doctor says that !?" When asked, he refuses to comment with a grin. "I don't want to lie to you." So it is quite possible that Mercedes will join the poker table this evening.
In any case, the result of the qualifying played into the cards for Red Bull. The game of damage control seems to be working …
Formula 1 on TV
Formula 1 will run at Sky in 2021. The station is setting up its own TV station for the new era: Sky Formula 1. Here there is motorsport 24 hours a day. All training sessions, all qualifying sessions, all races always live and without commercial breaks. Sky also broadcasts the Formula 2, Formula 3 and Porsche Supercup races. The program also includes historical races and special programs. You can find more information here