Cars
Formula 1: Sainz victory after horror accident
Pure drama at the British Grand Prix in Silverstone: Ferrari driver Carlos Sainz clinches his first Formula 1 victory ahead of Sergio Perez (Red Bull) and Lewis Hamilton (Mercedes). The Spaniard benefits from a late safety car after a technical problem by Esteban Ocon (Alpine).
Background: During the caution phase, Sainz and Hamilton get fresh, soft tires while leading Ferrari star Charles Leclerc stays on the track on hard rubber. A strategic mistake by Ferrari. Subsequently, Sainz refuses to shield his teammate. Instead, he attacks and snatches victory from Leclerc.
"I don't know what to say," says Sainz happily. "This is a special day that I will never forget."
The final phase of the race in particular can hardly be surpassed in terms of excitement. The positions between Perez, Hamilton and Leclerc switch back and forth several times. The Monegasque can defend himself successfully for a long time, but then falls back to fourth place. Up until the decisive safety car, he had his sights set on victory – but also because he was waved past Sainz from the command post.
Alone: ​​Both Ferraris and Lewis Hamilton are benefiting from problems with Max Verstappen's Red Bull, who, while in the lead, suddenly loses grip on lap 14 and slows down. The world champion, who was in seventh place, fended off various attacks from Mick Schumacher until the finish line. The Haas pilot is faster than Verstappen, but does without a hara-kiri maneuver.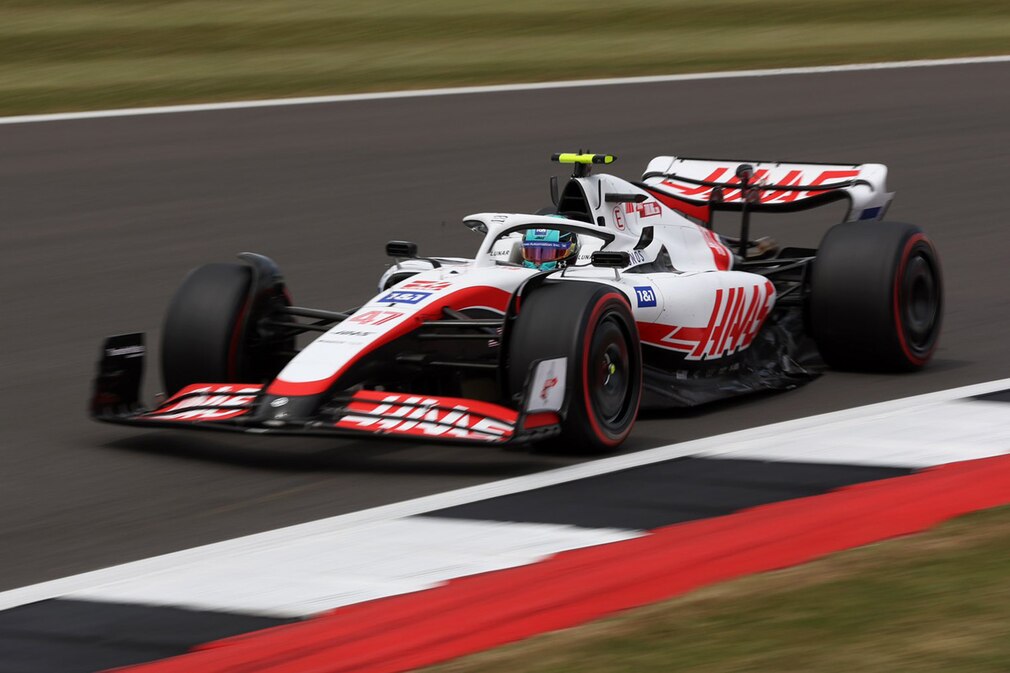 Nevertheless, Mick Schumacher's son can be proud: he secured his first four points in eighth place, overtaking Daniel Ricciardo (McLaren), Sebastian Vettel (Aston Martin) and his teammate Kevin Magnussen, among others. "It took long enough," he comments. Sebastian Vettel finished ninth on his 35th birthday after a clean race and good strategy.
The race ends spectacularly, it begins spectacularly with a moment of shock at the start: George Russell steers his Mercedes into Zhou Guanyou's Alfa Romeo after a hit from behind. The red and white racer overturns, slides headfirst through the gravel bed, takes off, slams into the safety fence with its base plate first and comes to rest between the fence and the tire stack. The race is stopped.
Russell sprints through the gravel trap and asks how the Chinese are feeling. Then there's the all-clear. Zhou is unharmed. Also involved in the accident are Alex Albon (Williams) and Esteban Ocon (Alpine), who retired due to a chain reaction. Albon has to go to the hospital for an examination after Vettel crashed into his rear after a hard braking maneuver and Williams pushed it into the wall.
Who was to blame for the crash? "George should have known a little better what was happening," said former world champion Damon Hill on Sky England. "It looked like he wanted to defend a lost position at the start. The golden rule in my day was never to change direction quickly at the start because you never know exactly what is going on around you."
Russell then has to watch as his teammate Lewis Hamilton climbs onto the podium. "I'm glad Zhou is okay," he says. "The accident looked worrying. It's obviously disappointing for me and the whole team that we were involved. I had zero grip on the hard tire at the start, so the other cars just shot past me."
He did not deliberately steer to the left. "I was touched and then unfortunately crashed into Zhou's side. It was a dramatic accident, that's why I jumped out of the car when I saw that it was red. I told the marshals to leave my car alone because we only had minor damage and I could have continued. But when I got back, my car was on the tow hook. Once you have had outside help, you are no longer allowed to ride. This is very frustrating and a very extraordinary scenario."
Formula 1 British Grand Prix
result
1. Carlos Sainz Jr. (Spain) – Ferrari 1:21:20.440 hrs.
2. Sergio Perez (Mexico) – Red Bull +3.779s
3. Lewis Hamilton (Great Britain) – Mercedes +6,225
4. Charles Leclerc (Monaco) – Ferrari +8.546
5. Fernando Alonso (Spain) – Alpine +9.571
6. Lando Norris (Great Britain) – McLaren +11.943
7. Max Verstappen (Netherlands) – Red Bull +18.777
8. Mick Schumacher (Gland/Switzerland) – Haas +18.995
9. Sebastian Vettel (Heppenheim) – Aston Martin +22.356
10. Kevin Magnussen (Denmark) – Haas +24,590
11. Lance Stroll (Canada) – Aston Martin +26.147
12. Nicholas Latifi (Canada) – Williams +32.511
13. Daniel Ricciardo (Australia) – McLaren +32.817
14. Yuki Tsunoda (Japan) – Alpha Tauri +40,910
failures:
Alexander Albon (Thailand) – Williams (1st lap)
Zhou Guanyu (China) – Alfa Romeo (1st lap)
George Russell (Great Britain) – Mercedes (1st lap)
Valtteri Bottas (Finland) – Alfa Romeo (21st lap)
Pierre Gasly (France) – Alpha Tauri (27th lap)
Esteban Ocon (France) – Alpine (38th lap)
Driver Rating
Standing after 10 of 22 races
1. Max Verstappen (Netherlands) – Red Bull 181 pts.
2. Sergio Perez (Mexico) – Red Bull 147
3. Charles Leclerc (Monaco) – Ferrari 138
4. Carlos Sainz Jr (Spain) – Ferrari 127
5. George Russell (Great Britain) – Mercedes 111
6. Lewis Hamilton (Great Britain) – Mercedes 93
7. Lando Norris (Great Britain) – McLaren 58
8. Valtteri Bottas (Finland) – Alfa Romeo 46
9. Esteban Ocon (France) – Alpine 39
10. Fernando Alonso (Spain) – Alpine 28
11. Pierre Gasly (France) – Alpha Tauri 16
12. Kevin Magnussen (Denmark) – Haas 16
13. Sebastian Vettel (Heppenheim) – Aston Martin 15
14. Daniel Ricciardo (Australia) – McLaren 15
15. Yuki Tsunoda (Japan) – Alpha Tauri 11
16.Zhou Guanyu (China) – Alfa Romeo 5
17. Mick Schumacher (Gland/Switzerland) – Haas 4
18. Alexander Albon (Thailand) – Williams 3
19. Lance Stroll (Canada) – Aston Martin 3
Constructor Score
1. Red Bull 328 pts.
2.Ferrari 265
3.Mercedes 204
4. McLaren 73
5. Alpine 67
6. Alfa Romeo 51
7. Alpha Tauri 27
8.Haas 20
9. Aston Martin 18
10.Williams 3