Cars
Formula 1 Saudi Arabia: Leclerc fastest in the first practice session
+++UPDATES: Concern about Formula 1 after a drone attack near Jeddah: Only a few kilometers away from the race track, there was apparently an attack on a plant belonging to the Saudi oil company Aramco during the first free practice session.
A plume of black smoke could be seen from the cockpit perspective of Ferrari star Carlos Sainz. World champion Max Verstappen even sniffed the smell of smoke under his helmet.
The fire is said to be raging near the international airport, which is only 15 kilometers from the racetrack. There is no statement from Formula 1 yet. It is considered likely that it was a rocket or drone attack by the Houthi rebels, who have been involved in a conflict in neighboring Yemen since 2015 and have repeatedly shot at Saudi Arabia.
According to the AP, the rebels have now confirmed that they have launched various attacks on targets in the neighboring country. The Aramco plant in Jeddah was attacked with a missile and drones last week.
The attacks on the oil multinational are not good news for Formula 1. Aramco not only sponsors Aston Martin but is also one of the series sponsors of Formula 1.
A Saudi Arabian government spokesman told the DPA last week that "the safety of our guests is our top priority". The organizers also emphasized: "This incident has no impact on the race weekend."

This is how the first training session in Saudi Arabia went

After his victory at the Bahrain GP, ​​world championship leader Charles Leclerc also started the weekend as the fastest in Saudi Arabia. On Friday, Monegasque was 0.116 seconds faster in the Ferrari on the Jeddah street circuit than defending champion Max Verstappen in the Red Bull. Third place went to Finn Valtteri Bottas in the Alfa-Romeo ahead of Carlos Sainz in the second Ferrari.
The reparation project is pending for world champions Verstappen and Red Bull. In Bahrain, both the Dutchman and his teammate Sergio Perez were eliminated shortly before the end. "We have to get better. If we want to fight for the title, we can't afford many races like in Bahrain," warned Verstappen before the second race of the season on Sunday (7 p.m. / Sky). Red Bull previously announced that the technical problem with the fuel pump had been found and resolved.
Favorit Leclerc is stacked deep: "We have no advantage. We are on an equal footing with Red Bull, their engine is very strong," said the Monegasse.
The Mercedes drivers were again significantly behind in the first practice laps. Record world champion Lewis Hamilton was ninth, his British compatriot George Russell returned to the garage in 15th place. Hamilton is still combative: "It's not that I was depressed after Bahrain, I just said realistically: We can't have a say about victories like this. I know that we have a lot of potential in this car, we just have to tease it out." The problem: Mercedes' problem with the jumping car (porpoising) is likely to become more prevalent in Saudi Arabia in particular.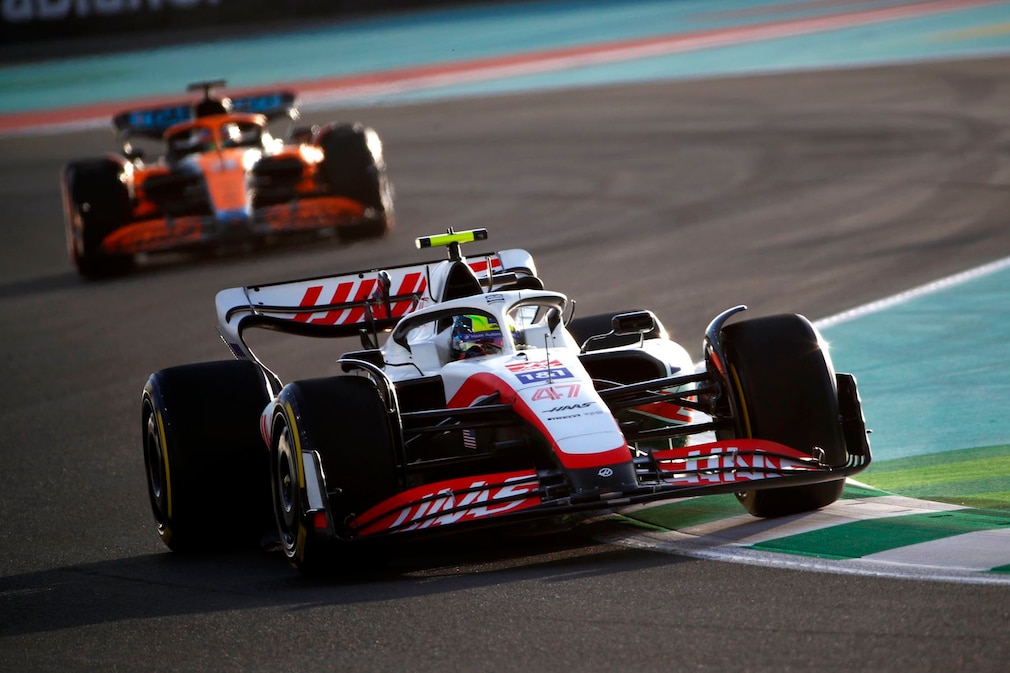 Nico Hülkenberg, who again represents the corona-infected Sebastian Vettel at Aston Martin, did not get past 16th place. The Emmericher previously shared an anecdote from Bahrain as he worked up an old feud with Haas returnee Kevin Magnussen: "I went up to him and said – lick my balls, honey! literally. I thought that would be funny. Kevin rolled himself, apparently he thought so too. "Background: Magnussen reacted with that sentence to Hülkenberg's criticism after a borderline maneuver in Hungary in 2017.
Training for the Haas team was sobering. Mick Schumacher was penultimate. His Danish stable rival Kevin Magnussen, surprisingly fifth in Bahrain, was unable to complete a timed lap due to a hydraulic problem.
Moment of shock towards the end of the training session: Apparently a rocket hit an oil refinery near Jeddah. Saudi Arabia has been in a conflict with the Yemeni Houthi rebels since 2015.
Formula 1 Saudi Arabian Grand Prix
1st free practice result
1. Charles Leclerc (Monaco) – Ferrari 1:30.772 mins
2. Max Verstappen (Netherlands) – Red Bull +0.116s
3. Valtteri Bottas (Finland) – Alfa Romeo +0.312
4. Carlos Sainz Jr (Spain) – Ferrari +0.367
5. Pierre Gasly (France) – Alpha Tauri +0.545
6. Yuki Tsunoda (Japan) – Alpha Tauri +0.733
7. Sergio Perez (Mexico) – Red Bull +0.791
8. Esteban Ocon (France) – Alpine +1.254
9. Lewis Hamilton (Great Britain) – Mercedes +1.592
10. Fernando Alonso (Spain) – Alpine +1.609
11. Daniel Ricciardo (Australia) – McLaren +1.734
12. Lance Stroll (Canada) – Aston Martin +1.810
13. Lando Norris (Great Britain) – McLaren +1.822
14. Zhou Guanyu (China) – Alfa Romeo +1.836
15. George Russell (Great Britain) – Mercedes +2.067
16. Nico Hulkenberg (Emmerich) – Aston Martin +2.262
17.Alexander Albon (Thailand)-Williams +2.315
18. Nicholas Latifi (Canada) – Williams +2.757
19. Mick Schumacher (Gland/Switzerland) – Haas +3.657
20. Kevin Magnussen (Denmark) – Haas – (3rd lap)

Formula 1 on TV
In 2022, Formula 1 will run on Sky. Last year, the broadcaster introduced a new TV channel especially for the premier class: Sky Formula 1. Here there is motorsport 24 hours a day. All practice sessions, all qualifying sessions, all races are always live and without commercial breaks. In addition, Sky also broadcasts the support races Formula 2, Formula 3 and the Porsche Supercup. Historical races and special programs are also on the programme.