Cars
Formula 1 Saudi Arabia: Perez surprise after Schumi crash
Heart-stopping finale in qualifying for the Saudi Arabian Grand Prix! Red Bull driver Sergio Perez takes pole on the street circuit in Jeddah. The Mexican pushed the two Ferraris of Charles Leclerc and Carlos Sainz to second and third place at the last second.
Perez: "I could do a thousand races but I don't think I would beat this lap. Unbelievable!" For the Red Bull driver it is the first pole in the 215th attempt. "We were a bit surprised," admits Red Bull consultant Helmut Marko. "Sergio warmed up the tires really well. He was strong all weekend, close to Max. We joked before that there is a bonus for pole. He was absolutely flawless and at the limit."
World championship leader Charles Leclerc says: "I gave everything, but I didn't expect Checo to set such a lap time. Tomorrow is a new day."
World Champion Max Verstappen only manages fourth place ahead of Esteban Ocon (Alpine), George Russell (Mercedes) and Fernando Alonso (Alpine). "My first run in Q3 was terrible," said the Dutchman. "The tires were very different to drive. I just didn't feel good. This is the first time something like this has happened to me." He then reveals: "I did something different when warming up the tyres. Maybe that wasn't good. The potential is there. I'm happy for Sergio." Strong job again from Valtteri Bottas in the Alfa Romeo, who finished eighth. Kevin Magnussen finished tenth in the Haas.
In Q2, a serious accident by Mick Schumacher caused red flags and a long interruption. The German loses his Haas on a curb in turn eleven, spins and hits the side of the wall full-on. Mick doesn't show the directing at first. Worried looks everywhere. Inappropriate: While the ambulance is parked next to the Haas, loud party music blasts through the track loudspeakers. After about five minutes, Haas gives the all-clear: Schumi junior is conscious and on his way to the track hospital. Apparently he hit his head sideways on the headrest. The Haas was completely destroyed, the rear with the engine broke off.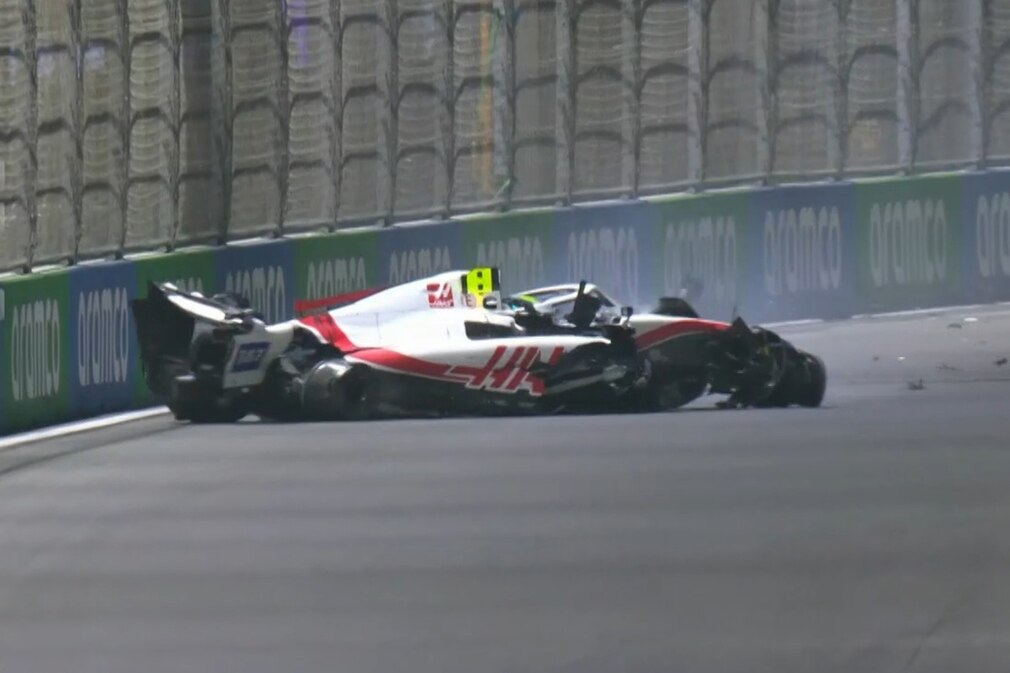 After about half an hour, Haas tweeted: Mick is doing well given the circumstances, he has already phoned Mama Corinna. Helicopters take him to King Fahd Armed Forces Hospital for further checks.
In the end, Mick Schumacher is 14th. The two McLarens in eleventh and twelveth place are also out.
Heavy defeat for Lewis Hamilton too: The Mercedes star is eliminated in the first qualifying round and is only 16th, 0.6 seconds behind his teammate George Russell bowled out of the top 15. It is the first Q1-out for the Brit since Brazil 2017. At that time he had an accident and was already world champion. There is criticism from the garage: According to his race engineer Peter Bonnington, Hamilton "pushed too hard" at the corner entrance.
Mercedes team boss Toto Wolff is angry: "On Lewis' side they tried an experiment that caught the eye. He didn't have any rear grip, we could have done without that. Now comes the point where we have to pull ourselves together. We didn't imagine it that way. It's time to wake up."
Nico Hülkenberg is 18th in his second Aston Martin appearance this year as a replacement for Sebastian Vettel. He is 0.28 seconds behind his team-mate. "My lap wasn't ideal, I didn't hit the nail on the head," says Emmerich. "In general, it's not that easy on this high-speed track to push the car's balance problems to the limit. But I'm in good company with Lewis in 16th place." He would be satisfied with the checkered flag on Sunday: "It's a tough track here that feels like going through the tunnel at 300 km/h."
Nicholas Latifi also feels this in the first few minutes of Q1: he loses his Williams in turn 13 and crashes sideways into the wall after a spin. The Canadian has to take a deep breath, but remains unharmed.
Formula 1 Saudi Arabian Grand Prix
qualifying

1. Sergio Perez (Mexico) – Red Bull 1:28.200 mins
2. Charles Leclerc (Monaco) – Ferrari +0.025s
3. Carlos Sainz Jr (Spain) – Ferrari +0.202
4. Max Verstappen (Netherlands) – Red Bull +0.261
5. Esteban Ocon (France) – Alpine +0.868
6. George Russell (Great Britain) – Mercedes +0.904
7. Fernando Alonso (Spain) – Alpine +0.947
8. Valtteri Bottas (Finland) – Alfa Romeo +0.983
9. Pierre Gasly (France) – Alpha Tauri +1.054
10. Kevin Magnussen (Denmark) – Haas +1.388
11. Lando Norris (Great Britain) – McLaren 1:29.651
12. Daniel Ricciardo (Australia) – McLaren 1:29.773 (+ 3 places penalty, Ocon blocked)
13. Zhou Guanyu (China) – Alfa Romeo 1:29.819
14. Mick Schumacher (Gland/Switzerland) – Haas 1:29.920 (cancelled after accident)
15. Lance Stroll (Canada) – Aston Martin 1:31.009
16. Lewis Hamilton (Great Britain) – Mercedes 1:30.343
17. Alexander Albon (Thailand) – Williams 1:30.492
18. Nico Hulkenberg (Emmerich) – Aston Martin 1:30.543
19. Nicholas Latifi (Canada)-Williams 1:31.817
20. Yuki Tsunoda (Japan) – Alpha Tauri retired

Formula 1 on TV
In 2022, Formula 1 will run on Sky. Last year, the broadcaster introduced a new TV channel especially for the premier class: Sky Formula 1. Here there is motorsport 24 hours a day. All practice sessions, all qualifying sessions, all races are always live and without commercial breaks. In addition, Sky also broadcasts the support races Formula 2, Formula 3 and the Porsche Supercup. The program also includes historic races and special programs.