Cars
Formula 1 Saudi Arabia – Verstappen: From Hero to Zero
To finish first, you have to finish first! This old racing wisdom is the last thing Max Verstappen (24) wants to hear at the moment. Because it became the bitter truth for him during qualifying for the Saudi Arabia GP.
For the Dutch boy wonder there was only one corner missing to make a perfect lap on the Jeddah Corniche Circuit. He had almost flown around the street course, was almost half a second ahead – but then his Red Bull slipped in the last corner and landed in the wall.
Instead of the great hero, he was suddenly the zero. The pole rival Lewis Hamilton (36), of all things, dusted off in a Mercedes. Verstappen was understandably frustrated: "That's just terrible." That he could still start the race from third place and that he had four laps younger medium tires than his rival in the Mercedes at the start – he was initially angry also do not console yourself.
"We were four tenths of a second ahead and then unfortunately the front left wheel blocked," recalls Red Bull sports advisor Helmut Marko and tries to pick out the positive aspect of the qualifying in Jeddah: "We showed what speed we have. Something like that can happen."
Even competition team boss Toto Wolff finds conciliatory words: "Max would have deserved the pole, but Formula 1 can be that crazy."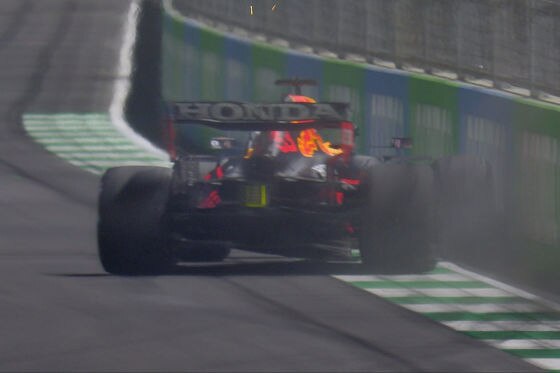 Alone: ​​Couldn't Verstappen have rolled more carefully to the line with a lead of almost half a second? Marko knows: "It's not Max, he always takes full risk." Ex-teammate Daniel Ricciardo recently praised Verstappen's "polished aggressiveness". The Australian: "We all know how Max drives. Basically he is aggressive, but over the past few years he has shown an enormous maturation process. If we compare a season like 2021 with its early years, there are far fewer incidents or crashes. His aggressive attitude is still there, but is used in a much more dosed manner. "
But in qualifying for the race that could make him world champion, Red Bull's child prodigy exaggerates. "I didn't get the impression that I braked too late," says Verstappen, scratching his head, "the left and the lap was otherwise really fast."
Red Bull is now hoping that the transmission has remained intact. Team boss Christian Horner: "It's pretty brutal, we have to keep our fingers crossed that his gearbox hasn't been damaged. I'm sure that Max is frustrated, but he has to leave that behind now. "
After all: Mercedes could not save the superior top speed from Brazil as far as Saudi Arabia. "You can't lower the wing here," explains Marko, "because you need downforce in the corners." Nevertheless, Mercedes team boss Wolff believes that he has an advantage in the race. "It looks like they have put everything on qualifying, then it could be difficult for them in the race."
Red Bull and Mercedes continue to hold their own alongside the track. After Hamilton went unpunished despite a disregarded double yellow warning signal in the third free practice session, the Verstappen team "appealed prophylactically", reveals Helmut Marko. "We don't quite understand the difference between what happened here and Max's sentence in Qatar."
Two weeks ago, Verstappen received a starting place penalty in Doha after a marshal waved the flag on his own responsibility. The warning, however, was not displayed on the FIA ​​monitors.
On Saturday in Saudi Arabia, Mercedes argued that Hamilton could not see the briefly flashing signal. Wolff: "The FIA ​​obviously can't please anyone this year."

Formula 1 on TV
Formula 1 will run at Sky in 2021. The station is setting up its own TV station for the new era: Sky Formula 1. Here there is motorsport 24 hours a day. All training sessions, all qualifying sessions, all races always live and without commercial breaks. Sky also broadcasts the Formula 2, Formula 3 and Porsche Supercup races. The program also includes historical races and special programs. You can find more information here