Cars
Formula 1: Scandal about World Cup contenders: Hamilton threatens disqualification
Will this mistake cost Lewis Hamilton the world title? After Hamilton's pole position, the stewards discovered inconsistencies in the technical inspection of the W12 on Saturday. Specifically, it's about the adjustable rear wing. When the DRS is open, the distance between the two rear wing profiles exceeds that in Article 3.6.3. of the technical regulations specified permissible value of 85 millimeters.
Hamilton's car, unlike that of team-mate Valtteri Bottas, fails in the rehearsal after qualifying. The stewards then cite Mercedes team manager Ron Meadows and engineer Simon Cole to a 50-minute hearing – and then postpone the decision to Saturday morning at around 10 p.m. Brazilian time to collect further evidence. Hamilton's rear wing is meanwhile being dismantled and confiscated under the supervision of Technical Delegate Jo Bauer.
If the suspicion is confirmed, the British face disqualification from qualifying! Instead of starting from pole, Hamilton would have to tackle the sprint on Saturday from last place on the grid or even from the pits. In the Grand Prix on Sunday, there is still the five starting positions to change his internal combustion engine on top of that.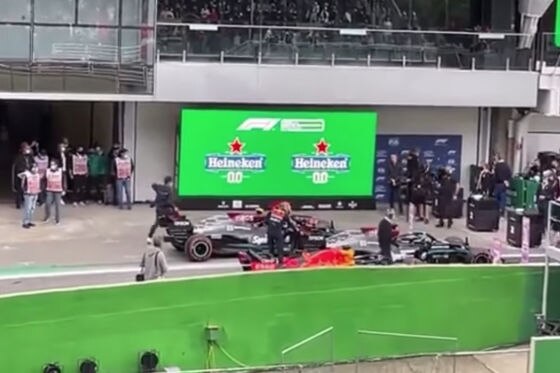 Crazy: World Cup opponent Verstappen can't be happy about Mercedes' mishap at first, because the Dutchman himself is the focus of investigations due to the rear wing case! After qualifying, spectator videos appear showing that Verstappen inspects and touches the rear wing of the Mercedes after getting out of the car in the parc fermé. This is prohibited by the regulations and a breach of Article 2.5.1 of the International Sporting Code.
It is more than unlikely that Verstappen's touches have something to do with the failed test of the Mercedes wing – the Red Bull star is now pilloried by his behavior and Formula 1 is facing a tangible scandal. Verstappen is threatened with a penalty for the curious action, which can be canceled depending on the stewards' discretion: He too has been called to the hearing for Saturday, 9.30 a.m. local time.
One thing is already certain: Sprint Day in Brazil does not only deliver high tension on the track!
Formula 1 on TV
Formula 1 will run at Sky in 2021. The station is setting up its own TV station for the new era: Sky Formula 1. Here there is motorsport 24 hours a day. All training sessions, all qualifying sessions, all races always live and without commercial breaks. Sky also broadcasts the Formula 2, Formula 3 and Porsche Supercup races. The program also includes historical races and special programs. You can find more information here