Cars
Formula 1 – Schumacher and Mazepin remain teammates
–
Schumacher and Mazepin remain teammates
Mick Schumacher and Nikita Mazepin will also drive together at Haas in 2022. That's what the two of them say about their next Formula 1 season together
W.
As everyone knew, it has now become official: Mick Schumacher (22) and Nikita Mazepin (22) will also race against each other as teammates at Haas in 2022. Both were confirmed as driver pairing for the coming season in Sochi in the morning.
In any case, Schumacher junior is happy: "I am glad that I can stay with Haas. I have a family feeling here in the team. "And further:" We have built a good foundation and I hope that we can reap the harvest with a good car. "
Experience Formula 1 with the SKY Supersport Ticket
The fact that there will be another internal team duel against Mazepin in 2022 is no problem for Schumi junior. Although the two have already clashed verbally and on the racetrack several times this year, Mick believes: "That is also boiled up in many ways. It's racing. It is important that we continue to work together and move the team forward together. "
There had been conciliatory words from Nikita Mazepin before. "I like Mick with all my heart. He's a super talented boy, "said the young Russian on the Formula 1 podcast, emphasizing:" There's a lot going on and at the same time nothing. "
Anyway, there could always be a crash in the race. This is shown by the duel between Lewis Hamilton and Max Verstappen, who last collided again in Monza. Schumacher defends the two fighting cocks: "Such racing events happen within tenths of a second. Afterwards you are always smarter when it happened to you. "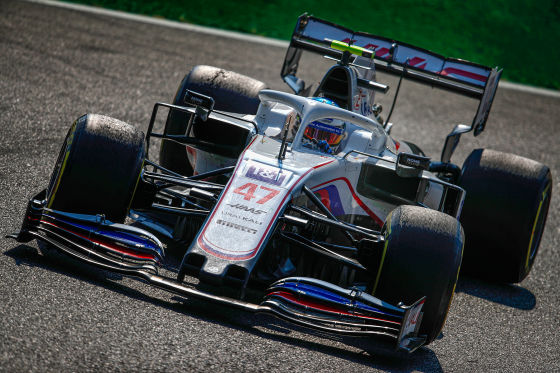 Mick Schumacher will also drive for Haas in Formula 1 in 2022.
© LAT / Haas
Mick Schumacher is still a long way from duels at the top. After all, he has fond memories of the course in Sochi. In 2020 he clinched a victory and a third place in Formula 2. "Unfortunately we won't be fighting for victories this time," he admits, "but we might get a good result as motivation for the rest of the season."
For 2022 he is already more optimistic. Background: Haas hardly developed the car further in 2021 in order to concentrate fully on the new season with new rules. "We put all the money into the next year," explains Schumacher. "Hopefully that gives us a little head start."
Alone: ​​The fact that the two of them pretend to be in love again hardly reminds of a dope comedy in which the team and the investor specified the script and dialogues. It hardly seems credible after the heated duels on the slopes and with words in the last few weeks.
Formula 1 at a glance at SKY Q
It is also no coincidence that the two were announced in Russia. It is the homeland of Mazepin and his father, who as the Uralkali boss puts most of the money into the team that drives under the American flag and is technically supported by Ferrari. That shows who is in charge!
Formula 1 on TV
Formula 1 will run at Sky in 2021. The station is setting up its own TV station for the new era: Sky Formula 1. Here there is motorsport 24 hours a day. All training sessions, all qualifying sessions, all races always live and without commercial breaks. Sky also broadcasts the Formula 2, Formula 3 and Porsche Supercup races. The program also includes historical races and special programs. You can find more information here