Cars
Formula 1 – Schumacher colleague accuses: Was he disadvantaged?
Haas team boss Günther Steiner doesn't have it easy either. In the sprint race for the Italian Grand Prix in Monza, his two drivers Mick Schumacher and Nikita Mazepin for once did not clash on the track, but after a good sprint and 17th place, including an overtaking maneuver to Robert Kubica (Alfa Romeo), the young Russian shoots verbally with poison arrows around them.
"My pace on one lap has improved massively since the first free practice session in Spa," he says in his press round and adds mischievously: "And we all know what happened there." What Mazepin means: After the summer break he got a new chassis. "It's good to know that I can trust my feelings," he adds. "The confidence that I lacked when the car did what it wanted is now coming back."
Mazepin sits broad-chested in front of the computer and gives a well-educated talk in perfect English about the advantages of his new, lighter car. "It's very simple physics that you learn in school. The more weight you carry into the curve, the more downforce you need. Otherwise the car will slide. The lower the weight, the more speed I can take into the curve – just like my team-mate. "
Mazepin makes it absolutely clear that he felt at a disadvantage in the first half of the season with the old and slightly overweight chassis (by Kevin Magnussen). "I've been fighting for the same position for some time now (in the team; d. Editor). But that's not so easy as a newcomer to superstars who have been part of Formula 1 for years. "A tip that can only refer to Mick Schumacher and his family connection to father Michael and Uncle Ralf. Background: Ralf Schumacher, as a Sky expert, repeatedly expresses himself critical of Mazepin.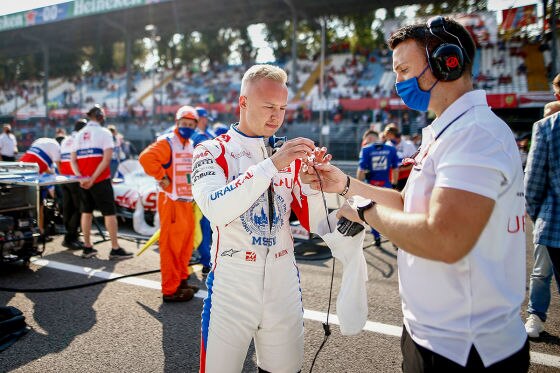 And Steiner? The team boss was caught off guard again by what his driver said when he appeared in front of the press just a few minutes later. His reaction to the chassis accusation of his pilot: "I don't know what he means or what he thinks is better. I'll have to ask him about that. "
Steiner explains Mazepin's increase in performance quite simply with increasing experience: "That comes from learning," says the South Tyrolean. "A few good results are always good for self-confidence. He's had some good races now. Before that, he didn't know what to do with the car to make it do what he wanted. Now he knows. "
One thing is certain: tensions within the team are not easing at Haas. After all: Mazepin was able to overtake Schumacher on the track without touching it. The reason that the German dropped from 15th place (after the start) to 19th place: "I left too much distance when restarting," he sheds light on. "That put me in a position where I was vulnerable. My pace was actually better, but then my bikes were over. There was also a mistake that Robert (Kubica; d. Ed.) Took advantage of. I'm better prepared for tomorrow than I am today. "
And what does Steiner want? "No friction. And that the boys can also fight with Robert Kubica in the Alfa and not just against each other. "Actually only logical …

Formula 1 on TV
Formula 1 will run at Sky in 2021. The station is setting up its own TV station for the new era: Sky Formula 1. Here there is motorsport 24 hours a day. All training sessions, all qualifying sessions, all races always live and without commercial breaks. Sky also broadcasts the Formula 2, Formula 3 and Porsche Supercup races. The program also includes historical races and special programs. You can find more information here