Cars
Formula 1: Schumacher colleague criticizes the route in Qatar
Again only 19th place, this time no entry into the second qualifying segment. Mick Schumacher (22) came back to the Formula 1 facts at the premiere in Qatar after his points request on Thursday.
And yet he is not disappointed – on the contrary! "By and large, we got everything out of the car," says the Haas driver. "We knew that we would not make the connection, but we are close. If we get off to a good start, we can keep up ahead. "
In fact: the Schumacher son is just 0.2 seconds behind the Williams with Nicholas Latifi, 0.4 seconds behind Antonio Giovinazzi's Alfa Romeo. Schumacher becomes even clearer in his press round: "That was one of our best qualifying sessions. We managed to get everything out of the car and hit the set-up perfectly. I am satisfied with the deficit. "
He also shows that he has established himself in Formula 1 with a campaign after qualifying. He discussed it with Latifi in front of the TV journalists. Schumi: "That was because of an action in free practice. I gave him my opinion on that. "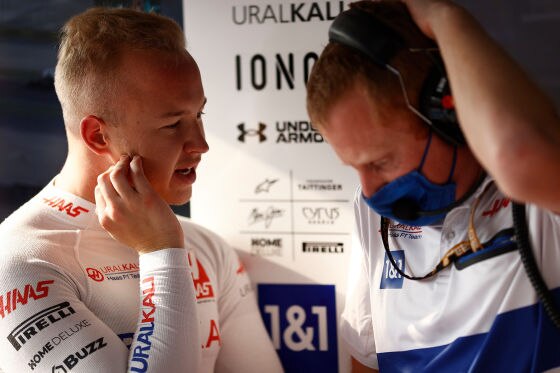 It looks completely different with Haas team-mate Nikita Mazepin (22). The Russian has had a horror weekend behind him: in the first free practice session, he destroyed his chassis while robbing the curbs and was unable to drive a single lap before qualifying.
"I'm far from my limit here in Qatar," he stated without a timed lap in qualifying. "I still don't know the route. Charles Leclerc said it takes 15 laps to internalize a course. I only had seven or eight here. That's annoying. "
Mainly because he said he stayed within the track limits. "You don't even have to leave the track limits set by the race director to damage your car," he complains after he broke his front wing at the notch in qualifying.
The Russian started the race from last place on the grid with gallows humor: "I expect to know where the going is at the end of the GP. It will be exciting tomorrow. I had a lot of free time to watch the others on TV. It's like playing virtual tennis and preparing for a tournament. "

Formula 1 on TV
Formula 1 will run at Sky in 2021. The station is setting up its own TV station for the new era: Sky Formula 1. Here there is motorsport 24 hours a day. All training sessions, all qualifying sessions, all races always live and without commercial breaks. Sky also broadcasts the Formula 2, Formula 3 and Porsche Supercup races. The program also includes historical races and special programs. You can find more information here