Cars
Formula 1: Schumacher junior is looking forward to rain dance in Istanbul
Mick Schumacher (22) comes to the Turkish Grand Prix in Istanbul as a rain lover. The weather forecast therefore suits him. Rain is forecast for the entire weekend. On Saturday with 70, on Sunday with 50 percent probability of rain.
Schumacher junior is looking forward to it, because he was unable to perform his rain dance on the last race weekend in Sochi: failure with a technical defect in the engine area. "That was a shame," said the Haas driver in Istanbul on Thursday, "because I think we had the pace to go further ahead and be in the mix in the rain." As a reminder, the rain swirled at the Russian GP messed up the whole field in the final laps.
The weather god also played a director in Turkey last year. But the route is less of a slide this year. Reason: The organizers cleaned the Istanbul Park Circuit with a high-pressure cleaner. Nevertheless, rain demands a special driving experience. Schumacher: "As a driver, you have to feel the rain. They are never the same, always different. "
The German wants to continue learning and thus prepare for the 2022 season, in which he wants to "fight for points with a better car". As long as: "I try to do my best, no matter where and when."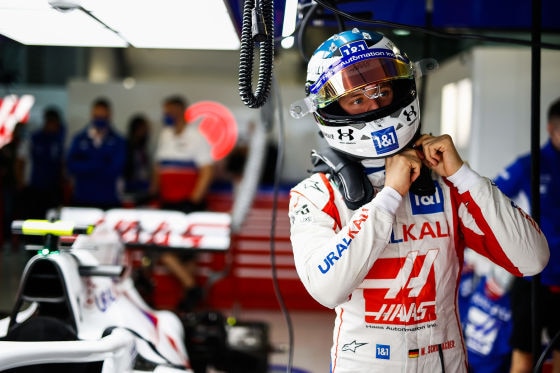 Even if he doesn't want to say it; At the end of the field, of course, the team-internal duel against Nikita Mazepin, which Schumacher leads 13: 2, counts. The young Russian was criticized again after his home race in Sochi, where he even received a warning.
Race director Michael Masi: "What we didn't like in Sochi; Mazepin had his car carried over to Tsunoda at turn twelve when Yuki had already started his attack with the rear wing flattened. We do not tolerate such a thing, and we have shown the black and white flag for something like this before. In the case of repetition, the race stewards would then have to pronounce a penalty. "
Nevertheless, the FIA ​​man does not see any need for more intensive action. "He's had a couple of visits to the stewards, but when we look at who has been asked to talk to, he doesn't attract too much attention. So no, right now we don't see anything inappropriate or unsettling. "
DTM star Timo Glock sees it differently. He calls for tougher action by the FIA ​​in the Mazepin case.
"The problem is: You only take action when it's too late," he says at Speedweek. "That only happens when someone hits the back and then takes off. If that happens at the wrong moment in Zandvoort, Mick flies into the pit lane – ascending. I would take action in a timely manner. Dancing, and if he doesn't understand it, race suspension. "

Formula 1 on TV
Formula 1 will run at Sky in 2021. The station is setting up its own TV station for the new era: Sky Formula 1. Here there is motorsport 24 hours a day. All training sessions, all qualifying sessions, all races always live and without commercial breaks. Sky also broadcasts the Formula 2, Formula 3 and Porsche Supercup races. The program also includes historical races and special programs. You can find more information here