Cars
Formula 1: Schumacher vs. Raikkonen: A joke turns into a crash
It was supposed to be a joke. On Thursday, Mick Schumacher (23) and Kimi Räikkönen (42) sat together in the press conference for the Brazilian GP. When Schumacher regretted having fought too seldom with Raikkonen on the track, the iceman joked: "I can slow down a bit so we can have a duel."
Neither of them would have thought that the emotional scene would become brutal truth so quickly. The Haas driver and his Alfa Romeo colleague met again in the Senna-S during the Brazilian GP and also collided.
Mick Schumacher first distributed parts of his front wing on the track, then he drove to the Haas box to pick up a new front wing. Result: In 18th place, Michael Schumacher's son was the last driver to be classified, two laps behind.
Schumi junior after the race: "Kimi and I joked in the press conference on Thursday that we wanted to fight each other. It was a little unfortunate that we got too close, but something like that can happen, especially in this kind of corner that is very tight. "In fact, both of them simply didn't allow enough space.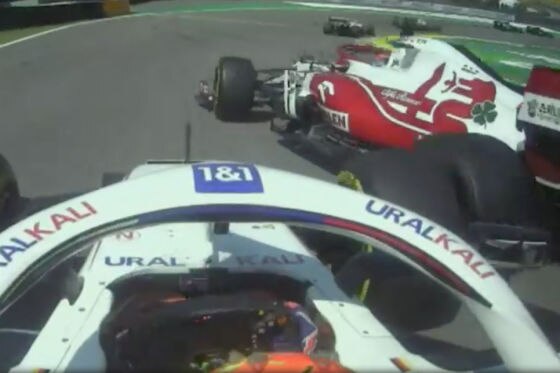 "I then drove back to the pits at slow pace," reports Mick. "After the stop, I had a good race. We draw our lessons from such events and every duel I can fight is very helpful. "
Alone: ​​His teammate Nikita Mazepin (17th place) was able to shorten the team duel (race results) to 5:14. It would have been more possible for Schumacher. He catapulted his Haas from starting position 18 to position 15 and was even able to defend the position for a few laps.
This is another reason why Haas team boss Günther Steiner is satisfied: "Our race today was pretty good – the starts were particularly strong. Mick has made a lot of progress, and so has Nikita. That was one of our best weekends this year and it shows that we are making progress with the drivers. All in all, the result is not fantastic, but the progress is encouraging. "
And soon-to-be-F1 retiree Kimi Raikkonen can now claim to have not only dueled with Michael Schumacher but also with Mick. Schumi III: "It was a great pleasure for me that I was able to race against him. I mean, he drove into my dad. That is definitely something special for him too, when he can say that he drove against two generations. "

Formula 1 on TV
Formula 1 will run at Sky in 2021. The station is setting up its own TV station for the new era: Sky Formula 1. Here there is motorsport 24 hours a day. All training sessions, all qualifying sessions, all races always live and without commercial breaks. Sky also broadcasts the Formula 2, Formula 3 and Porsche Supercup races. The program also includes historical races and special programs. You can find more information here