Cars
Formula 1: That's why Vettel has extended with Aston Martin
–
That's why Vettel has extended with Aston Martin
Sebastian Vettel speaks on Thursday in Sochi ahead of the GP in Russia about his contract extension with Aston Martin
S.
Should there ever be a Netflix documentary about Sebastian Vettel (34), the opening sequences could be similar to the sensitive film about his idol Michael Schumacher, who is currently on everyone's lips. There Schumacher dives into the depths of the ocean with his family, playing with turtles.
He feels at one with himself and with nature and completely detached as a person who enjoys freedom without the observing lenses of photographers. Vettel also ticks that way. He finds his submergence while walking in the forest or hiking in the mountains. Or when caring for bees or other insects.
Experience Formula 1 with the SKY Supersport Ticket
Indeed: The German is currently in the phase in which Michael Schumacher found himself at the end of his first career with Ferrari. That phase in which you weigh up every day whether the joy of pure competition in Formula 1, driving at the limit, being alone with yourself and the machine, is greater than the side effects that the fame of a Formula 1 -World Champion brings with it.
Always live under the magnifying glass, always be careful not to say the wrong thing in order not to offend sponsors, team and other donors of the full throttle circus too much. And answer the same questions every week.
Vettel wouldn't be Vettel if he went into exactly that. "Of course there are things that have been less fun for so many years, such as being here now and answering questions," the Heppenheimer grins at the surprised audience. Alone: ​​The statement he packaged as a joke, he meant seriously.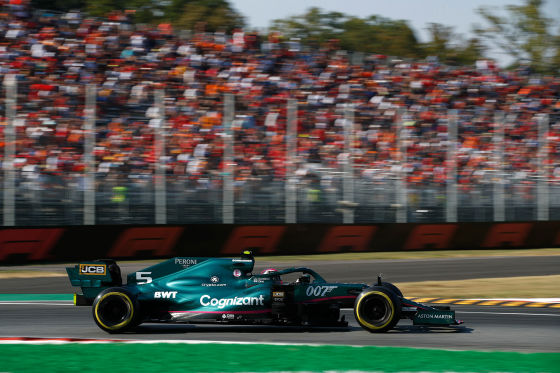 Vettel will ask himself the question of meaning again and again.
© Aston Martin
Accordingly, he does not want to admit that a contract extension was ever uncertain: "The contract was never in doubt," claims Vettel a little defiantly. And yet he indirectly admits that he weighed positives and negatives in order to answer his question of meaning.
Vettel: "There are a lot of things that you think about. But it is irrelevant to talk about things that did not happen. Would I have stopped if the cars would go upside down next year? Maybe. But they don't." What was decisive for another year in the premier class: "Driving. I love driving. I love to win, "is the answer.
The Hessian continues: "In the next year a lot of things will change." There are completely new technical regulations that would set a lot to zero. "I think the challenge of working with the team under these circumstances is great. I like the boys and girls on the team. It's been a great season in that regard, maybe not in terms of results, but in terms of work. Morale is high, so there are still a lot of things that inspire me. "
On the other hand, he is rather sober when assessing the new technical director of the Aston Martin group. About the attitude of the former McLaren boss Martin Whitmarsh he says in a nutshell: "He is a strong addition to the team." He already knows him from previous Formula 1 years, but has never worked with him before. But: euphoria sounds different.
Formula 1 at a glance at SKY Q
One thing is certain: Vettel does not want to commit how long he intends to stay in Formula 1. Does he have the patience to hold out the three or four years it takes to lead Aston Martin to the title? "The team's vision and commitment are impressive," he repeats, "success will come some time. Only when, you can't say exactly. I'm not getting any younger. Time will give the answer. "
In other words: Germans will ask themselves the question of meaning again and again. The answer to this remains open.
Formula 1 on TV
Formula 1 will run at Sky in 2021. The station is setting up its own TV station for the new era: Sky Formula 1. Here there is motorsport 24 hours a day. All training sessions, all qualifying sessions, all races always live and without commercial breaks. Sky also broadcasts the Formula 2, Formula 3 and Porsche Supercup races. The program also includes historical races and special programs. You can find more information here