Cars
Formula 1: Traffic jam in the Principality, Leclerc fastest
Grande Casino in qualifying for the Monaco Grand Prix! Ferrari star Charles Leclerc gets his fifth pole position of the season with a sensational lap in his home GP. "It's something special," he says happily. "I knew the pace was in the car and I just had to do my job."
Behind the Monegasque, however, things get really hot in the finale in the fight for first place on the grid: Sergio Perez crashes his Red Bull into the guardrail in the curve in front of the tunnel entrance, but still finishes third. Carlos Sainz can't brake in time in the second Ferrari and rushes into Perez' Red Bull. Traffic jam in the Principality! Sainz stays second despite the mishap.
Max Verstappen, on the other hand, is in a bad mood: The world champion has problems with spinning tires and severe oversteer. Only on the last lap does he really rev up, but he can't finish the race because of his teammate's accident: fourth place. "Until the incident, we were three tenths faster than before, so on par with Leclerc," explains Red Bull chief adviser Helmut Marko. "Finally, turn one worked for Max, so he's not in the best of moods now."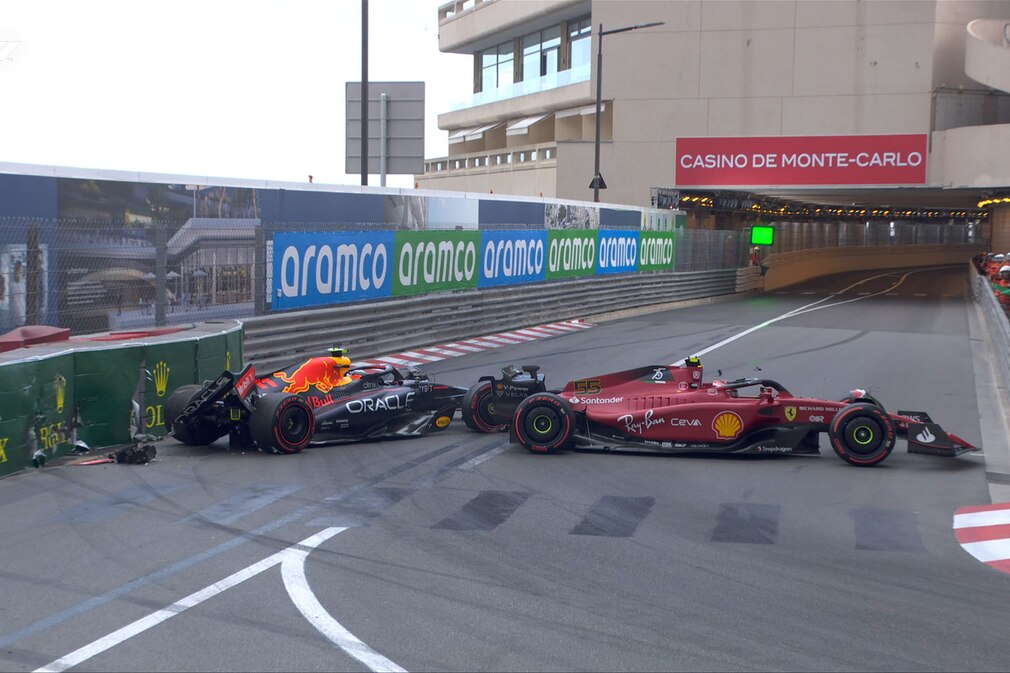 Especially since it was his teammate who caused the demolition. Marko: "Perez was simply too fast and crashed into the crash barrier with his rear end. It's bad that two Ferraris are in front, but they say there's a high chance of rain tomorrow and Max is a force in his own right."
The Dutchman therefore wants to perform a rain dance in the evening. "Of course I need that now," he can laugh again in front of the cameras. "In the end, Ferrari and Charles were too strong. P2 was possible and we were on our way there. Then the red flag comes and it's over."
Strong performance from Lando Norris, who starts his McLaren in fifth place. Daniel Ricciardo, meanwhile, just can't get out of his performance hole. In 14th place, he was about 0.7 seconds behind his McLaren rival Norris in the second qualifying session.
At Mercedes, George Russell beats Lewis Hamilton again. The two Silver Arrows will start from positions six and eight.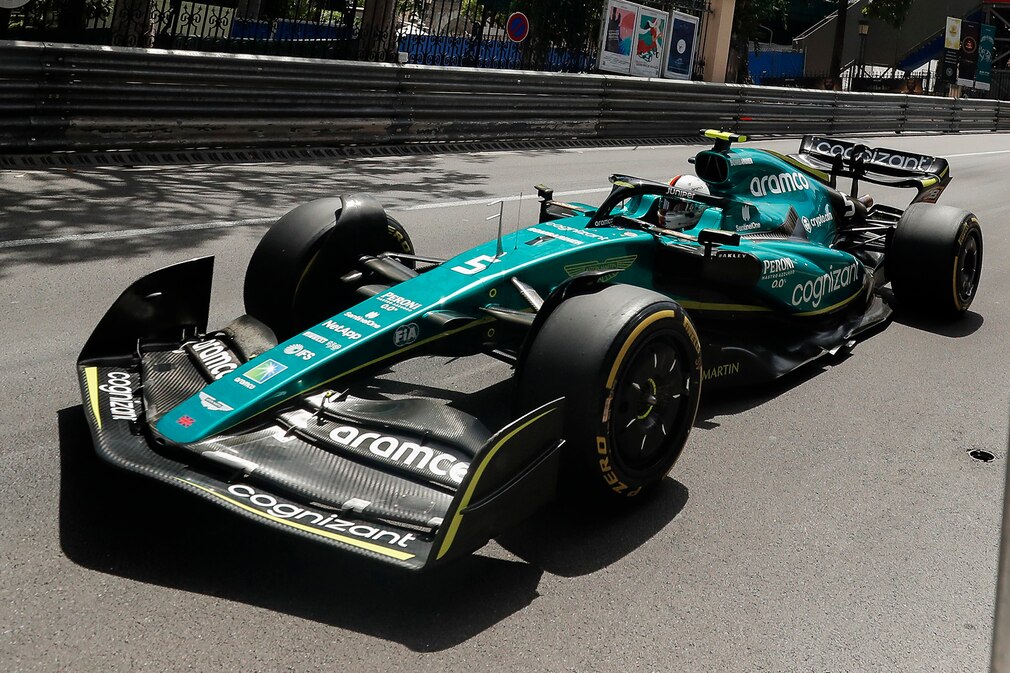 As in the previous year, Sebastian Vettel in the Aston Martin showed all his skills driving through the streets of the Monegasque and finished eighth, while Lance Stroll did not get past rank 18. Sky expert Ralf Schumacher: "It shows that Seb still has everything if he has the car."
Mick Schumacher will start the Monaco Grand Prix from 15th place. On his fastest lap, he is almost 1.5 tenths of a second slower than his teammate Kevin Magnussen in 13th place. "We struggled a bit," he admits. "We found a good set-up, but then the car felt completely different." "That's why I only had one really quick try," states Mick.
Monaco Grand Prix
qualifying
1. Charles Leclerc (Monaco) – Ferrari 1:11.376 mins
2. Carlos Sainz Jr. (Spain) – Ferrari +0.225s
3. Sergio Perez (Mexico) – Red Bull +0.253
4. Max Verstappen (Netherlands) – Red Bull +0.290
5. Lando Norris (Great Britain) – McLaren +0.473
6. George Russell (Great Britain) – Mercedes +0.736
7. Fernando Alonso (Spain) – Alpine +0.871
8. Lewis Hamilton (Great Britain) – Mercedes +1.184
9. Sebastian Vettel (Heppenheim) – Aston Martin +1.356
10. Esteban Ocon (France) – Alpine +1.671
11. Yuki Tsunoda (Japan) – Alpha Tauri 1:12,797
12. Valtteri Bottas (Finland) – Alfa Romeo 1:12.909
13. Kevin Magnussen (Denmark) – Haas 1:12.921
14. Daniel Ricciardo (Australia) – McLaren 1:12.964
15. Mick Schumacher (Gland/Switzerland) – Haas 1:13.081
16.Alexander Albon (Thailand)-Williams 1:13.611
17. Pierre Gasly (France) – Alpha Tauri 1:13,660
18. Lance Stroll (Canada) – Aston Martin 1:13.678
19. Nicholas Latifi (Canada) – Williams 1:14.403
20. Zhou Guanyu (China) – Alfa Romeo 1:15.606
Formula 1 on TV
In 2022, Formula 1 will run on Sky. Last year, the broadcaster introduced a new TV channel especially for the premier class: Sky Formula 1. Here there is motorsport 24 hours a day. All practice sessions, all qualifying sessions, all races always live and without commercial breaks. In addition, Sky also broadcasts the support races Formula 2, Formula 3 and the Porsche Supercup. The program also includes historic races and special programs.