Cars
Formula 1: Transport Minister counters freedom fighter Vettel
In Formula 1, Sebastian Vettel (34) is currently not always making the right decisions. At the Turkish GP he skidded due to dry tires in the rain. He is currently safer on the political stage – even if he has no ambitions to go into politics himself.
Alone: ​​Vettel uses his celebrities to make society better. And now expresses his wish to the new government: "It takes a change of heart," he says in a video interview with several German and English media, including the Augsburger Allgemeine. "We have to think more about the future than about the past. The new government should want to take more risks. We should also be able to use the strengths that Germany has. So that we can drive good things forward and be an example to the rest of the world. It's about the fight against the climate crisis or an increase in social injustice. These are two important issues that need to be addressed. It's about acting instead of just talking. "
Chancellor Angela Merkel, who is still Chancellor, does not deny the Hessian her services. Vettel: "Angela Merkel was a strong Chancellor who had to go through difficult times. She will not only be missed in Germany. But now it is time for changes. "And there is another topic close to his heart besides the climate. "For example, social justice is very important to me," he admits and explains: "Not everyone is an entrepreneur or can lead their life the way they want. For example, not everyone has the luxury of thinking about how often they want to eat meat during the week. We have to take care of everyone. "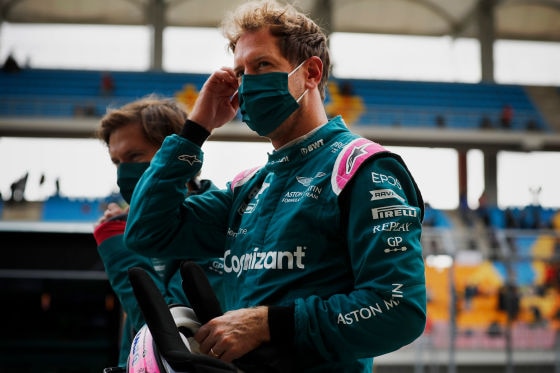 As a racing driver, he is currently not leading the way, as Transport Minister Andreas Scheuer (CSU) stated in BILD. But his reaction to Vettel's support for a speed limit was anything but sovereign. Scheuer: "With a look at the current drivers' standings in Formula 1, one could perceive a change to Formula E as logical anyway. There are also lower top speeds than in Formula 1. Living in Switzerland, traveling the world with the whole entourage of a Formula 1 team, many flights every year – I firmly assume that Sebastian Vettel himself and his employer Aston Martin offset their own emissions of climate-damaging gases by Buy CO2 certificates from climate protection projects. "
Vettel does that. He also supports the company Climeworks, which sucks harmful CO2 out of the air. And he constantly reminds Formula 1 of its role as a technical pioneer.
Vettel: "Formula 1 is not green, no question about it. But we live in a time in which we have techniques and opportunities to make Formula 1 greener without losing the spectacle or the passion. The current regulations are very exciting, the engine is very efficient. But that doesn't help. You can't buy an engine like this when you get a new car. The subject of relevance quickly comes up. There is a lot of talk going on right now that could change the future of Formula 1. That would be important. Otherwise I'm not very optimistic. If nothing changes, Formula 1 could disappear. "
Above all, the German insists on sustainable fuel and puts the makers of the premier class under pressure: "I am a fan of synthetic fuel and I hope Formula 1 tries to make better use of it. In the next season we will have an engine that uses ten percent synthetic fuel. This is not a revolution, you can already buy this petrol at the petrol station. These are not the demands that Formula 1 has as a technology leader. We react instead of actively going ahead and showing the way. It can take until 2025 or 2026 for big changes to happen. That would mean another five years with no progress. Hopefully there will be many changes around the world in these five years. That will put a lot of pressure on our sport. "
Vettel puts his finger in the wound and asks the F1 protagonists not only to think about their own interests. "We have more than a billion cars in the world that run on fossil fuels every day," he calculates. "There are also many aircraft and ships that are refueled in the same way. Finding an alternative for this would be a solution for the future. Formula 1 also has a great chance of promoting synthetic fuels and increasing their use as quickly as possible. We don't have time to talk about personal interests. Whether a manufacturer likes it or not. We have to make better use of our resources. The expertise, but also the money that Formula 1 has. In the past ten years, manufacturers have spent billions on an engine that is very efficient and powerful, but which is of no relevance to road cars. This money is needed again to get on the right track now. We have to start discussing now instead of five years. "
The Heppenheimer also has human rights and equality in his sights. "Our sport could exert a lot of pressure and help to spread fairness on earth," he emphasizes. "We humans are all different. We should celebrate these differences instead of being scared of them. "
Especially against the background of the races in Saudi Arabia and Qatar, these are explosive statements. Because democratic values ​​are still not very important there. Nevertheless, the premier class drives in the states on the Persian Gulf and can be paid for dearly.
Vettel questions the focus on pure profit maximization and would like more political responsibility from the Formula 1 media sport: "The problem is that both a sport and a country are run by people. And individual people have individual opinions. Our job is to find the right people to lead our sport. You have to keep in mind that often financial aspects also play a role. But there are situations in which those responsible have to ask themselves whether they have a moral. Maybe you have to say no to a big deal. "
One thing is certain: Vettel remains uncomfortable for the decision-makers. He's doing everything right when it comes to putting fingers in wounds as a celebrity. Because with 0815 experts, a German transport minister would certainly not have deigned to react to statements about a speed limit.

Formula 1 on TV
Formula 1 will run at Sky in 2021. The station is setting up its own TV station for the new era: Sky Formula 1. Here there is motorsport 24 hours a day. All training sessions, all qualifying sessions, all races always live and without commercial breaks. Sky also broadcasts the Formula 2, Formula 3 and Porsche Supercup races. The program also includes historical races and special programs. You can find more information here