Cars
Formula 1: Verstappen gets home win, Hamilton cooks
Next home win for Max Verstappen in Oranje Land at the Dutch GP in Zandvoort. The Red Bull World Champion comfortably wins ahead of George Russell (Mercedes) and Charles Leclerc (Ferrari) to secure his fourth straight win, tenth this season and 30th overall. "It's unbelievable, there's always something special here and I'm happy about this huge support," said Verstappen.
A safety car phase shortly before the end creates excitement again. All of the top stars except Lewis Hamilton (third at the time) put on new, soft tyres. The seven-time world champion cannot defend himself at the restart, is first snapped up by Verstappen and later by his teammate George Russell and Ferrari star Charles Leclerc.

Hamilton cooks on the pit radio: "I can't believe you found me. I can't even say how p…I am." But to save Mercedes's honor, Russell independently asked for the clever tire change, while Hamilton was silent at the moment when the field was steered through the pit lane. Mercedes team boss Toto Wolff tries to calm Hamilton down on the pit radio: "We tried to take a risk, but let's discuss it later in the office."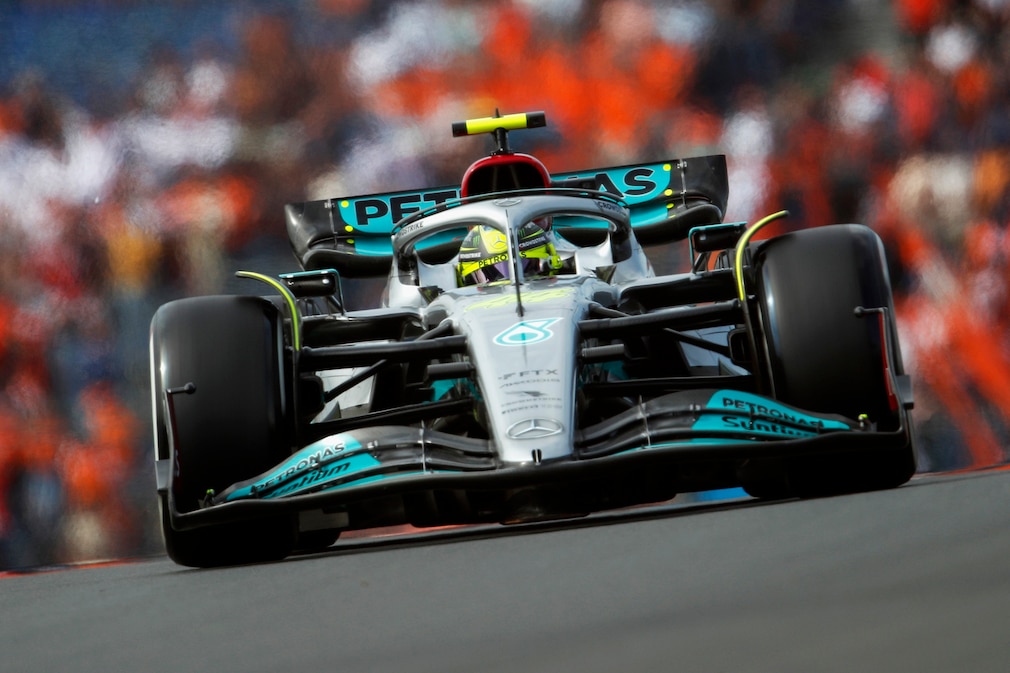 Hamilton is fourth ahead of Sergio Perez and Fernando Alonso, who moves up from 14th to seventh thanks to a perfectly executed strategy.
Ferrari, on the other hand, made a mockery again when the left rear tire was missing during the first service of Carlos Sainz, who finished eighth. The Spaniard later overtakes under yellow and is thrown back three places from fifth place due to a five-second penalty.
Mick Schumacher (Haas) and Sebastian Vettel (Aston Martin) finish 13th and 14th respectively after battling each other for most of the race and passing each other on multiple occasions. Schumacher gets off to a bad start and falls back from eighth to tenth place. Then two very slow stops (among other things due to problems with the jack) affect his race. That's the only reason why Vettel is within striking distance.
Formula 1 Dutch Grand Prix
Result:
1. Max Verstappen (Netherlands) – Red Bull 1:36:42.773 hours
2. George Russell (Great Britain) – Mercedes +4.071s
3. Charles Leclerc (Monaco) – Ferrari +10.929
4. Lewis Hamilton (Great Britain) – Mercedes +13.016
5. Sergio Perez (Mexico) – Red Bull +18.168
6. Fernando Alonso (Spain) – Alpine +18.754
7. Lando Norris (Great Britain) – McLaren +19.306
8. Carlos Sainz Jr (Spain) – Ferrari +20.916
9. Esteban Ocon (France) – Alpine +21.117
10. Lance Stroll (Canada) – Aston Martin +22.459
11. Pierre Gasly (France) – Alpha Tauri +27.009
12. Alexander Albon (Thailand) – Williams +30,390
13. Mick Schumacher (Gland/Switzerland) – Haas +32.995
14. Sebastian Vettel (Heppenheim) – Aston Martin +36.007
15. Kevin Magnussen (Denmark) – Haas +36.869
16. Zhou Guanyu (China) – Alfa Romeo +37.320
17. Daniel Ricciardo (Australia) – McLaren +37.764
18. Nicholas Latifi (Canada) – Williams + 1 lap
failures:
Yuki Tsunoda (Japan) – Alpha Tauri (44th lap)
Valtteri Bottas (Finland) – Alfa Romeo (54th lap)
Driver Rating
Status after 15 of 22 races:
1. Max Verstappen (Netherlands) – Red Bull 310 pts.
2. Charles Leclerc (Monaco) – Ferrari 201
3. Sergio Perez (Mexico) – Red Bull 201
4. George Russell (Great Britain) – Mercedes 188
5. Carlos Sainz Jr (Spain) – Ferrari 175
6. Lewis Hamilton (Great Britain) – Mercedes 158
7. Lando Norris (Great Britain) – McLaren 82
8. Esteban Ocon (France) – Alpine 66
9. Fernando Alonso (Spain) – Alpine 59
10. Valtteri Bottas (Finland) – Alfa Romeo 46
11. Kevin Magnussen (Denmark) – Haas 22
12. Sebastian Vettel (Heppenheim) – Aston Martin 20
13. Daniel Ricciardo (Australia) – McLaren 19
14. Pierre Gasly (France) – Alpha Tauri 18
15. Mick Schumacher (Gland/Switzerland) – Haas 12
16. Yuki Tsunoda (Japan) – Alpha Tauri 11
17. Zhou Guanyu (China) – Alfa Romeo 5
18. Lance Stroll (Canada) – Aston Martin 5
19. Alexander Albon (Thailand) – Williams 4
Constructor Score
Status after 15 of 22 races:
1. Red Bull 511 pts.
2.Ferrari 376
3.Mercedes 346
4. Alpine 125
5. McLaren 101
6. Alfa Romeo 51
7.Haas 34
8. Alpha Tauri 29
9. Aston Martin 25
10.Williams 4