Cars
Formula 1: Verstappen gets rain pole in front of Leclerc
Max Verstappen is making an impressive comeback in enemy country of all places: two weeks after his bitter failure in Australia, the world champion hits back in qualifying for the sprint race in Imola on Friday and secures his first pole of the 2022 season with a lead of eight tenths of a second over world championship leader Charles Leclerc.
"It was tricky out there with the rain, very slippery and difficult to get the tires working. A long qualifying session, but of course I'm very happy with the result," said the world champion happily. "It's a great track, it punishes mistakes. That's how we like it." But the Dutchman also knows: "Tomorrow and Sunday the weather will be different, but it's a good start to the weekend."
The mood is correspondingly good at Red Bull Motorsport Director Helmut Marko: "We decided to introduce an update despite only one free practice session. But it paid off," beams the man from Graz.
World championship rival Leclerc, on the other hand, had to admit defeat in qualifying after his best time in training, but still thinks: "Second place is not a disaster. Tomorrow and the day after everything is still possible." Despite the bad weather, the Monegasque is happy about the enormous support from the many Ferrari fans. "It's nice to see so much red in the stands."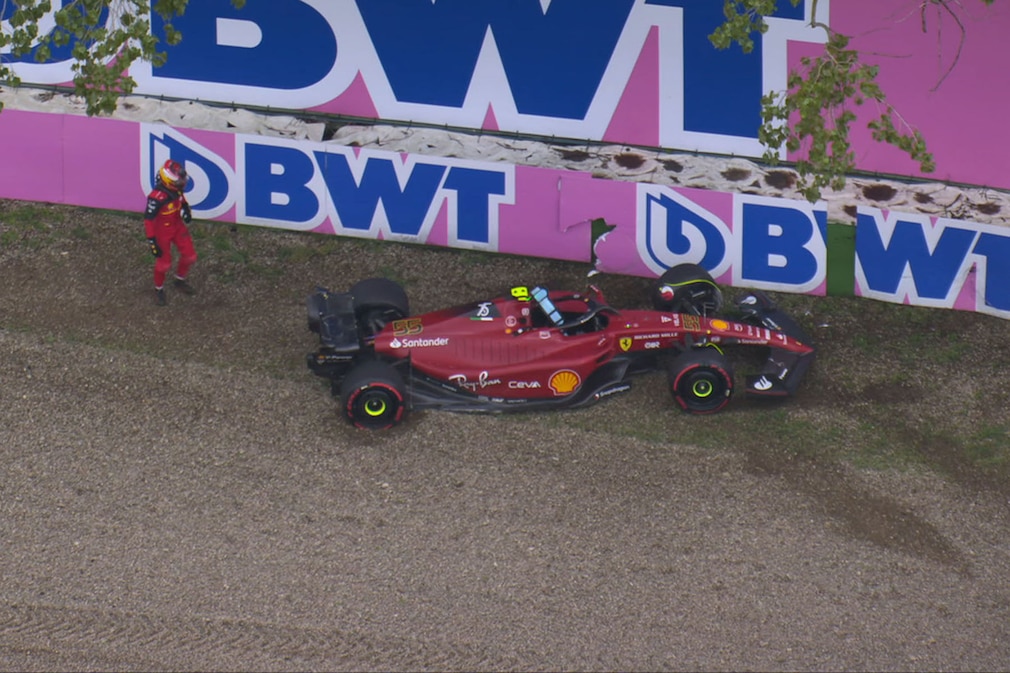 Red is actually the color of the day in Imola, because the rainy session was interrupted several times, three times in Q3 alone: ​​Kevin Magnussen caused the first red flag. The Haas Dane flies off the wet track in the Aqua Minerale and gyrates on its own axis, but hits nowhere and makes it back from the gravel bed to the pits under its own steam. The reward: In the end, Mick Schumacher's team-mate finished fourth.
It's similar for Lando Norris: The McLaren star sinks his car in the same spot in the gravel and gets stuck, but is lucky because the red flag he caused ended the session prematurely just before the clock ran out. As a reward, Norris will even have third place tomorrow. Things are not going well for Valtteri Bottas: The Finn has to park his Alfa Romeo at the side of the track with technical problems after the chicane and cannot get past eighth place.
Nevertheless, Bottas ends up ahead of Sebastian Vettel. Surprisingly, the man from Heppenheim also made it into the top 10 shootout, but he couldn't follow suit with his Aston Martin. "Towards the end I couldn't set a highlight anymore," admits Vettel, but is still happy about the result: "It was great, because we don't really belong up there. It took me a bit to get into the rhythm, but with me I felt more and more comfortable with more time. The lap (in Q2; ed.) went well and that ultimately brought us to Q3."
The weather in Imola suits the four-time world champion: "Rain is good for us because it throws everything into confusion. I'm still not where I want to be, I can't really feel the car. If you can't build up a feeling, you drive more by memory – with feeling you slam the lap. That doesn't quite work out," admits Vettel. "But there's more to the car. We're halfway up the front now and we want to stay there tomorrow."
But that will be difficult, because Carlos Sainz, the second Ferrari, starts directly behind Vettel. The Spaniard causes a murmur in the stands filled with tifosi in Q2, because Ferrari's number two's losing streak continues: In the second Rivazza, Sainz turns away and after a pirouette hits the side of the boundary: Suspension off, day over. "It's a big setback for him today," commented ex-world champion Nico Rosberg on Sky. "Fighting for the world championship in a Ferrari with a team-mate who is in such good shape is an extremely difficult situation. You can feel the pressure there."
The departure of the Scuderia star is also bitter for some competitors, above all Mercedes. Because with Sainz' crash, the red flag comes out, then it rains. Time improvements are no longer possible for George Russell (Mercedes), Mick Schumacher (Haas), Lewis Hamilton (Mercedes), Guanyu Zhou (Alfa Romeo) and Lance Stroll (Aston Martin), and they are all eliminated.
Hamilton (ranked 15) is correspondingly devastated: "It wasn't a good session. We came here with a lot of optimism, everyone in the team works hard. But then everything just doesn't fit together, that's of course disappointing. Overall, we don't have enough as a team performance shown." After the bumpy start in Imola, the Briton can no longer imagine jumping in the air: "We're working as hard as we can to get ahead. But it's difficult here in the sprint. Hopefully the weather will be different tomorrow at least."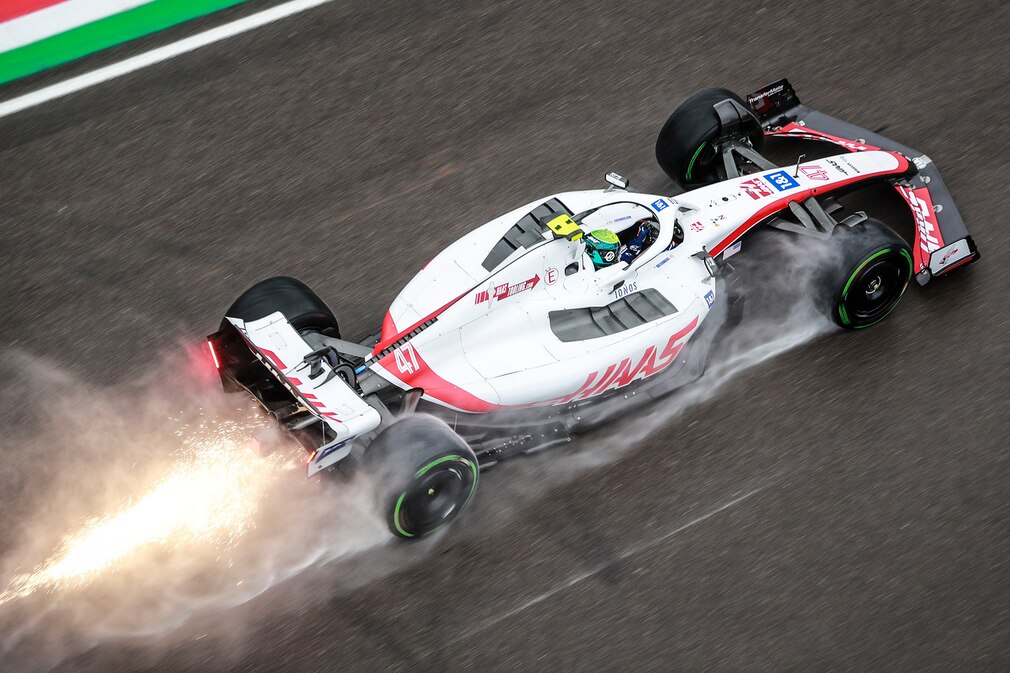 Schumacher Junior is also annoyed after the premature exit in Q2: "I made a mistake on my lap. Now I'm twelfth, which means that we could have been further up the front because the car feels great." On the other hand, Schumacher is not worried that he will start Saturday sandwiched between the two Mercedes: "We're there in terms of pace. Hopefully tomorrow we'll just look ahead and not backwards," says the German, who clearly beat his team-mate again must give.
The home race not far from the factory in Faenza is going really badly for the two AlphaTauri of Pierre Gasly and Yuki Tsunoda, who are already eliminated in Q1. Nicholas Latifi (Williams), who spun, and Esteban Ocon (Alpine), who complained about gearbox problems, also had to give up in the first session. Only Alex Albon finishes work earlier: The second Williams driver's right rear brake explodes right at the beginning of qualifying, so the Brit is the last to start the sprint on Saturday.
Formula 1 Grand Prix of Emilia-Romagna
qualifying, result
1. Max Verstappen (Netherlands) – Red Bull 1:27.999 min.
2. Charles Leclerc (Monaco) – Ferrari +0.779s
3. Lando Norris (Great Britain) – McLaren +1.132
4. Kevin Magnussen (Denmark) – Haas +1.165
5. Fernando Alonso (Spain) – Alpine +1.203
6. Daniel Ricciardo (Australia) – McLaren +1.743
7. Sergio Perez (Mexico) – Red Bull +1.809
8. Valtteri Bottas (Finland) – Alfa Romeo +2.440
9. Sebastian Vettel (Heppenheim) – Aston Martin +3.063
10. Carlos Sainz Jr (Spain) – Ferrari 1:19.305
11. George Russell (Great Britain) – Mercedes 1:20.757
12. Mick Schumacher (Gland/Switzerland) – Haas 1:20.916
13. Lewis Hamilton (Great Britain) – Mercedes 1:21.138
14. Zhou Guanyu (China) – Alfa Romeo 1:21.434
15. Lance Stroll (Canada) – Aston Martin 1:28.119
16. Yuki Tsunoda (Japan) – Alpha Tauri 1:20.474
17. Pierre Gasly (France) – Alpha Tauri 1:20.732
18. Nicholas Latifi (Canada)-Williams 1:21.971
19. Esteban Ocon (France) – Alpine 1:22.338
20. Alexander Albon (Thailand) – Williams eliminated
Formula 1 on TV
In 2022, Formula 1 will run on Sky. Last year, the broadcaster introduced a new TV channel especially for the premier class: Sky Formula 1. Here there is motorsport 24 hours a day. All practice sessions, all qualifying sessions, all races are always live and without commercial breaks. In addition, Sky also broadcasts the support races Formula 2, Formula 3 and the Porsche Supercup. The program also includes historic races and special programs.