Cars
Formula 1: Verstappen plans with starting number 1
19 points behind, five wins instead of nine like the big rival: Lewis Hamilton (Mercedes) is the hunter in the World Cup duel with Max Verstappen (Red Bull). But after the defeat in Mexico, the Mercedes star is already building ahead of the Brazilian GP this weekend in Sao Paulo. Hamilton: "Red Bull's speed wasn't just phenomenal in Mexico. They've seen the better car all year round. "
Therefore, Red Bull will be very difficult to beat. Especially on weekends in Brazil. "But", said the seven-time world champion, "where there is a will, there is a way!" He cannot confirm that he would get a motor penalty in Brazil, as Red Bull chief advisor Helmut Marko suspects. "I assume that everything is fine," says Hamilton, while the radio paddock has already reported five starting places for a new internal combustion engine.
Alone: ​​While Hamilton's self-confidence was limited in his appearance at the press conference on Thursday, Verstappen leaves no doubt about his goals. "I'm not dissatisfied with my performance at the moment," the Dutchman understated when asked about the best Verstappen of all time, "but that's what I expect from myself. Get better every year. "
In any case, he always looks ahead. Verstappen: "Immediately after the win in Mexico, I was already thinking of Sao Paulo. I didn't have a big party either because I flew to Brazil on Sunday evening. "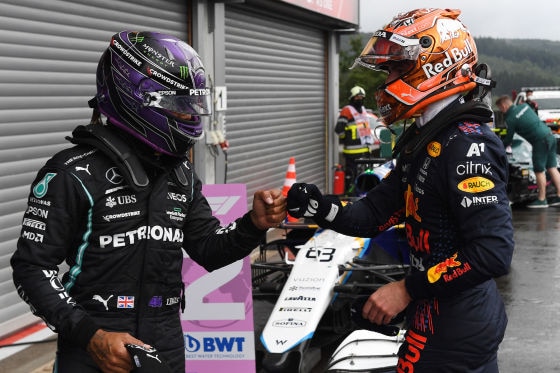 Also because his girlfriend Kelly, the daughter of three-time world champion Nelson Piquet, wanted to show him her homeland. For the first time, he was able to speak personally to his future father-in-law. "So far, that only ran through Facetime. But face to face is something else. "
How to become world champion was also apparently discussed. At least Nelson Piquet Jr. published a photo of the talk with the question: "What do you think was discussed here?"
If it is successful, Verstappen promises one thing: "If I win the title, in 2022 I will drive with the number 1 car. When do you have the opportunity to do so? "It was certainly a swipe at Hamilton, who has been without starting number 1 for years and prefers to drive his 44.
For experts like Gerhard Berger, Verstappen is a favorite. The ex-GP winner and today's DTM boss at ORF: "Max is the cooler of the two. He has better nerves. "The Austrian continues:" When Max crosses the finish line after a win, he sends the team a short 'thank you' radio message. It's very clear in the head, not emotional, not crying or screaming. Lewis often exaggerates. Nerves have nothing to do with experience. It is in nature that someone can perform particularly well under pressure. When Lewis is under pressure, he sometimes weakens. You have already seen that in the duel with Nico Rosberg. "
One thing is certain: the pressure is increasing on Hamilton. If Verstappen gets at least five points more in Brazil, the Briton can no longer become world champion on his own.

Formula 1 on TV
Formula 1 will run at Sky in 2021. The station is setting up its own TV station for the new era: Sky Formula 1. Here there is motorsport 24 hours a day. All training sessions, all qualifying sessions, all races always live and without commercial breaks. Sky also broadcasts the Formula 2, Formula 3 and Porsche Supercup races. The program also includes historical races and special programs. You can find more information here