Cars
Formula 1: Verstappen sovereign, Mick Schumacher with the best starting position
Max Verstappen is the rain king of Canada: The world champion clinches his second pole position of the 2022 season on the Circuit Gilles Villeneuve and shows all his skills in the rain and on a drying track with a lead of six tenths of a second. Strong too: Alpine star Fernando Alonso in second place ahead of his Spanish compatriot Carlos Sainz.
"A great feeling," says the 40-year-old Alonso. "I felt super comfortable in the car and will attack Max in the first corner."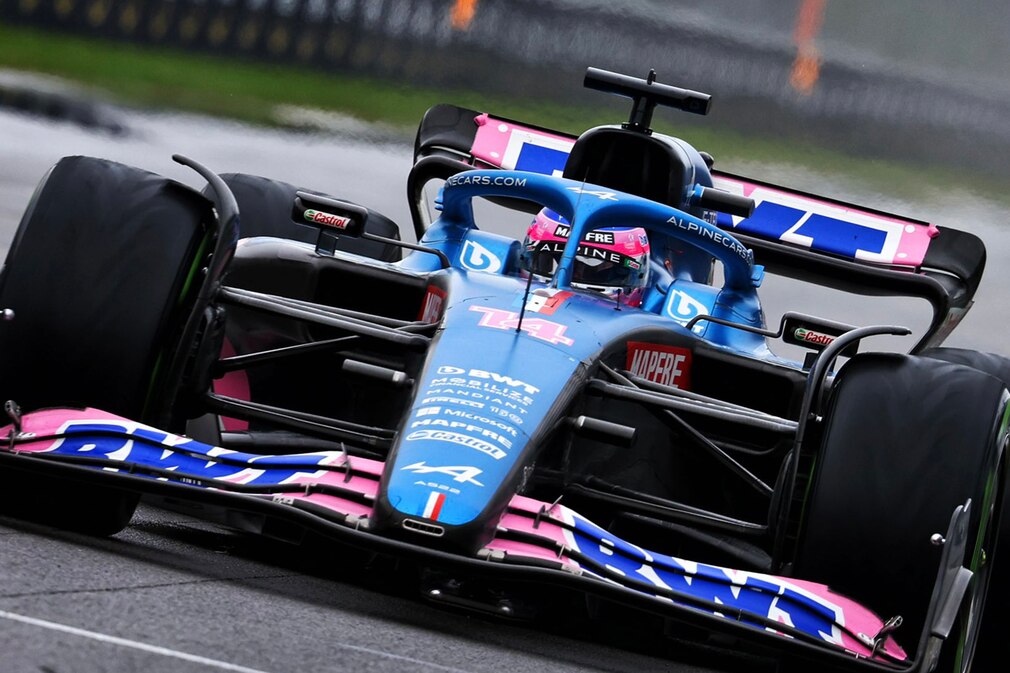 At Red Bull, you're not afraid of that. "The age difference is almost 20 years, but Alonso is a fair opponent," emphasizes Red Bull motorsport consultant Helmut Marko, who is impressed by the performance of his own protégé Max Verstappen. "It was such a show of power. He was a second ahead at times – without any doubts. I haven't seen such an impressive performance in a long time."
Lewis Hamilton finishes fourth in the Mercedes. Behind them are the two Haas with Kevin Magnussen, who is four tenths of a second faster than Mick Schumacher. Nevertheless, a strong result for Michael Schumacher's son, who, after a lot of criticism in the last few races, has the best grid position of his Formula 1 career.
"Today it felt very good from the first lap," says Schumi junior. "Right from the start I was faster than Kevin and many others. With the last set of tires I had to slow down behind Carlos Sainz, otherwise I could have done better."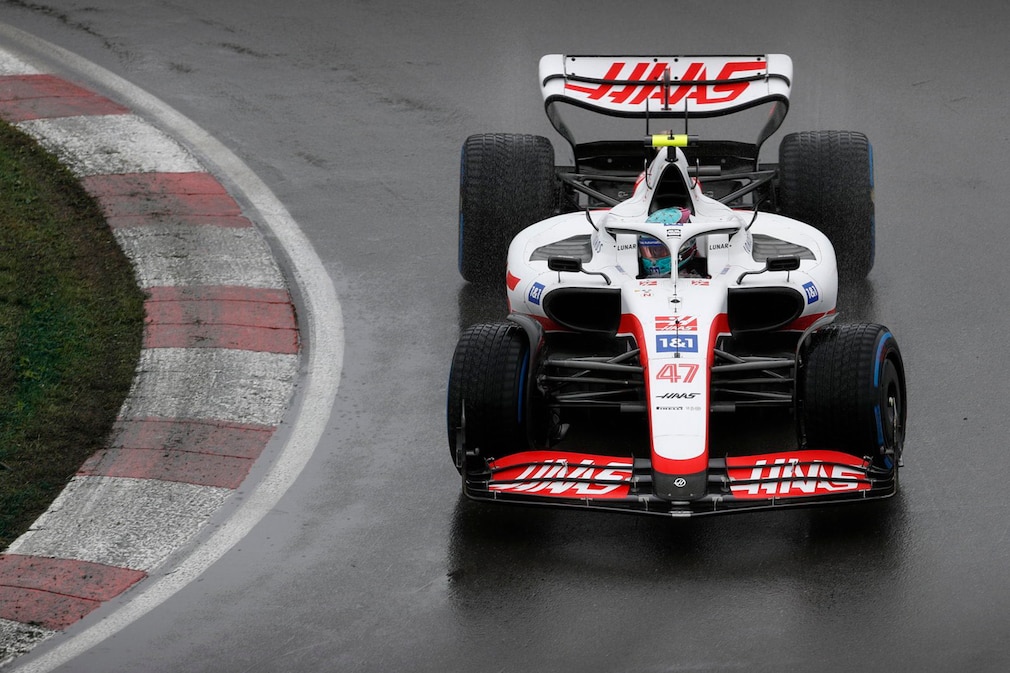 The German is thus building on the 2021 season, where he also demonstrated his special feeling in the rain. "I have a lot of fun looking for and finding the grip," confirms Mick. "Hopefully we can stay in that position and move forward." However, he also admits that he drove with more downforce: "We have a bit more wings on it, but with DRS we can still keep at it."
Sixth place also puts team boss Günther Steiner in a good mood: "Günther said 'thank you' to me," reveals Schumacher, who draws a positive conclusion: "We were confident in this qualifying, that counts." Uncle Ralf Schumacher does not expect a very easy Sunday at Sky: "It will be difficult for Haas with tire wear," he believes, and advises his nephew: "Mick shouldn't break anything and finish before his teammate."
George Russell (Mercedes) finishes eighth after slipping on slicks.
Disappointment also for Sergio Perez, who drove straight into the barrier in a left-right combination in the second qualifying segment and got stuck with the front wing in the TechPro barrier. The Red Bull star does not get past 13th place. There is criticism for this from Helmut Marko. "Both drivers are equal, but if Checo wants to become world champion, he has to beat Max."
Lando Norris (McLaren) disappointed with 14th place, especially since his teammate Daniel Ricciardo finished ninth.
Ferrari star Charles Leclerc is satisfied with 15th place: After his engine change, he has to start from the back anyway and saves kilometers. "We did the job we had to do," he says.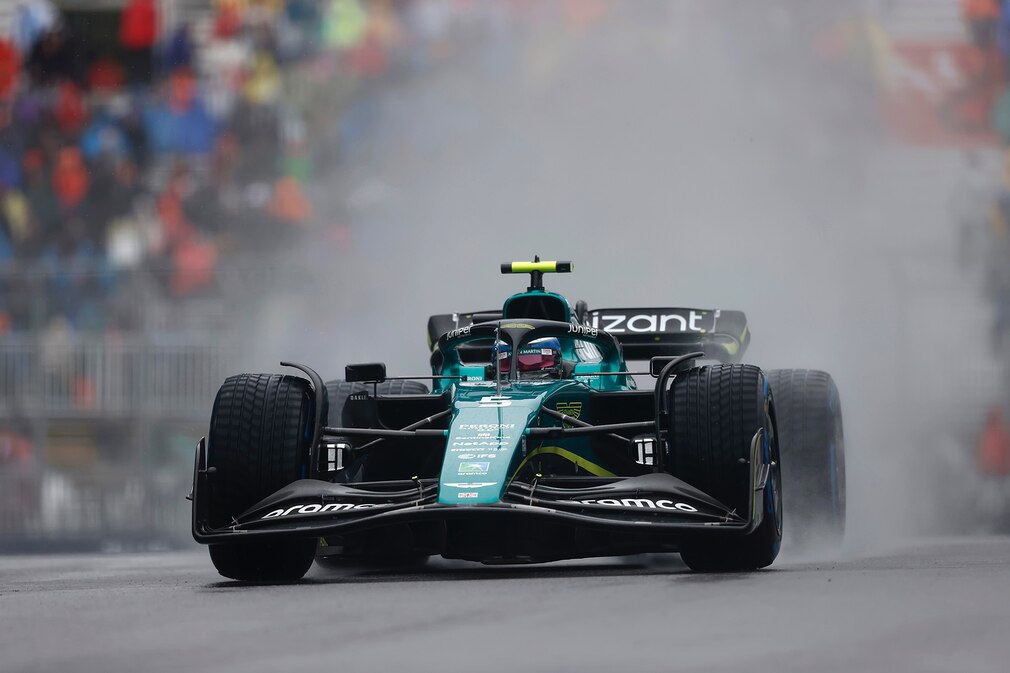 Severe setback for Sebastian Vettel after the strong results in the free practice sessions: The man from Heppenheim and his Aston Martin teammate Lance Stroll miss out on Q2 on a wet track. Vettel retires in 17th and Stroll in 18th. "What was that?" Vettel asks on the radio. "It was so different from this morning." Since the Heppenheimer was still third. "We must have had some problem," says Hesse on Sky. "We haven't changed almost anything, we don't understand it. I still think we can make up a few places tomorrow."
Behind him are only Nicholas Latifi (Williams) and Yuki Tsunoda (after changing the engine). Surprising exit in 16th place for Pierre Gasly (AlphaTauri).

Formula 1 Canadian Grand Prix
qualifying, result
1. Max Verstappen (Netherlands) – Red Bull 1:21.299 min.
2. Fernando Alonso (Spain) – Alpine +0.645s
3. Carlos Sainz Jr (Spain) – Ferrari +0.797
4. Lewis Hamilton (Great Britain) – Mercedes +1,592
5. Kevin Magnussen (Denmark) – Haas +1.661
6. Mick Schumacher (Gland/Switzerland) – Haas +2.057
7. Esteban Ocon (France) – Alpine +2,230
8. George Russell (Great Britain) – Mercedes +2.258
9. Daniel Ricciardo (Australia) – McLaren +2,450
10. Zhou Guanyu (China) – Alfa Romeo +2.731
11. Valtteri Bottas (Finland) – Alfa Romeo 1:26.788
12. Alexander Albon (Thailand) – Williams 1:26.858
13. Sergio Perez (Mexico) – Red Bull 1:33.127
14. Charles Leclerc (Monaco) – Ferrari 1:33.008;
15. Lando Norris (Great Britain) – McLaren 1:34.066
16. Pierre Gasly (France) – Alpha Tauri 1:34.492
17. Sebastian Vettel (Heppenheim) – Aston Martin 1:34.512
18. Lance Stroll (Canada) – Aston Martin 1:35.532
19. Nicholas Latifi (Canada) – Williams 1:35,660
20. Yuki Tsunoda (Japan) – Alpha Tauri 1:36.575