Cars
Formula 1: Verstappen sovereign, Schumacher fights with Hamilton
Safe start-finish victory for Max Verstappen in the sprint for the Austrian Grand Prix in Spielberg. The Dutchman starts the home race of his employer Red Bull on Sunday from pole position and also wins the second sprint race of the year after Imola.
Verstappen is happy about the victory in front of fans mostly dressed in orange. "This is how a sprint should go. In the end we had a similar speed as Ferrari. It's going to be exciting tomorrow."
Behind him, Charles Leclerc races through the finish line in front of Carlos Sainz. After Silverstone, there was another heated exchange of blows between the Ferrari stars. The two red racers overtake each other several times, in the end Leclerc Sainz pushes off the ideal line in turn three and thus makes it clear who wants to be number one at Ferrari.
"We had a little fight with Carlos," explains Leclerc, emphasizing that he would rather work with his stablemate on Sunday than against him. But the Spaniard stays cool: "That was good racing."
George Russell (Mercedes) is fourth ahead of Sergio Perez (Red Bull), Esteban Ocon (Alpine) and Kevin Magnussen (Haas).
Lewis Hamilton grabs the last point after a remarkable duel with Mick Schumacher. The seven-time world champion and the son of the other record champion Michael Schumacher fight wheel to wheel for rounds. Schumi junior closes the door several times and proves his fighting qualities.
Only when the German falls out of the DRS slipstream of his team-mate does Hamilton pass.
The Mercedes star got a new chassis after his accident in qualifying on Friday, collided with Pierre Gasly (Alpha Tauri) at the start from tenth place, but can continue.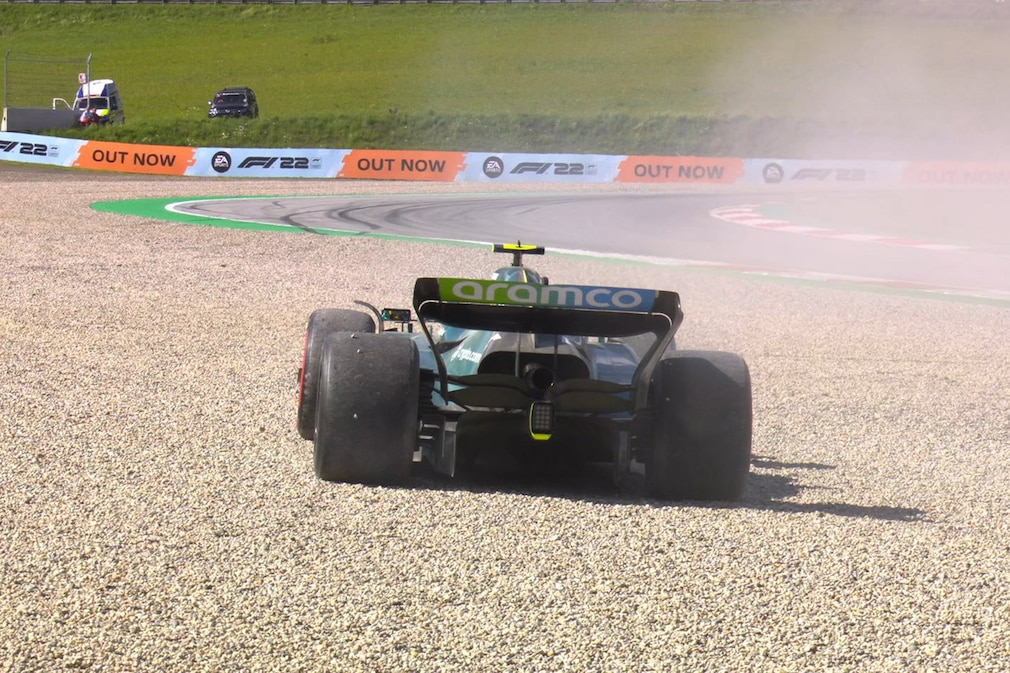 Sebastian Vettel races from 20th place to 14th at the start with soft tires. In turn four, however, Williams driver Alex Albon touches Vettel's left rear tire with his right front wheel and turns the German around. Vettel slides into the gravel bed, but gets back on track with reverse gear. One lap before the end, he is supposed to steer his Aston Martin into the garage with consequential damage.
Vettel: "We got through well at first. Our pace was reasonably okay." But then the collision followed in the second sector. The German doesn't expect a penalty. On the contrary: Heppenheimer sees Albon as the fault Space left. The underbody is a bit damaged, "explains a frustrated Vettel.
Sky expert Ralf Schumacher sees it differently. "It was a race accident and optimistic about the outside. It's been a tough weekend for Seb so far, a shame for tomorrow's race."
Formula 1 Austrian Grand Prix
Sprint qualifying
1. Max Verstappen (Netherlands) – Red Bull 26:30.059 min.
2. Charles Leclerc (Monaco) – Ferrari +1.675s
3. Carlos Sainz Jr (Spain) – Ferrari +5.644
4. George Russell (Great Britain) – Mercedes +13.429
5. Sergio Perez (Mexico) – Red Bull +18.302
6. Esteban Ocon (France) – Alpine +31.032
7. Kevin Magnussen (Denmark) – Haas +34.539
8. Lewis Hamilton (Great Britain) – Mercedes +35.447
9. Mick Schumacher (Gland/Switzerland) – Haas +37.163
10. Valtteri Bottas (Finland) – Alfa Romeo +37.557
11. Lando Norris (Great Britain) – McLaren +38.580
12. Daniel Ricciardo (Australia) – McLaren +39.738
13. Lance Stroll (Canada) – Aston Martin +48.241
14. Zhou Guanyu (China) – Alfa Romeo +50.753
15. Pierre Gasly (France) – Alpha Tauri +52.125
16.Alexander Albon (Thailand)-Williams +52.412
17. Yuki Tsunoda (Japan) – Alpha Tauri +54.556
18. Nicholas Latifi (Canada) – Williams +1:08.694 min.
19. Sebastian Vettel (Heppenheim) – Aston Martin + 2 laps.
20. Fernando Alonso (Spain) – Alpine eliminated (1st lap)