Cars
Formula 1: Verstappen wins mega duel against Leclerc
Almost photo finish at the 2022 Saudi Arabian Grand Prix: Max Verstappen wins just a few car lengths ahead of Ferrari star Charles Leclerc and thus clinches his first victory as reigning world champion.
The final phase in particular offered pure excitement. Leclerc dominated the race until seven laps before the end. But a virtual safety car phase brought Verstappen within striking distance with seven laps to go. The Red Bull and the Ferrari dueled over several laps – standing attempts included.
Leclerc tried to lure Verstappen into the trap several times and took out speed before the last corner. Reason: The Monegasque wanted to secure the DRS advantage from start to finish and pass the DRS line in second place. Strategy games at the highest level. But this time there was no rear-end collision like in the previous year between Verstappen and Lewis Hamilton.
One reason: Verstappen saw through the clever Leclerc tactics and struck two laps before the end: at start-finish he surprised the Ferrari youngster, who was unable to accelerate perfectly in the last corner with degrading tires due to a crossover. The Dutchman was able to fend off a counterattack in the last lap. Racing in a class of its own!
Verstappen is happy: "We fought hard. In the end we had a bit better pace. An amazing race."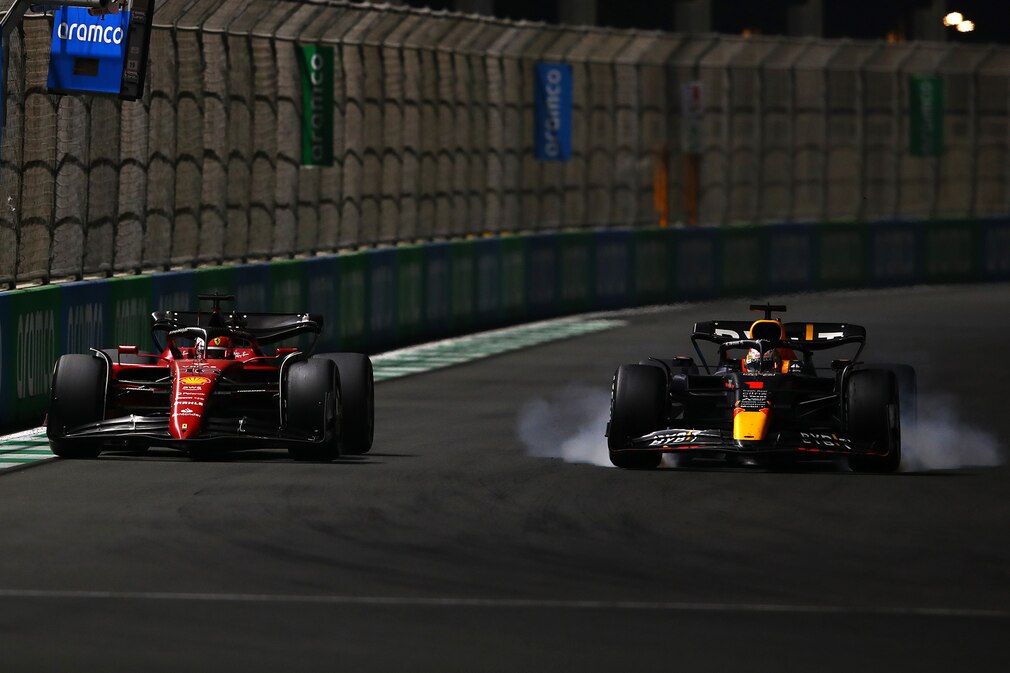 Leclerc was only slightly disappointed: "I enjoyed the race. It was tough but fair racing, with a lot of strategy. We're pushing like I've never done before."
Ferrari driver Carlos Sainz took third place ahead of Sergio Perez. The Red Bull driver lost the lead due to an early tire change before a safety car phase (triggered by an accident involving Nicholas Latifi).
"The safety car cost Perez a podium," says Red Bull chief adviser Helmut Marko, who is all the happier about Verstappen's victory. "We specially tuned the car for the race – with less rear wing. And if you then have a Max in the cockpit, you can rely on him to implement it. Unbelievable: after last year I wouldn't have believed that it could get any better."
A duel between Verstappen and Leclerc is already emerging in the World Cup. Also believes the Austrians. "It will be the duel of the year. I don't know if Mercedes can cover a race distance that quickly."
Sky expert Ralf Schumacher comments: "Both are at an extreme level. But so do the cars." But one thing is also certain: the new Formula 1 racing cars actually allow even more duels at the limit.
The loser of the rule changes for the 2022 season is Mercedes. The two Silver Arrows with George Russell and Lewis Hamilton finished fifth and tenth. After catching up from 16th place, the seven-time champion missed a better place because he was not able to use a virtual safety car phase with incorrect timing to pit.
"We're taking small steps forward, but we need bigger steps," Russell acknowledges.
In his second race as Vettel's substitute, Nico Hülkenberg finished in a strong twelfth place, relegating his team-mate Lance Stroll to 13th place the Emmericher himself. "The race was exhausting and demanding. I guess I'm fitter than I thought. It went like clockwork."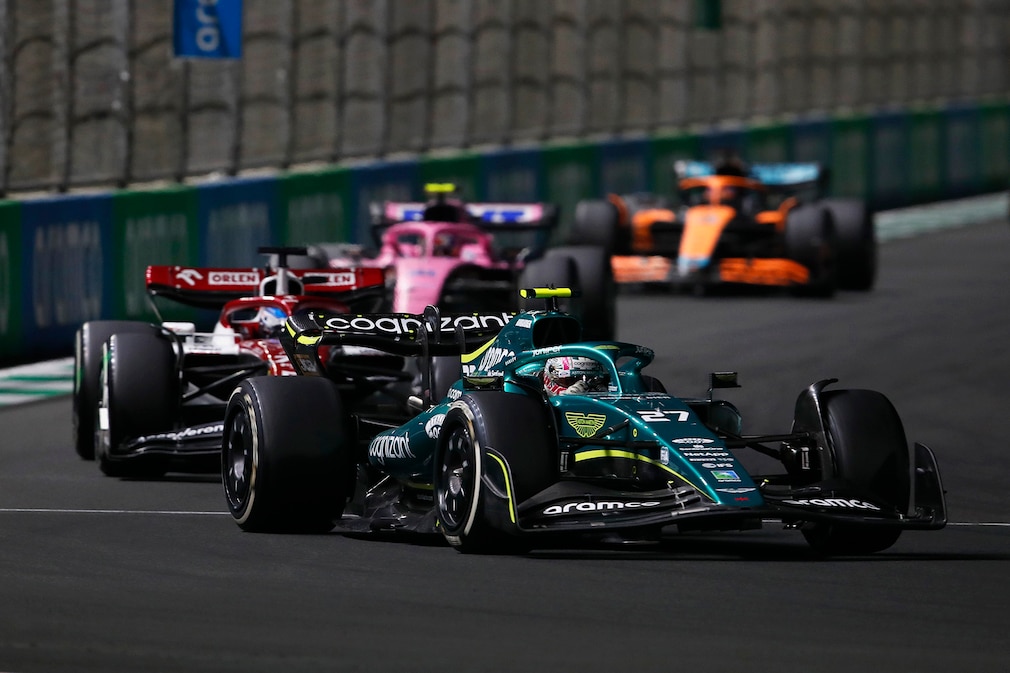 For Hülkenberg, the Formula 1 vacation is now over. "In two weeks Seb will take over again, then I'll be out."
The two Alpines caused a stir, having worn each other out in a team-internal duel for many laps. Fernando Alonso had to park his pink racer due to a technical defect. His teammate Esteban Ocon finished sixth ahead of McLaren driver Lando Norris. "A great result," commented the German McLaren team boss Andreas Seidl. "The points are a great motivation for the whole team." Small downer: Daniel Ricciardo had to park his McLaren with technical problems.
Mick Schumacher followed the GP after a serious accident in qualifying at the command post. His Haas teammate Kevin Magnussen finished ninth and amazed Lewis Hamilton: "I don't know what kind of engine the Haas has, but I couldn't follow it." The next race will take place on April 10 in Melbourne (Australia). .
Saudi Arabian Grand Prix Result
1. Max Verstappen (Netherlands) – Red Bull 1:24:19.293 hours
2. Charles Leclerc (Monaco) – Ferrari +0.549s
3. Carlos Sainz Jr (Spain) – Ferrari +8.097
4. Sergio Perez (Mexico) – Red Bull +10,800
5. George Russell (Great Britain) – Mercedes +32,732
6. Esteban Ocon (France) – Alpine +56.017
7. Lando Norris (Great Britain) – McLaren +56.124
8. Pierre Gasly (France) – Alpha Tauri +1:02.946 min.
9. Kevin Magnussen (Denmark) – Haas +1:04.308
10. Lewis Hamilton (Great Britain) – Mercedes +1:13.948
11. Zhou Guanyu (China) – Alfa Romeo +1:22.215
12. Nico Hulkenberg (Emmerich) – Aston Martin +1:31.742
13. Lance Stroll (Canada) – Aston Martin + 1 lap.
14. Alexander Albon (Thailand) – Williams + 3 laps
failures:
Mick Schumacher (Gland/Switzerland) – Haas did not start
Yuki Tsunoda (Japan) – Alpha Tauri (1st round)
Nicholas Latifi (Canada) – Williams (15th lap)
Daniel Ricciardo (Australia) – McLaren (36th lap)
Fernando Alonso (Spain) – Alpine (36th lap)
Valtteri Bottas (Finland) – Alfa Romeo (37th lap)

Formula 1 on TV
In 2022, Formula 1 will run on Sky. Last year, the broadcaster introduced a new TV channel especially for the premier class: Sky Formula 1. Here there is motorsport 24 hours a day. All practice sessions, all qualifying sessions, all races are always live and without commercial breaks. In addition, Sky also broadcasts the support races Formula 2, Formula 3 and the Porsche Supercup. The program also includes historic races and special programs.