Cars
Formula 1: Vettel angry with Gasly
Sebastian Vettels (34) Aston Martin comes to life under the floodlights in Qatar: For the first time in eight races, the German makes it back into Q3 in qualifying on the new desert circuit on Saturday. "I'm pretty happy. I had a good day and overall we feel a little better here than we did last. We qualified a Red Bull, a Ferrari and a McLaren, so we can be really happy with that, "said the German after starting from tenth place.
Teammate Lance Stroll, who is twelfth, also leaves Vettel behind, making it 13: 7 against the Canadian in the qualifying duel.
Vettel's full attack on Saturday is also shown in a scene with AlphaTauri driver Pierre Gasly, whom he overtakes in the pit exit. The French complains on the radio, but Vettel can only laugh about it. "He could have stepped on the gas", the Heppenheimer smiles and makes it clear in relation to the gentlemen's agreement criticized by Gasly, according to which one does not overtake in the warm-up lap: "Nobody here takes gentlemen really seriously except for the word."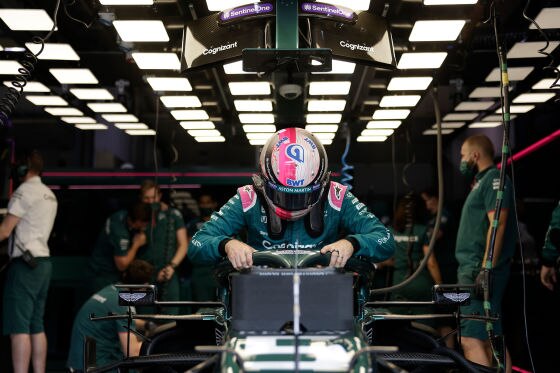 But Gasly's late revenge in the private duel with Vettel follows at the end of Q3 – albeit in an unusual way: The Frenchman destroys himself on a wild ride over the curbs front wings and tires, and ensures a yellow flag. Vettel is one of the most suffering. "It's a shame, I had to stop my last lap because of the yellow flag in the last sector," says the German.
Gasly's behavior does not necessarily fall under the gentleman category for Vettel either: "He only parks his car there to destroy everyone else's lap," he complains on the radio, and after qualifying also criticizes the management of the race with it: "The The yellow flag then disappeared again, probably because Max (Verstappen, World Cup leader; d. Ed.) came. I don't know: every weekend it's kind of different. Usually these are double-waved yellow flags. At least I thought they were coming, that's why I slowed down. "
Vettel continues: "I don't know whether eighth or ninth place would have been possible. But I had the feeling that I had a good last sector and then had to take off the accelerator. "In the midfield battle with Alpine, the Heppenheimer sees his team behind. "Your speed is very good here and we are missing a bit to really attack in the final qualifying section."
In Vettel's opinion, Aston Martin's small upswing is not enough because the competition is not sleeping either: "There is a bit of a trend in the last few races: The AlphaTauri is probably even the third fastest car in the field at the moment and Alpine is also much closer to McLaren and Ferrari on it ", explains the Heppenheimer and predicts with a view to the race:" Overtaking is not impossible, but difficult. It's just not the best course for it here, like it was last in Interlagos. "

Formula 1 on TV
Formula 1 will run at Sky in 2021. The station is setting up its own TV station for the new era: Sky Formula 1. Here there is motorsport 24 hours a day. All training sessions, all qualifying sessions, all races always live and without commercial breaks. Sky also broadcasts the Formula 2, Formula 3 and Porsche Supercup races. The program also includes historical races and special programs. You can find more information here