Cars
Formula 1: Vettel celebrated before the FIA ​​hearing
Today Sebastian Vettel (34) is known as "Mister Vernunft" in Formula 1. He is committed to protecting the climate and the environment, promoting equality and diversity. At Aston Martin, he should lead the team into a successful future. The Heppenheimer has grown up and is fighting for more than just his own success.
"I'm not a teacher, but I like to talk to people about life on our planet, our future and the environment. And about why, in my opinion, it is important that we do something, "he reveals in a Formula 1 video in which he plays" Yenga "with Mick Schumacher (22).
But there was also the rock'n'roller Sebastian, the brother in the spirit of his best racing friend Kimi Räikkönen. Vettel surprised Mick Schumacher in the video with the following statement: "I had the best party on my 30th birthday." So far, so normal. But what came after that is curious.
"I don't usually celebrate it that big, but I figured 30 was something special. I was in a good mood, if you know what I mean, "explains Vettel Schumi junior with a wink, and indicates with an unmistakable gesture that he was also looking deep into the glass.
The problem: "The next day I had to go to the FIA ​​because of the incident in Baku when I was mad at Lewis Hamilton because he almost stopped and I drove into him."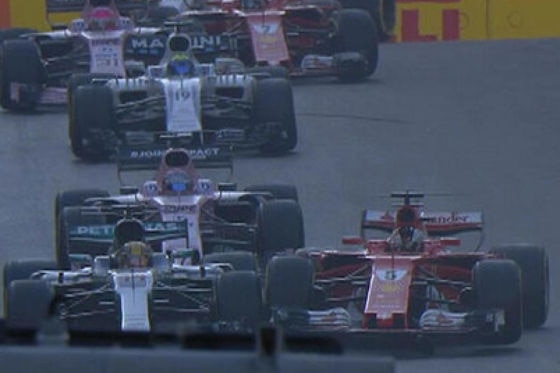 Vettel with residual alcohol in the shortage of FIA President Jean Todt? Background: In Baku, the then Ferrari star lost his nerve in 2017 because Mercedes opponent Lewis Hamilton had slowed down too much in Vettel's opinion shortly before the end of a safety car phase. The German then practiced vigilante justice and drove Hamilton with his Ferrari into the side of the car – with full intent!
The consequence for the disobedience on the racetrack in Azerbaijan: Vettel was summoned before the FIA ​​judges in Paris, received three penalty points after a public apology for the scene. Witnesses to the hearing, meanwhile, spoke of a relaxed hag, whose defense arguments came easily and fluently from his mouth.
One thing is certain: Mick Schumacher should not take Vettel as an example in this case. Otherwise, the Hessian is currently Schumacher's closest confidante in the paddock.
The paternal-friendly relationship between the two began in 2011. At that time, Schumi junior met the newly crowned world champion Vettel on the plane. Mick: "My first memory of Sebastian was when I went on vacation with my family. He and his girlfriend accompanied us on the plane because we had the same goal. We played Angry Birds on his iPad. "
Meanwhile, both drive together in Formula 1. And Vettel praises his protégé. "Everyone knows that the Haas is the weakest car in the field. And still keep calm, show constancy and also keep motivation. We talk more often and I think he pushed the whole team forward, even if the starting position is not easy. "

Formula 1 on TV
Formula 1 will run at Sky in 2021. The station is setting up its own TV station for the new era: Sky Formula 1. Here there is motorsport 24 hours a day. All training sessions, all qualifying sessions, all races always live and without commercial breaks. Sky also broadcasts the Formula 2, Formula 3 and Porsche Supercup races. The program also includes historical races and special programs. You can find more information here