Cars
Formula 1: Vettel complains of too much aerodynamic drag
Sebastian Vettel (34) continues to slide around political statements, but he is back on the gas a little more than at the Qatar GP two weeks ago. After his verbal braking in Doha, the Aston Martin star has changed strategy for the next questionable race in the Middle East. Instead of putting his finger in the wounds of the conservative kingdoms on the Arabian Peninsula, he now wants to make a difference with positive education.
"It is clear that some things are not what we think they should be," said Vettel in front of the GP in Saudi Arabia. "But who am I to be able to judge that? We shouldn't emphasize the negative things, but the positive ones. It's a much more effective weapon. "
To calm his conscience, the German organized a kart race with women only in the desert of Arabia. Vettel: "I was wondering what I can do here. It's a male dominated world. Women have only been allowed to get their driver's license here since 2017. So I invited seven or eight women to build their self-confidence behind the wheel. It was nice to hear how positively they rate the change in their country. "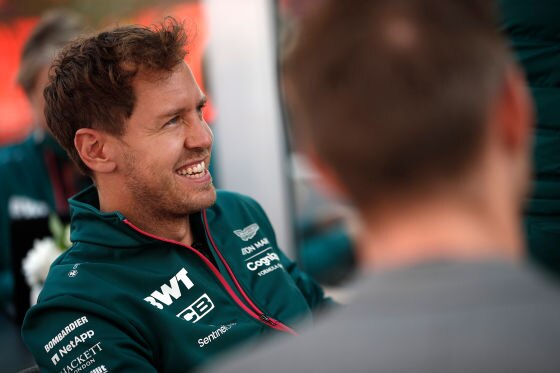 The Heppenheimer also rates his development at Aston Martin positively. "We had a good speed in Qatar (tenth place; d. Editor). Qualifying is the key to a good performance. "Because his green racer has a hard time overtaking. "Our car has a little too much drag," explains Vettel. "It's not efficient enough and has too little downforce."
Nevertheless, the German is dueling with his former arch rival Fernando Alonso (Alpine) for the crown of the best overtaker. In the duel between the two old masters, it is 116 to 115 for the Spaniard, who was on the podium in Qatar for the first time in seven years.
Vettel is also pleased. "Give us the right tools and we'll deliver," he says. A performance like Alonso's third place in Qatar motivates him too. "Michael Schumacher used to be my greatest inspiration," admits Vettel. "But now I'm too old for his posters on my wall. Meanwhile, trips like Fernando's last race can also inspire me. "
However, the brilliant performance of the double world champion also ensures that World Cup rank ten is almost out of reach for Vettel. In twelfth place he is already 34 points behind Alonso.
Formula 1 on TV
Formula 1 will run at Sky in 2021. The station is setting up its own TV station for the new era: Sky Formula 1. Here there is motorsport 24 hours a day. All training sessions, all qualifying sessions, all races always live and without commercial breaks. Sky also broadcasts the Formula 2, Formula 3 and Porsche Supercup races. The program also includes historical races and special programs. You can find more information here