Cars
Formula 1: Vettel struggles with tire poker
Courage or arrogance? This is the question for Sebastian Vettel after the Turkey Grand Prix 2021: The Aston Martin star finishes the race on the wet Istanbul Park Circuit only in 18th after a German tire poker turns out to be a failure. On lap 37, Vettel is the only driver in the field to pull on dry tires, but quickly finds himself next to the track and realizes: "It was the wrong decision."
Vettel: "It was weird. The track wasn't dry, of course, but the intermediate was so crazy that it actually looked like a dry tire and had no tread at the key points. That's why I thought a new dry tire might work better and it will have it took the risk, "he explains his decision.
"As soon as I drove out of the pits, however, I knew that it wasn't working. The problem was that I couldn't get the tire to work at all. Once the temperature drops, it's actually already lost." , so Vettel. The risky tire change was made in consultation with the team, as the four-time champion explains: "Even though I made the decision in the end because I wanted to try it out."
The Heppenheimer gets support from team boss Otmar Szafnauer: "That was just one of those things: A risk that didn't pay off. But that's how it works sometimes when the conditions are so difficult." Vettel himself quarreled with the decision in retrospect: "It probably cost us one or two points." Team mate Lance Stroll finished the race in ninth place in the championship points.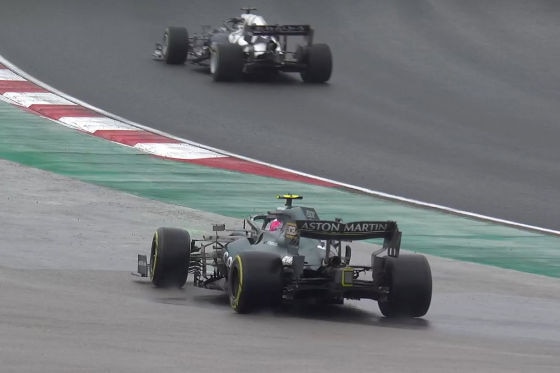 For Vettel these are a long way off after the excursion on slicks: "It was much worse than I expected. I had no grip and just slipped around, lost a lot of time. I was really surprised how long it took to get it Track got drier. A bit like last year, because even in the end it didn't get much better. "
The Heppenheimer sees the real problem in the first half of the race: "In the first stint I wasn't fast enough, couldn't keep up the pace and had terrible problems with the tires." He can hardly defend himself against the competition and has to let Lewis Hamilton go in the starting lap. With Ferrari driver Carlos Sainz, the fight for tenth place on lap 13 then even had to replace the paint.
"He was a bit optimistic about that. If I don't look exactly where he is, his race may be over," warns Vettel. The racing stewards do not intervene and Vettel then continues to create his tire problems before he decides on the serious risk strategy: "That with the dry tires did not work and after that it was quite good in terms of the times, but of course too late because I was one lap behind. "
Formula 1 on TV
Formula 1 will run at Sky in 2021. The station is setting up its own TV station for the new era: Sky Formula 1. Here there is motorsport 24 hours a day. All training sessions, all qualifying sessions, all races always live and without commercial breaks. Sky also broadcasts the Formula 2, Formula 3 and Porsche Supercup races. The program also includes historical races and special programs. You can find more information here