Cars
Formula 1 with final faux pas: titles for both would be appropriate
Red Bulls, of all places, the only world champion until Sunday, Sebastian Vettel, sums it up after the final between Max Verstappen and Lewis Hamilton in Abu Dhabi: "Both would have deserved the title, so I congratulate both of them," says the German. Fernando Alonso agrees: "If you could cut the World Cup trophy in two, it would be the year for it. Both were outstanding."
The premier class will experience an epic duel between Verstappen and Hamilton in 2021 between two athletes on an equal footing, delivering great sport and a mega show.
It is all the more regrettable that Formula 1 tripped itself up even in one of its most glorious hours with the renewed controversy over race management and its own rules. In the aftermath of the World Cup final, criticism, protests and mutual accusations dominated the headlines.
Pity! Despite all the fuss about the unworthy theater behind the safety car, there would even have been a fair solution on Sunday. The right, because fairest, call after the crash of Williams driver Nicholas Latifi was unfortunately overlooked in the endless vortex of discussions between angry team leaders and the hopelessly overwhelmed race management: It would have been a red flag, followed by a standing restart.
This would have saved the FIA ​​a lot of discussions and the rights holders of Liberty Media who were primarily concerned with audience numbers and marketing would have got their big showdown anyway – only both title duels would have been allowed to change their tires and set off with the same weapons in a sprint over one Round for the World Cup crown: that would have been the epic final show!
Double title: Olympics show how it is done

The racing luck would still have given Verstappen an advantage and one last unexpected chance – but Hamilton also had the opportunity to at least defend himself. A Solomonic solution that would have been absolutely feasible in terms of the regulations, as the multiple interrupted Grand Prix a week earlier in Saudi Arabia shows with its standing restarts.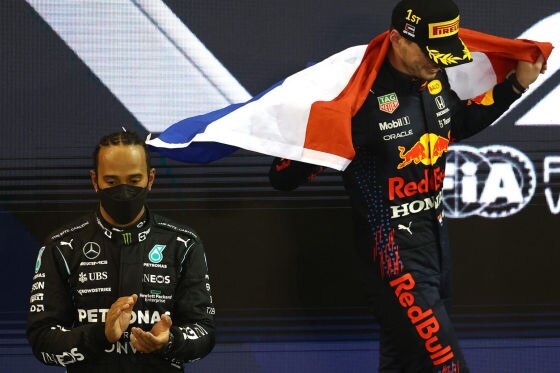 Only in this way could the race management have created fair conditions for everyone involved. Since she didn't succeed, the FIA ​​should perhaps take the advice from Sebastian Vettel and Fernando Alonso mentioned at the beginning: They would simply award the title to both drivers …
How this works was demonstrated by the case of the two high jumpers Gianmarco Tamberi and Mutaz Essa Barshim at the Summer Olympics, who simply shared the gold medal and thus made positive headlines around the world.
It would be the right signal from the FIA: Both as an admission of their own failures in Abu Dhabi, and as a lesson for the now completely divided top teams from Mercedes and Red Bull, who no longer allow each other the black under their fingernails.