Cars
Formula 1 with TV record in Miami
A full house along the route itself 82,500 spectators on Sunday, large numbers of spectators in front of the TV sets: the GP Miami was a complete success in the USA.
On average, around 2.6 million fans watched the live broadcast on ABC, the largest television network in the USA. That's the highest ratings for a live race in the States. Only the GP Monaco 2002 reached even more people, but at that time it was broadcast with a time delay.
Qualifying and practice sessions in Miami were shown by ABC affiliate ESPN. After all, 953,000 spectators tuned in to qualifying, 398,000 followed the first practice session.
The NASCAR series, which is still the top racing league in the USA, is used for classification. Exciting: The numbers are quite comparable. The NASCAR race, which took place in Darlington last Sunday, attracted 2.614 million viewers to their screens. Alone: ​​The race was broadcast on the pay TV channel Fox Sports 1. A huge disadvantage compared to Formula 1 in Miami. That goes with it: when NASCAR is on free TV, between four and five million fans tune in.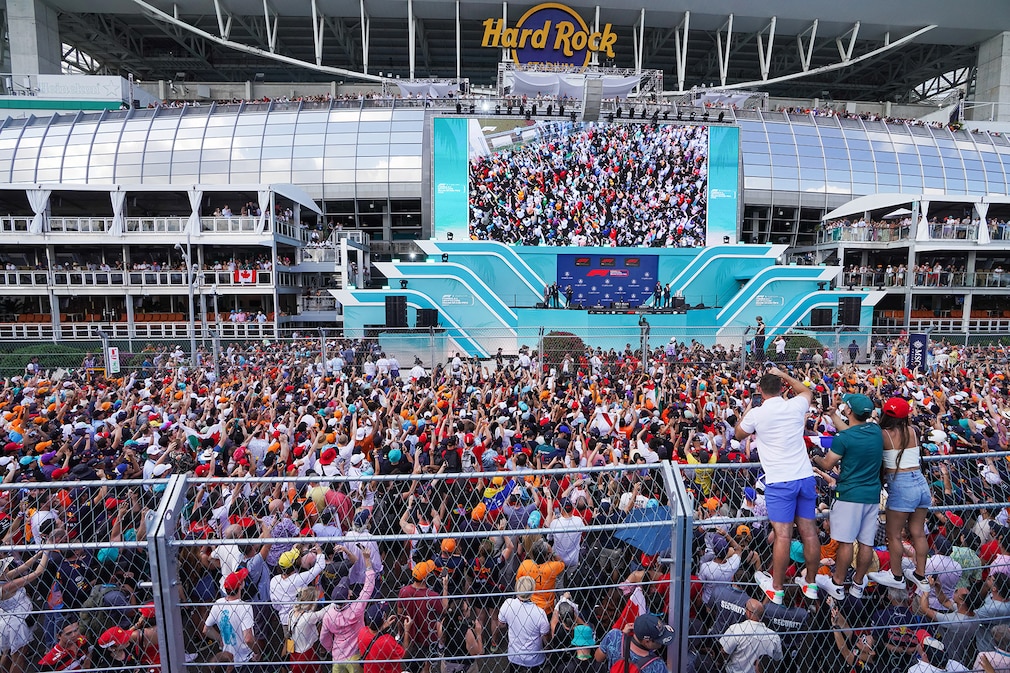 However, one thing is certain: the premier class is growing in the USA. In 2020, an average of 609,000 fans watched, in 2021 it was 949,000. For 2022, Formula 1 reports an average of 1.4 million viewers per GP.
And interest will continue to grow. In 2023 the GP will take place in Las Vegas in November. "Holding a third race in the USA shows the enormous attractiveness and growth of our sport here," says Formula 1 boss Stefano Domenicali. "In the 24 hours following the official announcement, Wynn's Las Vegas and Encore Resort received more hotel reservation requests than any other period in their history. Additionally, the announcement generated four times as much social media activity as the announcement of the 2024 Super Bowl in Las Vegas."
Formula 1 and the USA – it could be a real love story.

Formula 1 on TV
In 2022, Formula 1 will run on Sky. Last year, the broadcaster introduced a new TV channel especially for the premier class: Sky Formula 1. Here there is motorsport 24 hours a day. All practice sessions, all qualifying sessions, all races are always live and without commercial breaks. In addition, Sky also broadcasts the support races Formula 2, Formula 3 and the Porsche Supercup. Historical races and special programs are also on the programme.