Cars
Formula 1: World Cup duel escalates in Saudi Arabia
The World Cup duel is getting hotter and hotter! Lewis Hamilton (Mercedes) wins the GP in Saudi Arabia ahead of Max Verstappen (Red Bull) and his team-mate Valtteri Bottas. This means that the two World Cup rivals will go into the grand final in Abu Dhabi in one week with the same number of points. Verstappen remains leader because he has one more win to play.
Alone: ​​The GP Saudi Arabia will go down as one of the most controversial races in the history of the 2021 season: with three starts, two red flags, a brawl like in the bazaar and a rear-end collision of the World Cup rivals at slow pace!
The trigger for the cabinet of curiosities is Mick Schumacher, of all people. On lap eleven, the Haas pilot hits the spot where Charles Leclerc flew off on Friday. Schumi junior hits the notch when downshifting and loses his tail. He gets out of his haas unharmed.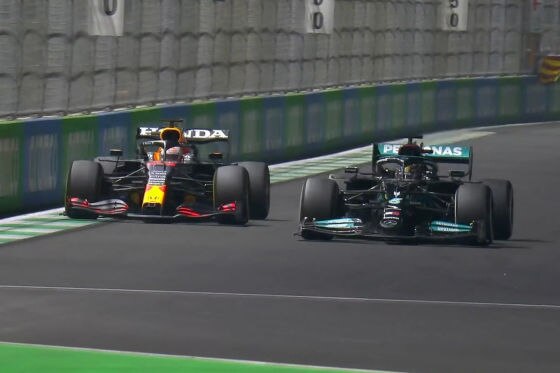 Mercedes uses the following safety car with the leader Hamilton for a pit stop, while Verstappen stays outside in the Red Bull. The poker does not work this time because the race is canceled. This gives Verstappen a "free" tire change. When restarting, however, the Dutchman cuts in the first chicane, while Sergio Perez and Charles Leclerc collide in midfield. Further back, Nikita Mazepin crashes into the stern of George Russell. Next red flag.
That enables FIA horse trading. Race director Michael Masi offers Red Bull the deal: If Verstappen waives first place on the grid, there will be no investigation into the abbreviated chicane. Red Bull accepts and puts medium-hard tires on his World Cup fighter. With those, Verstappen wins the third start.
The Mercedes star then chases the Red Bull and starts the overtaking maneuver on lap 37. Verstappen defends himself and shortens again in the first chicane. A little later the Dutchman slows down in the meandering just before the last corner – as if he wanted to let Hamilton by. But the Briton does not know where and rushes Verstappen into the rear.

Mercedes team boss Toto Wolff is freaking out in the garage, and Sky expert Ralf Schumacher is also committed: "That was unsporting by Verstappen, Lewis deliberately slowed down." Hamilton also said on the pit radio. The Brit describes his competitor as "fucking crazy". The incident will be investigated after the race.
One thing is certain: Both drive on, a little later Verstappen lets Hamilton finally pass, gets a 5-second penalty and still comes in second.
"An eventful race," says the Red Bull driver angrily. "A lot of things happened that I don't agree with. In the end the tires have worn off, but second place is okay. "Regarding the collision with Hamilton, he says:" I should slow down, I turned right and he should pass him on the left. Then he touched me. I don't quite understand what happened there. "
Hamilton is also irritated: "I've been racing for a long time, but that was incredibly tough today. Max put on the brakes pretty hard, then I hit him in the back. That was confusing. "
For Sebastian Vettel it is a race to forget: First he is turned around by Yuki Tsunoda, then he collides with Kimi Raikkonen. In the end he has to park his wounded Aston Martin.
Formula 1 Grand Prix of Saudi Arabia
Run:
1. Lewis Hamilton (Great Britain) – Mercedes 2:06: 15.118 hours
2. Max Verstappen (Netherlands) – Red Bull +11.825 sec.
3. Valtteri Bottas (Finland) – Mercedes +27,531
4. Esteban Ocon (France) – Alpine +27,633
5. Daniel Ricciardo (Australia) – McLaren +40.121
6. Pierre Gasly (France) – Alpha Tauri +41,613
7. Charles Leclerc (Monaco) – Ferrari +44.475
8. Carlos Sainz Jr. (Spain) – Ferrari +46.606
9. Antonio Giovinazzi (Italy) – Alfa Romeo +58.505
10. Lando Norris (Great Britain) – McLaren +1: 01.358 min.
11. Lance Stroll (Canada) – Aston Martin +1: 17.212
12. Nicholas Latifi (Canada) – Williams +1: 23.249
13. Fernando Alonso (Spain) – Alpine + 1 round.
14.Yuki Tsunoda (Japan) – Alpha Tauri + 1 rd.
15. Kimi Raikkonen (Finland) – Alfa Romeo + 1 rd.
Failures:
Mick Schumacher (Gland / Switzerland) – Haas (9th round)
George Russell (Great Britain) – Williams (15th Rd.)
Nikita Masepin (Russia) – Haas (15th round)
Sergio Perez (Mexico) – Red Bull (15th round)
Sebastian Vettel (Heppenheim) – Aston Martin (45th round)

Formula 1 on TV
Formula 1 will run at Sky in 2021. The station is setting up its own TV station for the new era: Sky Formula 1. Here there is motorsport 24 hours a day. All training sessions, all qualifying sessions, all races always live and without commercial breaks. Sky also broadcasts the Formula 2, Formula 3 and Porsche Supercup races. The program also includes historical races and special programs. You can find more information here