Cars
Four mobile homes in the concept comparison – How To Cars
Happiness is in the smallest hut. And of course in the largest too. And all sizes in between. Because which vehicle becomes your personal motorhome dream depends above all on your own preferences. Whether it's the bachelorette who is looking for an everyday car and weekend camper in one, or the retired couple who want to be on tour seven months a year with their house on wheels – it's a good thing that the camping industry is so wonderfully colorful and changeable. Instead of classics such as alcoves and XXL-integrated vehicles, in our concept comparison we are showing four motorhomes that are all the rage right now: car campers, super-short panel vans, extra-narrow semi-integrated vehicles and compact integrated vehicles. Read here what makes the four candidates real lucky mobiles.
1. Mini camper: VW Caddy California

To work in the morning, then to the parking garage in the city center and the next day to camp by the sea – that's exactly what the Caddy California is made for. A getaway car for the weekend, if you will. The two-in-one camper is particularly attractive to city dwellers, who already have too few parking spaces in their residential area. Since the trendy districts have been starting to get crowded for VW buses, too, young people camping swear by car-based mini or micro campers more and more often. An Opel Corsa is also often converted into a rolling bunk. In contrast, our test car – a long Caddy Maxi with a California package – seems like pure luxury.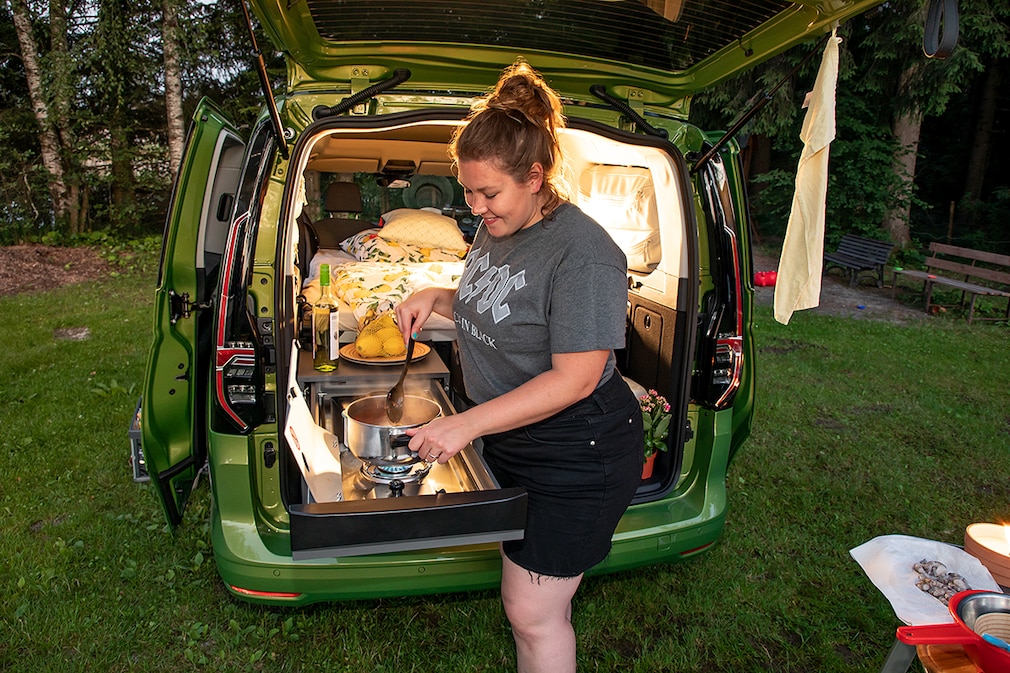 That's him: Somehow still a commercial vehicle. Unless Caddy lovers make enough ticks in the equipment list when buying. Then the likeable pack donkey becomes a comfortable and connected car with sleeping and cooking facilities. Admittedly, the lying surface, which is really narrow at 1.07 meters, scares couples off at first. However, there is still some elbow room on the left and right of the mattress, which is really comfortable thanks to plate springs. The author and her husband tried out the Caddy California together for a weekend and attest: Anyone who likes each other and gets close together while stargazing gets along well.
He has: Assistance systems and accessory packages that we can only dream of in (most) large motorhomes: heated rear windows, turning assistant, emergency brake assistant with pedestrian and cyclist detection, additional side or head airbags for the first and second row of seats, lane departure warning system, headlight range control, drowsiness detection and Tire pressure monitoring, for example, is standard on board. In addition, there are in our test car, among other things, the automatic distance control (423 euros), multimedia system (1476 euros), panorama roof (994 euros) and the closing aid for the two sliding doors (282 euros). The fact that the Caddy is considered more of a car than a mobile home can also be seen from the fact that (in contrast to the normal mobile) auxiliary heating (1523 euros), kitchen (1434 euros) and a second battery are subject to a surcharge. Only the bed, storage compartments and camping furniture come as standard with the California package.
2. Van: Sunlight Cliff 540

As manoeuvrable as a camper van, but with a shower and headroom – the short Sunlight Cliff 540 could be briefly outlined in a similar way. At just 5.41 meters long, it is just over half a meter longer than the Caddy California. Because the Ducato is 20 centimeters wider and almost a meter higher, the Cliff opens up completely different possibilities in terms of self-sufficiency and comfort. Having a bathroom and toilet on board is a blessing, especially on cold and rainy nights at the campsite. And yet the short Cliff 540 is still so crisp that you can easily park in front of the supermarket or the office building. Provided there are no height restrictions. Under these circumstances, the panel van is even suitable as an everyday vehicle and does not have to be parked in a hall or on the side of the road for most of the year.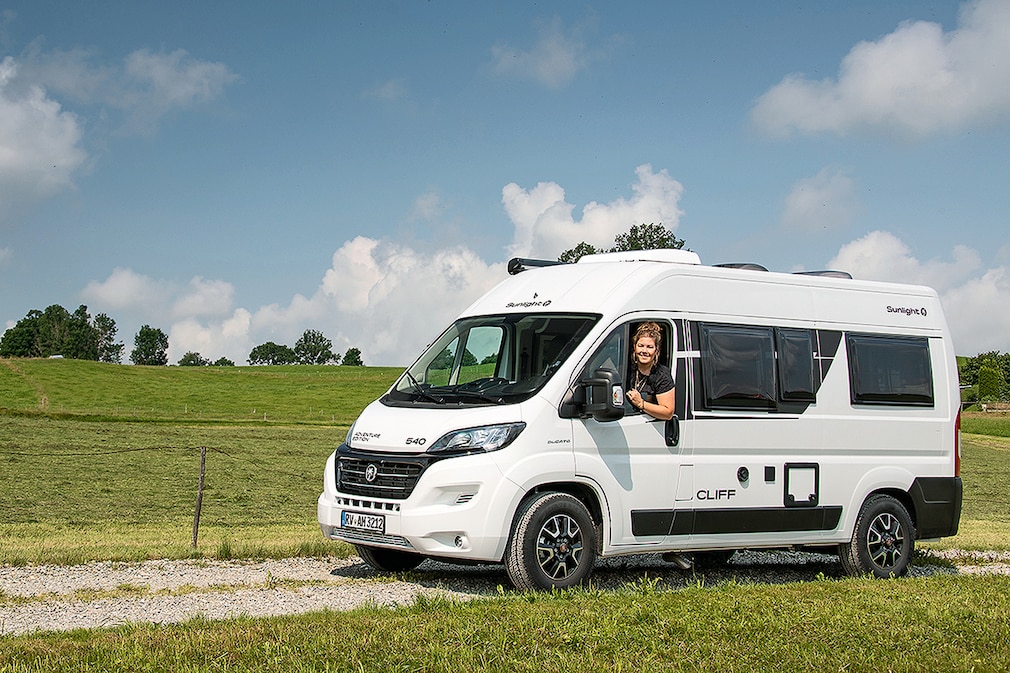 That's him: The smallest motorhome that Sunlight currently has in its range. Nevertheless, with everything that a van must have: transverse bed in the rear, toilet, shower, kitchen and seating area. Everything is just a little more compact than is the case with larger specimens. However, this means that the wet room in the cliff is so narrow that it cannot be regarded as a permanent solution. While you can still use the toilet quite well, showering in the narrow cabin is quite uncomfortable. The Cliff 540 is clearly designed as a motorhome for two people. The 1.33 meter narrow transverse bed is wonderfully comfortable, the kitchen is sufficient to store the necessary equipment and to conjure up simple dishes. Anyone who would like to have two more variable sleeping places can also order the short box as an RT variant with a folding roof (plus 3500 euros).
He has: Thanks to the Adventure Edition, it's nice basic equipment that campers can use to save a lot of money (according to the price list around 4100 euros). These include, among other things, 16-inch aluminum rims, painted bumpers, Adventure stickers, Adventure living environment, increased load to 3.5 tons, 90-liter diesel tank, awning, basic package (including heated mirrors, shower equipment, window in the bathroom, cab blackout, fly screen door, roof hood) and the style package (including leather steering wheel and gear knob, black radiator grille). Our test car also drove up with a 140 hp engine, multifunction steering wheel, spare wheel, fog lights, shower grate, bicycle rack, second body battery and USB socket. New for next season: Adventure Edition vehicles are now not only available in black, but also optionally in white (at no extra charge) with cool, matt stickers and the new, simple Sunlight logo.
3. Semi-integrated Carado V337

After panel vans, semi-integrated motorhomes are the most popular body type among German campers. This is shown by the new registrations from last year. A special trend that many manufacturers have now discovered for themselves: semi-integrated vehicles with an extra narrow silhouette. Just like our test candidate from Carado. The Erwin Hymer daughter calls this reinterpretation of the classic Vans. At 2.14 meters, our V337 Edition15 is only nine centimeters wider than a conventional Citroën Jumper. For comparison: the classic semi-integrated models from Carado measure a full 27 centimeters more. And those who already have motorhome experience know that every centimeter counts! Incidentally, this applies in both directions. In Italian streets, people are happy about the narrow shape of the van, on rainy vacation days about the extra living space.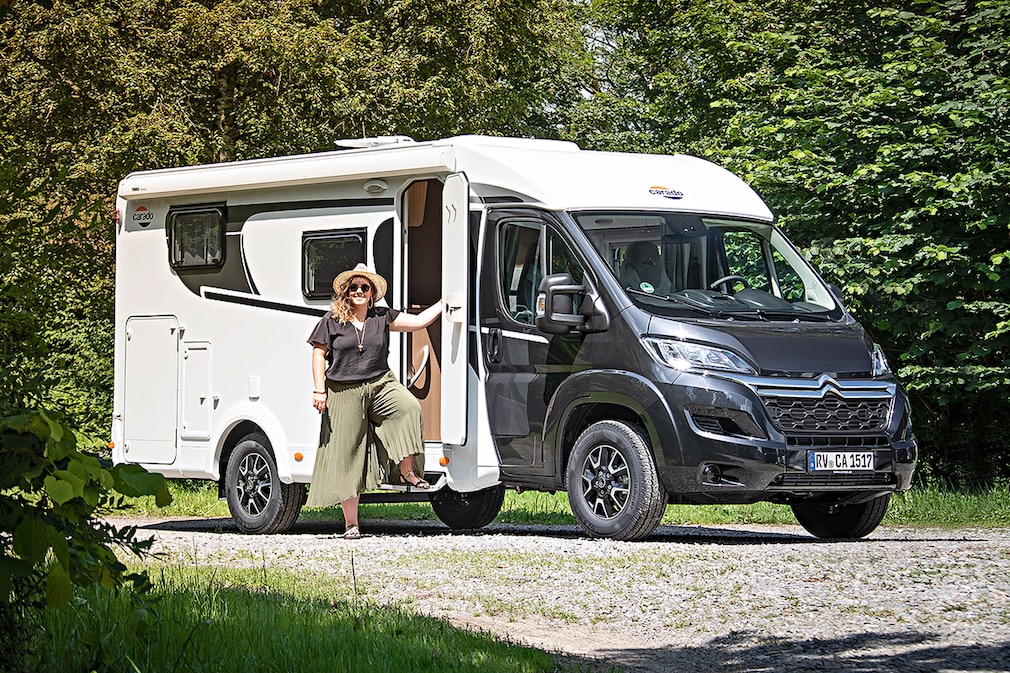 That's him: With a length of 6.65 meters, it is the middle of the three Van siblings. And the only model in the series with the twin beds that are so popular with German campers, which can be converted into a large sunbathing area. The relatively short kitchen is extended by a shelf above the adjacent wardrobe. Particularly clever: the swiveling washbasin in the bathroom, the back of which becomes a shower wall. As a result, the available space is optimally used. The floor plan is consistently designed for two people. There is no option for additional beds. The three van models are currently only available in the Edition15, a special edition with lavish equipment that Carado is giving its customers for the 15th company anniversary.
He has: Everything campers need. And by that we also mean sufficient storage space. The rear garage offers plenty of space for sports or camping equipment. And in the living and sleeping areas, too, the space was used sensibly for overhead cabinets, shelves and even a small wardrobe with a rail. The standard equipment includes, among other things, the 140 hp motor, awning, TV package, basic package with roof hoods and shower compartment panelling, driver's cabin painted in graphite gray, leather steering wheel, second exterior storage compartment flap, 16-inch aluminum rims, white flaps on overhead storage cupboards, the Nebula world of furniture and the cable preparation for a reversing camera. Our copy also had the multimedia package, driver's cabin carpet and the large Truma Combi 6E installed.
4. Integrated: Malibu I 441 LE

Thin sleeping mat, leaking tent, canned ravioli. Be honest – didn't your first camping experiences as a teenager look similar? It can already be a little more comfort today. Especially if you spend a large part of the year in your motorhome. By the way, anyone who now only thinks of pensioners is only partially right. This also includes self-employed people who use a mobile home as a company car and are often on the road. The same applies to employees in the mobile office or couples on parental leave. The modern world of work, to which the pandemic has contributed despite all its horrors, is making it possible for more and more people to combine travel and work. For such a project, most campers want significantly more comfort than, for example, a Caddy California has to offer. But it shouldn't be a nine-meter-long motorhome. Compact integrated vehicles in the 3.5 ton class, such as the Malibu I 441 LE, are therefore becoming increasingly popular because they combine a high level of comfort with travel suitability.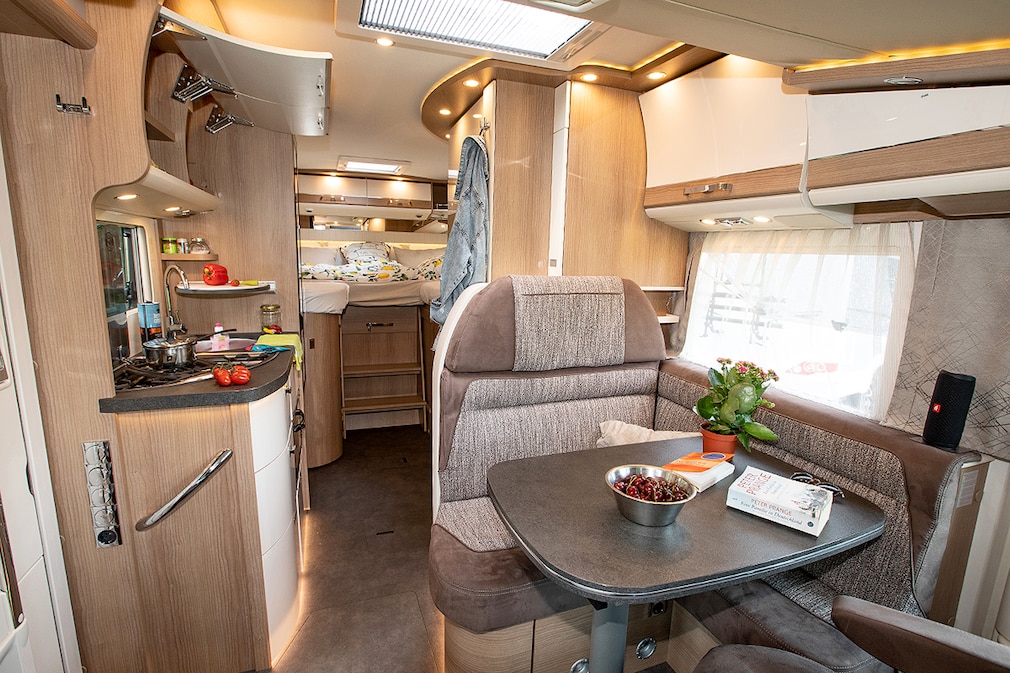 That's him: With a vehicle length of 6.67 meters, it is the shortest integrated vehicle from the Carthago subsidiary. And what's more, the test vehicle with the cleverest detailed solutions. Starting with the wardrobes under the foot ends of the two longitudinal beds. Or the wet room, which can be converted from a toilet with washbasin to a shower in a matter of seconds via a folding mechanism. The Malibu developers dubbed this concept the Vario swivel bath. For more privacy, the bathroom door can also be used as a room divider between the bedroom, living room and kitchen. When it comes to storage space, the I 441 LE can also be seen as a permanent residence. The heated double floor not only has plenty of space for equipment, but also keeps your feet warm in winter. The seating group may not be able to compete with the cuddly sofa at home, but it is still comfortable. Especially if you turn off the spotlights and turn on the great ambient lighting.
He has: Beautiful detail solutions that are included in the price. This applies to the wardrobe already mentioned as well as to the practical swiveling shoe cabinet under the seat. The fold-down bed above the driver's cab is also available ex works. Luxury equipment such as oven, coffee capsule machine, gas box pull-out, DuoControl, reversing camera, navigation system and awning cost extra of course.