Cars
Frankia A 700 BD: Tested used motorhome
Charm and constructive class are rather rare in mobile homes in the price range up to 30,000 euros. This Frankia A 700 BD is a welcome exception to the rule. It may not be found on many merchant farms, but the search can be worthwhile.
That's him: A classic for connoisseurs. With the A 700 BD, the mobile home builders based in the Franconian town of Marktschorgast have created a 7.10 meter long, three-axle, comfortable mobile home that is suitable for holiday adventures lasting several weeks all year round. Thanks to sophisticated insulation including a double vehicle floor, outside temperatures down to minus 15 degrees are no problem.
Unfortunately, the bonding of the wall construction was not always permanently dimensionally stable, so that isolated blisters can appear on the outer walls with age. Fortunately, the spontaneous suspicion that it could be water damage was not confirmed in our test vehicle.
Frankia A 700 BD: enormously high living quality

The inner values ​​are likely to be more important to most prospective buyers than the outward appearance. The interior, which is designed to be vapor diffusion-tight, offers an extremely high quality of living and does not look outdated even after 18 years. This Frankia is also a king of flaps – so users can experience maximum travel comfort.
Regardless of whether it is the Truma heating, the second toilet cassette or the rear garage divided into two zones: all areas are exemplary and easily accessible. However, this practical added value also leads to a plus in potential construction sites. The fact that all flaps open, close and seal as cleanly as in our test vehicle is not a matter of course.
empty weight ready to drive/load (test vehicle)
Trailer load (braked/unbraked)
Fridge incl. freezer compartment
Basic price 2004 (Frankia A 700)
110 kW (150 hp) at 3500 rpm*
He has: Enormous freedom of movement! The full standing height, even for tall people, is just as impressive as the well thought-out furniture construction. The latter is of high quality and matches the extensive comfort equipment. Behind the driver's cabin with two Isri pilot seats is a spacious living area with a semi-dinette and a longitudinal bench opposite. Here the aged upholstery fabric is worth discussing at most. The other equipment also satisfies high demands.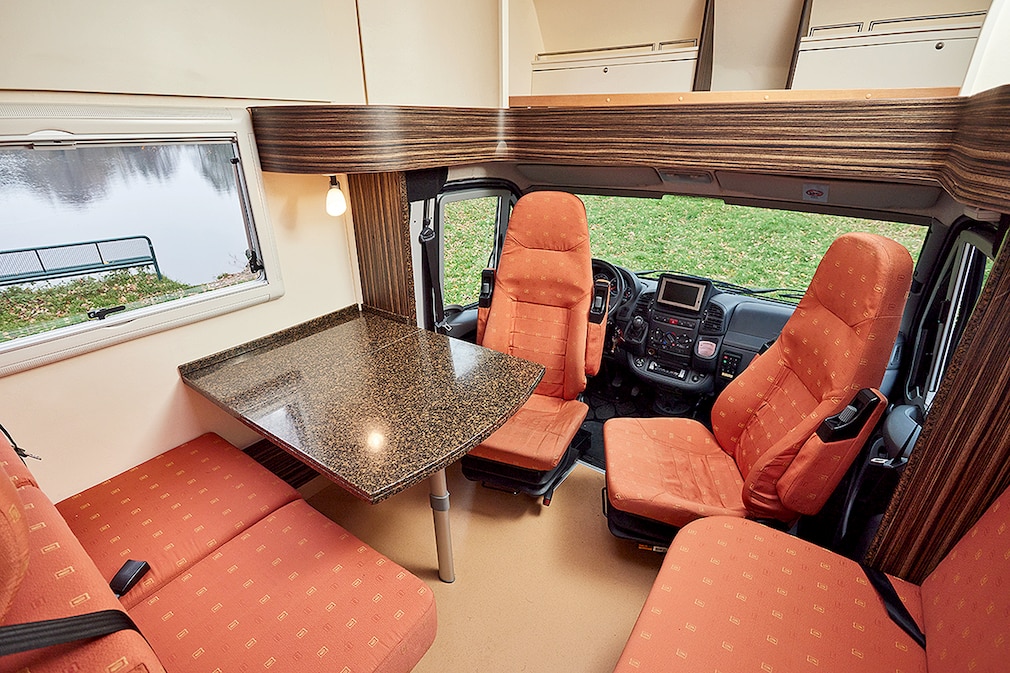 A flat screen embedded in the wall with satellite antenna on the roof provides good entertainment on rainy days. The previous owner modernized the interior, halved the alcove bed and thus provided an even better feeling of space. The beech furniture in the front part of the vehicle has been elaborately wrapped in a modern walnut look, making it appear several years younger.
In the middle of the vehicle there is a spacious L-shaped kitchen with elaborate cupboards and (almost) all the trimmings: three-burner hob, sink, extractor hood, built-in oven and a 97-litre fridge-freezer combination are still very tidy today. The numerous, sensibly divided cupboards and storage compartments are no less convincing. They easily take on a mobile household.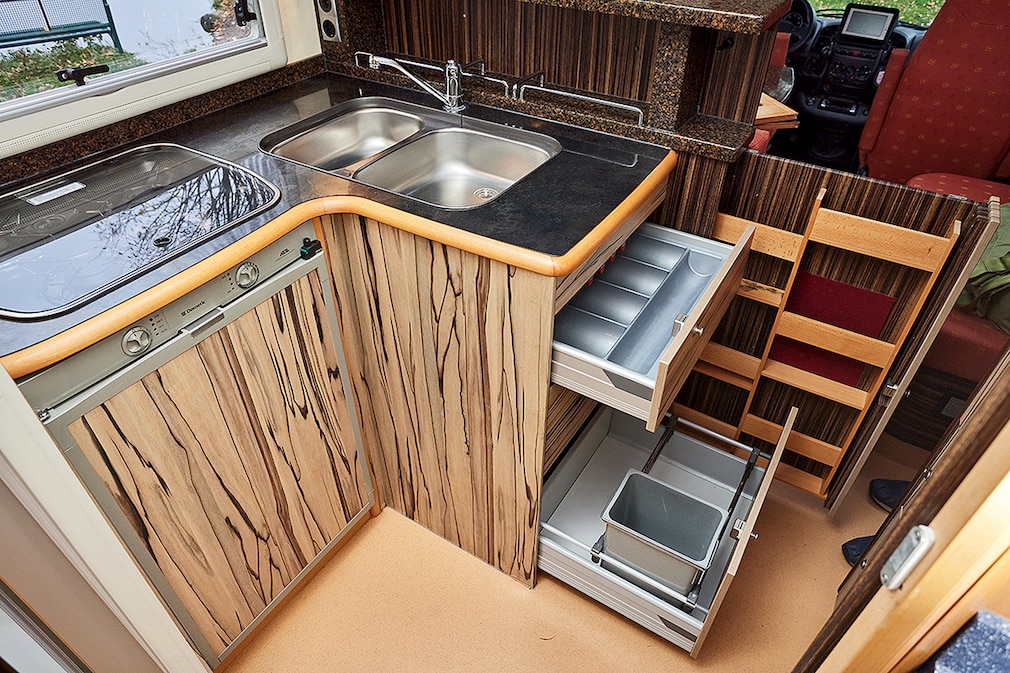 Behind the kitchen, the bathroom, which is also lavishly designed, is installed as a passage room: on the passenger side there is a spacious washbasin, a toilet and additional cupboard compartments. A fully-fledged shower with a shower tray and a fixed cabin is installed on the driver's side. The end is a cozy double bed in the rear, which can be easily climbed using a folding step and is suitable as a cozy retreat.
Not a sprinter, but adequately motorized thanks to chip tuning

This is how he drives: grown up. The top diesel of the time didn't turn the Frankia into a sprinter. With 150 hp and 350 Newton meters of torque, thanks to chip tuning, you are still suitably motorized and do not have to plan any routes around low mountain ranges. The three-axle vehicle has air suspension at the rear and is therefore pleasantly unaffected by payload and crosswind turbulence.
Two airbags, cruise control, ABS, air conditioning for the driver's cabin and power steering ensure relaxed long journeys. However, maneuvering needs to be well planned: a turning circle of 15.90 meters is not suitable for the city. And the outdated black-and-white reversing camera unfortunately offers only murky prospects instead of guidelines.
Attention: As a 3500 kg version, the Frankia A 700 BD offered a payload of only 480 kg. Significantly too little for this vehicle size! Our test vehicle has a 4.5 ton approval: nothing pinches with a load of more than one ton. Important for environmental zones, as an H license plate is still a long way off: interested parties should expect additional costs for retrofitting a particle filter (DPF). Without the filter, the Frankia only gets the yellow sticker.
Vehicle tax (S3, mass 4500 kg)
Brake discs and pads, front
6 summer tires 215/70 R 15 C